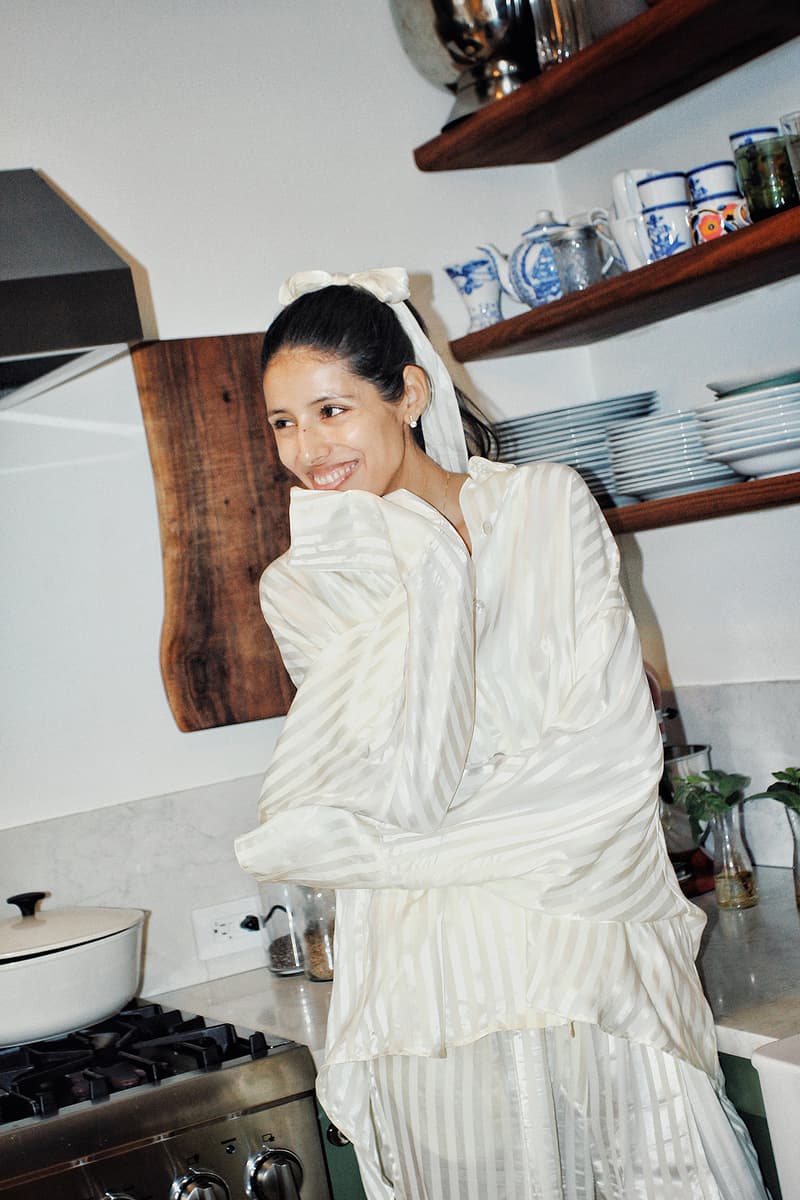 1 of 2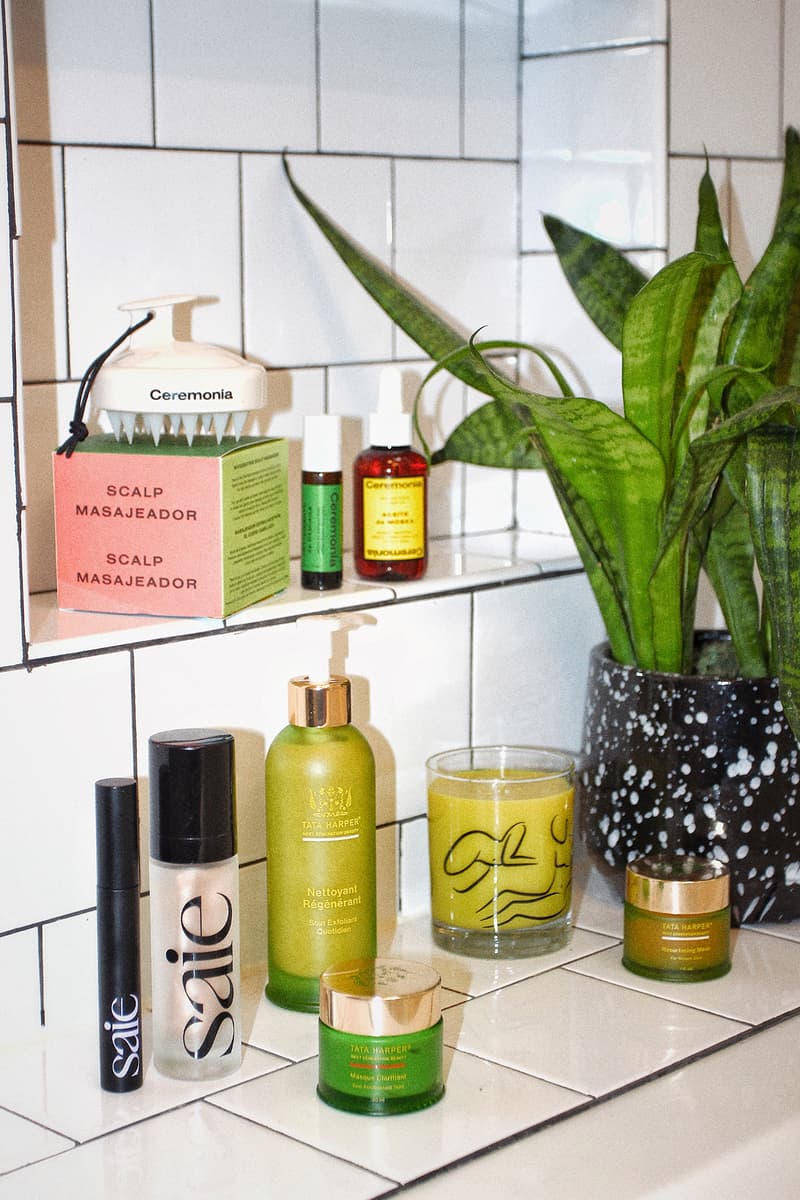 2 of 2
Beauty
Ceremonia's Babba C Rivera on Why Representation in Beauty Matters
The Swedish Latina also shares her haircare rituals and clean skincare faves.
Ceremonia's Babba C Rivera on Why Representation in Beauty Matters
The Swedish Latina also shares her haircare rituals and clean skincare faves.
If you've ever met Babba C Rivera, you would've been completely captivated by her charm. Always well-dressed with statement accessories and covetable shoes to match every outfit, the Sweden-raised, NYC-based entrepreneur and marketing mogul is someone who commands a room with style and grace. Her career journey is perhaps even more inspirational. With stints at Uber and Away under her belt, as well as experience from her former branding agency, bybabba, the 30-year-old has recently launched her most ambitious project yet, Ceremonia.
A clean haircare brand that draws from Babba's Latinx heritage, Ceremonia joins the beauty industry at a time when the demand for diversity has become front and center. Built on the tenets of sustainability, community and natural ingredients sourced mostly from Latin America, the new brand hopes to shape conversations around beauty, and empower those who use its range of thoughtfully formulated products.
Here, Babba talks to us about all her clean beauty essentials, the mission of Ceremonia and why representation in beauty matters.
Babba C Rivera's Beauty Essentials
"My beauty essentials are all focused on nourishment. I'd rather spend my time and money on clean products that help rebuild my skin and hair for a low-maintenance daily routine. 'Skincare over makeup, and haircare over styling' is my motto."
Haircare
Ceremonia Aceite de Moska: A scalp remedy oil that helps with overall hair wellness. I use it twice a week — I apply it directly on the scalp and the ends, and leave it on for 15 minutes or overnight, then wash it out with shampoo. It leaves my hair super soft, naturally shiny and without frizz. Fun fact: since I've started using it in January, my hair has grown out so fast.
Ceremonia Scalp Masajeador: A scalp massager tool that I use every time I wash my hair to stimulate blood flow in a relaxing spa feeling. The massager works great with the Aceite de Moska to help further distribute the oil, and later on with shampoo to help wash it out in full. It makes my scalp feel thoroughly cleansed, moisturized and healthy.
Skincare
"My favorite skincare hack is using the Tata Harper Regenerating Cleanser, layered with the Resurfacing Mask and leaving it on for three to five minutes. When applied together, they work as an instant glow-infuser in a matter of minutes.
After washing my face, I like to moisturize in three layers: serum, cream and oil. My favorite serums are the Furtuna Skin Face & Eye Serum and the Verso Skincare Hydration Serum.
My favorite face creams are Circumference's Active Restorative Cream for daytime, and Verso's Nourishing Cream before going to bed.
My favorite face oil is the one from Vintner's Daughter. It's technically called a serum, but it feels more like an oil."
Makeup
"I don't like to spend too much time getting ready in the morning, and I also don't like the idea of putting dirty makeup products on my face right after cleansing and moisturizing it, which is why my makeup routine is very simplified. I basically only use Saie, and my absolute favorite product from them is the Glowy Super Gel. I apply it on my cheekbones and eyelids as a functional highlighter. I love the idea of skincare as makeup.
I also use Saie's Brow Butter in brown on my eyebrows. And if I use mascara, it's always the Mascara 101 from Saie as well. On my cheeks, I usually apply a bit of Tata Harper's "Very Popular" lip and cheek tint.
If I am dressing up, I love putting on a red lip. Unfortunately, lipsticks aren't super compatible with COVID masks, but I still apply a red lip for date nights at home. My go to lipsticks are from the French brand La Bouche Rouge. I love their elevated packaging and that their lipsticks are refillable."
While you've spent much of your career working at the intersection of tech and marketing, you've also been involved in industries such as fashion and beauty. What is the common thread that ties all your interests together?
The common thread is definitely my passion for pushing boundaries and challenging the status quo. I've always been a minority in almost every professional setting — from being one of few women on the tech scene in Sweden, to being the only woman of color speaking at a conference, to being the only Latinx at fashion weeks, to today being one of the very few Latinx women to ever raise over a million dollars in venture capital. I find a lot of purpose in breaking new ground, and I hope that me doing it can inspire others to believe they can too by simply seeing themselves represented for once.
What made you venture into creating your own haircare brand?
I knew I wanted to do something that had a connection to my roots. Growing up, I never felt proud of my Latinx heritage, let alone my parents. I never truly celebrated my own identity, but was more focused on blending in. As I've spent the past few years reflecting on my own upbringing, I have come to realize that this cultural shame of mine is a result of not seeing myself represented anywhere. It made me realize that if we don't actively work towards changing this, we will continue to perpetuate the status quo, and I would hate for future generations to grow up feeling the way I did.
Extensive research led to [me realizing] just how underrepresented the Latinx community is in the beauty industry today, despite being one of the biggest spenders. What most people don't realize is that Hispanics aren't just the biggest minority in the U.S., we also spend 46 percent more on haircare products than non-Hispanics. Even with this, most modern brands continue to cater to a predominantly white consumer. The time is certainly now, and I felt a strong sense of responsibility with my unique career background to be part of leading that change.
I find a lot of purpose in breaking new ground, and I hope that me doing it can inspire others to believe they can too by simply seeing themselves represented for once.
Ceremonia prides itself on being a clean beauty brand. How do you define the term "clean," and why is it important for you to make this one of the foundations of the brand?
Clean means good for us and the environment. We exclude a long list of toxic ingredients still commonly used in the industry, and use natural and better toxic-free alternatives. We use potent natural ingredients, primarily sourced from Latin America, and combine them with safe synthetics, with the goal of offering the most natural and best-performing products this category has seen. Each ingredient has been intentionally curated and has a purpose, meaning every ingredient serves a clear purpose and are not just fillers or colorants.
What most people don't know is that the scalp is one of the most absorbent parts of the body, and it's also the source for healthy hair — meaning that if there is any area of your beauty routine that deserves extra attention, this should be it. That's why we make sure our products include all of the good stuff, and none of the bad. Since the beauty industry is still extremely unregulated, it's important for customers to know what they buy into. In Europe, over 1,600 ingredients have been banned, whereas only 30 of these are banned in the U.S. At Ceremonia, we pride ourselves in being EU-compliant from the get-go.
Beyond the scalp oil and massager, what other products do you plan on introducing to the collection in the future?
We have a lot of exciting things in the works that we have been creating behind the scenes with our insider community, also known as the Ceremonia Familia. Our next product drop is the ultimate holiday stress-reliever: Tratamiento de Damiana, our signature scent blended into a functional aromatherapy roller with science-backed ingredients that will help you relax.
Besides your own company, what are some other Latinx-owned brands that you think everyone should know about?
I am a huge fan of Tata Harper's skincare products. I'm also a big fan of what Cami Téllez is building with Parade, and what Cyndi Ramirez-Fulton is doing with Chillhouse.
You've recently welcomed a newborn to your family. Has motherhood changed your perspective on beauty at all?
I definitely became more aware of the amount of toxins that exist in everyday beauty products as a result of pregnancy. Now that I am a mom, I also have way less time on my hands, and I am therefore appreciating the focus of care versus styling even more. My approach to beauty is to basically take good care of my hair, face and body, so that I can unlock the best natural version of myself on a daily basis without the need for excessive styling.
Did you discover any new favorite beauty products during your pregnancy?
Yes, Evereden became a new favorite brand of mine as a result of pregnancy. Their product development philosophy reminds me a lot of our own at Ceremonia — utilizing the very best of nature to create really powerful formulas with natural ingredients, without compromising on results. I loved their Stretch Mark Cream and Golden Belly Serum — I still use them both on my belly and hips.
How do you recharge and unwind after a long day?
I really love taking baths. After a stressful day, I love to apply Aceite de Moska on my roots, put on my spa headband, fill up the bathtub with a warm bath and CBD bath salts, light some candles and listen to mantra music. If I plan on being in the bath for a while, I sometimes bring in a book to read as well.
Finally, can you share with us three things that you've found inspiring lately?
1. The fact that we finally have a female Vice President in office!
2. Tyler Haney's story with Outdoor Voices, and how openly she has shared her reflections and learnings. I really loved her recent interview with Inc.
3. My team's relentless pursuit of better-ness and delivering greatness to our community.
Share this article