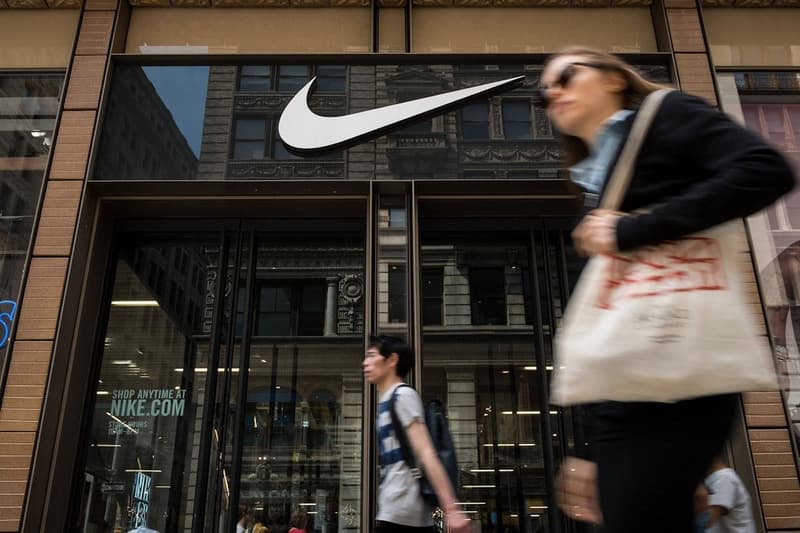 List of Retail Stores Closing In Response to Coronavirus
Apple, Nike, Glossier and more.
As sectors around the world continue to respond to the global outbreak of the novel coronavirus, COVID-19, businesses closing brick-and-mortar stores until further notice. Social distancing has become the responsible norm, leading shoppers to avoid crowding retail locations. Online retailers are also responding to concerns by ensuring fair compensation and sick leave for their warehouse workers.
From Apple to Glossier to Nike, keep on reading for a list of stores closed due to the coronavirus outbreak.
adidas
According to an announcement posted to Instagram, adidas is closing all stores in Canada through March 29. Though adidas' Canadian website remains open, its Customer Service team is temporarily unavailable. The company has not specified whether its retail employees will receive regular compensation during store closures.
In our workplaces and communities, we must do all we can to prevent the spread of COVID-19. Apple will be temporarily closing all stores outside of Greater China until March 27 and committing $15M to help with worldwide recovery. https://t.co/ArdMA43cFJ

— Tim Cook (@tim_cook) March 14, 2020
Following its decision to postpone the Worldwide Developers Conference until June, Apple announced that it will close all retail locations outside of Greater China until March 27. In an official statement by CEO Tim Cook, the tech giant reassured customers that it has expanded sick leave policies and that hourly workers will continue to receive pay. In the meantime, Apple's online store and virtual customer service portals remain open.
Away
Luxury luggage company Away notified customers via e-mail of its decision to close all retail locations until at least March 30. The company has also postponed the opening of its Dallas store. All employees will receive pay during store closures and corporate offices will be working remotely.
Celine
In an official statement e-mailed to press, Celine expresses its support for government efforts to curb the spread of COVID-19 with the closure of all boutiques until further notice. "Celine supports government decisions with strength and a sense of collective responsibility," the statement reads. The brand's online store will remain open.
Dover Street Market
Luxury concept store Dover Street Market has closed its New York, Los Angeles, London, Ginza and Singapore locations until May 4. The DSM E-Shop is still accepting orders, which are expected to be delivered as usual. The company's Beijing location remains open.
Everlane
On March 14, Everlane e-mailed customers announcing its decision to shutter retail locations until March 28. "As a business and a community, we believe that we must do our part to slow the spread of the virus while we continue to operate," the company's website states. Everlane will continue to compensate its retail workers and while its website will remain open, all factory and distribution center workers will receive paid sick leave.
Glossier founder Emily Weiss took to Instagram to announce the closure of all Glossier stores until further notice. On March 13, the cult beauty brand shut down all retail and pop-up locations "for at least two weeks." A letter penned by Weiss references an article on social distancing published by The Atlantic as a major factor in her decision: "I read that Atlantic piece from bed last night with a heavy heart ('social distancing' is basically the opposite of our mission), and reconsidered my original position of 'let's follow, not lead' on the retail front," she writes.
Kering has closed all Nortn American and UK stores for two weeks (YSL, Gucci, Balenciaga, Bottega Veneta, Alexander McQueen etc) retail workers receive full pay; e-commerce still going but with social distancing and disinfectant.

— Vanessa Friedman (@VVFriedman) March 18, 2020
Luxury conglomerate Kering, which owns an extensive roster of brands including Gucci, Balenciaga and Bottega Veneta, has closed its stores in the United States, UK and Canada through April 1. Retail employees will continue to receive pay and while the company's New Jersey distribution center remains open to fulfill online orders, workers will practice enhanced safety measures including social distancing, as reported by WWD.
Lush Cosmetics
Owners Karen and Mark Wolverton have closed all 258 Lush Cosmetics locations in both the U.S. and Canada until March 29. The duo announced in a letter posted to the Lush website that the company is ensuring regular pay for all staff during this period." For the time being, its online operations will continue, albeit with longer shipping times.
New Balance
We hope you are all safe during this unprecedented time. To ensure the health of our associates, customers & communities, we're implementing office, factory & retail closures in the US, CA, & Western EU, effective 3/16 until at least 3/27.

More info: https://t.co/mwqVKVHkVv

— New Balance (@newbalance) March 15, 2020
New Balance President and CEO Joe Preston released an official statement announcing that the famed sneaker brand is closing all retail, office and factory locations in the U.S., Canada and Western Europe until at least March 27. The brand's announcement also states that all workers in North America will continue to receive regular pay and benefits during the temporary closures. While New Balance's website remains operational, the NB1 custom footwear program will be suspended until further notice.
The Swoosh has closed all its U.S. stores, as well as locations in Canada,
New Zealand
,
Australia
and Western Europe. As infection rates in Asia begin to decrease, Nike will keep its outposts in
South Korea
,
Japan
and most of
China
open with daily monitoring. An
official statement
 also announces that the company is "taking additional steps in other Nike-managed facilities, including the option to work from home, staggered work schedules, social distancing and additional safety and cleaning steps to help protect and support our teammates." The
Nike website
and app will remain open for business.
Patagonia
Patagonia CEO and President Rose Marcario issued a statement announcing the closure of all Patagonia stores, offices and operations indefinitely. The company apologizes in advance for delays in orders and customer service requests over the next two weeks, and encourages social distancing: "It's everyone's responsibility to help stop the spread of this virus," Marcario writes.
Reformation
In a a statement posted to Instagram on March 14, Reformation states that it is closing all stores for the time being. "Our retail teams will be given paid time off. All planned events and factory tours have been canceled as well," the company writes. Though customers are still be able to shop online, Ref adds that, "as it's a complicated situation," plans are subject to change as the company closely monitors recommendations from the World Health Organization and more.
Switzerland has also been hit hard by the outbreak of COVID-19. As Swiss newspaper Neue Zuercher Zeitung reports the number of confirmed cases has reached 2,330, Rolex has decided to close all of its factories through March 27. "That date may of course be pushed back according to the evolution of the epidemic," CEO Jean-Frederic Dufour reportedly said.
Sephora
After issuing a statement on the steps taken to ensure proper hygiene at all of its retail locations, Sephora announced that it has closed all stores in the U.S. and Canada through April 3. Store employees will continue to receive compensation for their regularly scheduled shifts, as well as health benefits. Sephora's webstore will remain open — the company has even waived shipping fees (using the code FREESHIP) until April 3.
SSENSE
Though luxury retailer SSENSE will continue to accept online orders, the company's Montréal store and café has closed until further notice. "We will continue to keep you informed and look forward to welcoming you back to SSENSE MONTRÉAL soon," the retailer writes in an Instagram post.
StockX
After careful consideration, we've decided to close our StockX NYC location to help protect our team and community. We'll be monitoring the situation closely before re-opening at a future date. Thanks for your understanding. We're here at support@stockx.com for any questions.

— StockX (@stockx) March 16, 2020
Sneaker resale platform StockX has closed its New York shop in light of the city's growing health concerns. The company wrote that it will "be monitoring the situation closely before re-opening at a future date" in a recently posted Tweet.
Supreme Week 4 and further releases will be exclusively releasing on their website until further notice.

Stay safe fam pic.twitter.com/xBCT7xLJjC

— Supreme DROPS (@dropssupreme) March 16, 2020
Streetwear giant Supreme has temporarily shuttered its New York, Los Angeles, San Francisco, London and Paris stores. Though its Japan location and online shop will remain open, the brand's multiple closures will no doubt throw a wrench in the upcoming drop of its Spring/Summer 2020 collection.
UNIQLO
Uniqlo updated its website with a statement announcing the temporary closure of all 50 of its United States stores, until further notice. Though the company's statement does not address payment of its retail employees, it alludes to "a plan to support our teams during this time."
Share this article