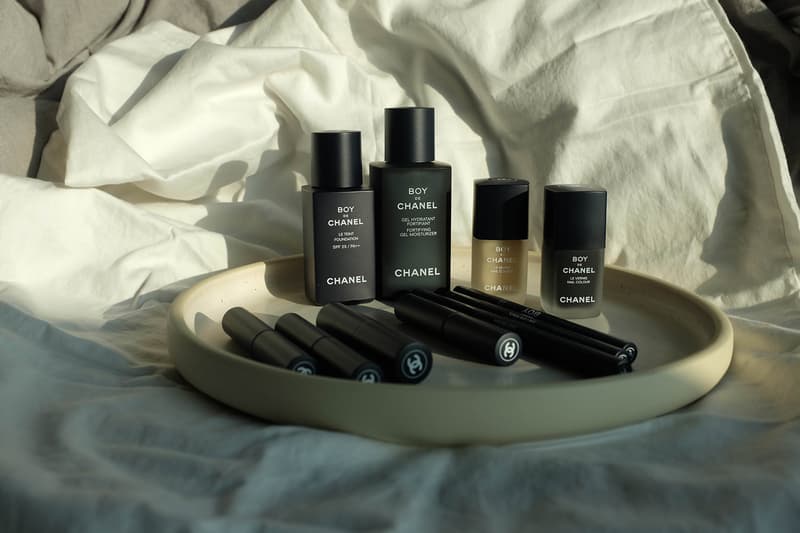 Beauty
Are Girls Allowed to Use BOY DE CHANEL Makeup? We Find Out
A review of every single item in the new men's makeup collection.
Are Girls Allowed to Use BOY DE CHANEL Makeup? We Find Out
A review of every single item in the new men's makeup collection.
"What's the difference between men and women's makeup though lol," a user asked. "Blue Tax," another one jokes in response. When we first reported on Instagram that Chanel had released a second men's makeup collection as part of its BOY DE CHANEL range (the inaugural offering was launched back in 2019), the feedback was mixed. "Isn't makeup unisex anyway? There's no tag in ingredients that are specifically for girls," and "Why is this necessary? Makeup is unisex?" were among some of the other comments that we observed.
Many have argued that labeling this collection is nothing more than a marketing ploy and that it's a way for a big company to tackle the issue of male fragility. And although this might very well be the case, I say, "So what?" There is reason to assume that the products themselves have just been repackaged in a more masculine, "male-friendly" manner, but who's to say that there's anything wrong in this small gesture offering a first baby step in removing the stigma around men wearing makeup? If there's a person out there that feels more comfortable buying men's makeup as opposed to women's or even unisex makeup, then so be it. And let's be honest, the BOY DE CHANEL products look chic for days, and I certainly will not let any "men's makeup" designations deter me from buying these products. Labels be damned.
For one, you get the same premium feel of Chanel Beauty with this collection, all dipped in a beautiful dark navy tone. Not quite blue, not quite black, the products look stunning on a top shelf. As another added point, the collection prioritizes versatility and simplicity. The second BOY DE CHANEL collection is meant to encompass daily essentials for the modern day human. Whether you're a first-time makeup and skincare user, or you're a seasoned expert who knows what they want, there is something for everyone within the range.
Despite this relatively novel foray, however, commendable as it is, there is certainly room for improvement within the collection – namely that the foundation and concealer offerings are nowhere near close to providing enough range or inclusivity. Even so, it certainly is an interesting time within the beauty industry and it's exciting to see whether this concept will take, or fall short of public demand. Read on below to see what this editor thinks of the new BOY DE CHANEL men's makeup collection.
BOY DE CHANEL FORTIFYING GEL MOISTURIZER
For warmer weather conditions, this product is perfect. Although summer is ending soon, it is still sweltering hot with unforgiving humidity here in Hong Kong, which makes me continue to reach for this hydrating gel. Despite my partiality for face oil, this moisturizer is equally lightweight and layers beautifully without making my skin feel clogged or heavy. However, when I first tried a pump on my skin, I was surprised that the scent of this product is actually the same as women's Chanel skincare I've tried in the past. Chanel's UV Essentiel Anti-Pollution sunscreen is still one of my all-time favorite SPF products, and its floral fragrance is unmistakable to me. The Boy de Chanel moisturizer smells almost exactly the same. Not to say that men's products can't be floral-scented as well, but I was just hoping for a bit of variety as I do enjoy men's fragrances quite a bit. Even so, this is a perfect daily moisturizer and is the perfect solution for men who feel like they're exempt from keeping their skin hydrated. No, fellas – moisturizer isn't just for women. The BOY DE CHANEL Fortifying Gel Moisturizer retails for $695 HKD (approximately $90 USD).
BOY DE CHANEL FOUNDATION
A male blogger that I follow said that this foundation provides light coverage. However, when I tried it myself, it was much heavier than I was led to believe – I would definitely say this leans more towards medium coverage. Bear in mind, though, that on a daily basis I normally use tinted moisturizer instead of foundation. Even so, I did find that the foundation on its own would probably be a bit too thick for me to wear on a typical day to the office.
After playing around with the makeup for a bit though, I did eventually find my perfect balance for light coverage. I mixed about three pumps of the BOY DE CHANEL Fortifying Gel Moisturizer with one pump of the foundation and I literally heard Demi Moore in my head yelling, "Yahtzee!" à la Charlie's Angels: Full Throttle. This blend, for me, is lightweight enough for me to wear everyday, but also provides the skin-perfecting, airbrush effect that I want. The foundation formula itself also comprises of hyaluronic acid, so your complexion will remain plump, dewy and hydrated all throughout the day even without the moisturizer. I also adore the fact that this product has SPF25 protection so that anyone using it can practice safe sun. The BOY DE CHANEL Foundation retails for  $625 HKD (approximately $81 USD).
BOY DE CHANEL CONCEALER
As far as concealers go, this one is perhaps one of the best I've tried in successfully hiding the dark circles in my under-eye area. Since it is a matte effect, the coverage looks natural and also blends quite well into the skin. About halfway through the day, I applied some light touchups and the product looked as good as new. The only negative comment that I have about this product is that there aren't enough skin tone options, as is also the case with the Foundation while we're on the subject. Although the press release states that the Concealer arrives in "3 shades that perfectly match all skin tones," this is an overreaching statement that seems to disregard a significant portion of the population. These are the only three shades at the moment: Light, Medium Light and Medium (the Foundation only has four: Light, Medium Light, Medium and Medium Plus). As Fenty Beauty has shown, there is a demand for a more inclusive range of skin tones when it comes to makeup, and whether it's women's or men's makeup, beauty brands need to understand the importance of inclusivity. The BOY DE CHANEL Concealer retails for $315 HKD (approximately $41 USD).
BOY DE CHANEL 3-IN-1 EYE PENCIL
Although I'm not quite sure what the three uses of the pencil actually are, I really like the versatility of this product. Since the formula is quite blendable, it works seamlessly as both an eyeliner and an eyeshadow. The pencil itself is quite thick, so I probably can't pull this off as a day look, but I do love whipping this eye pencil out for date nights as it's extremely easy to create a quick smoky eye with it. As someone who is not quite experienced with eye makeup (I've been doing the same winged cat eye look with liquid liner for the past 10 years), I appreciate the simpleness of this product, as well as its flexibility for someone who wants to have fun and discover new ways to embellish their eyes. The BOY DE CHANEL 3-in-1 Eye Pencil retails for $300 HKD (approximately $39 USD).
BOY DE CHANEL EYEBROW PENCIL
This is one of my favorite products from the collection. Although I normally use a black eyebrow pencil, I reviewed a "Dark Brown" shade this time around and to my surprise, found that the effect was actually more natural. The pigmentation of the color is not too intense, so you don't have to worry too much about "overdoing" it. The formula for this pencil is also waterproof, which is perfect for long wear throughout the day. Go ahead and get sweaty in the summer heat – your brows won't budge. The thick, angled shape of the pencil is perfect for creating natural-looking lines to fill your brows, while the sharp end is designed for creating definition and outlining your desired shape. To finish the look, the thick brush on the other end is great for blending and adding a final touch. The BOY DE CHANEL Eyebrow Pencil retails for $335 HKD (approximately $44 USD).
BOY DE CHANEL LE VERNIS MATTE NAIL COLOR
From LANY's Paul Klein to Instagram-famous Leo Mandella aka @gullyguyleo, it's not too uncommon these days for men to be seen sporting nail polish. In fact, when the BOY DE CHANEL collection came out, the black nail polish is what seemed to capture the attention of most of my male co-workers. So do the expectations play out? Definitely. The "Black" iteration is definitely one of the best matte nail polishes I've ever tried. The color itself is true black. You may have found that many polishes are advertised as black but often yield a slightly blue or purple tinge when seen under natural sunlight, but that is not the case here. Not only is the color deeply satisfying, but the application itself is very gratifying for nail polish lovers – the varnish is designed to only need a single coat, so the color after a single application is already intensely pigmented. The product is also quick drying, so it's virtually life-ready after one minute.
If you're not ready for black nails just yet, the "Natural" tone is a perfect option for a polished yet subdued manicure. Since the hue is colorless, the only effect is a subtle sheen that elevates and refines dull nails. Each version of the BOY DE CHANEL Le Vernis Matte Nail Color retails for $210 HKD (approximately $27 USD).
BOY DE CHANEL LIP BALM
Along with the moisturizer, I would definitely say the lip balm is the other essential in the collection. The transparent, non-shiny formula creates a matte look that moisturizes lips with a natural effect. In terms of application, the product is very light, so there there's no need to worry about any lingering greasy residue on the lips. Enhanced with jojoba oil, shea butter and antioxidant vitamin E derivative, the balm also helps lips stay healthy and nourished. The BOY DE CHANEL Lip Balm retails for $305 HKD (approximately $40 USD).
Share this article