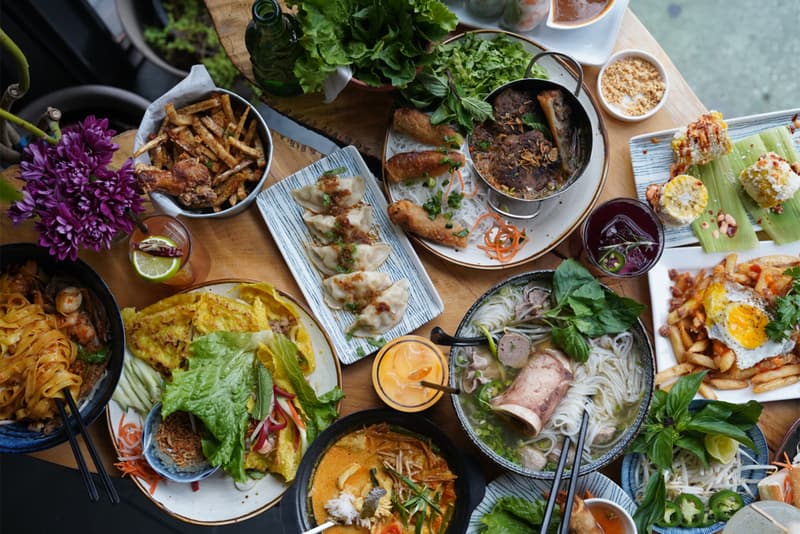 Food
11 Best Vietnamese Restaurants in NYC for Pho, Banh Mi and More
Including takeout and delivery options.
11 Best Vietnamese Restaurants in NYC for Pho, Banh Mi and More
Including takeout and delivery options.
Whether it be traditional homestyle dishes or a modern take on the cuisine, when it comes to Vietnamese food, New York City does not disappoint. For those who have been looking to get their banh mi or pho fix at home, we've rounded up the best Vietnamese restaurants you can order from in Manhattan, Brooklyn and Queens.
If you feel like having a warm, soupy meal, try out Madame Vo's The Madame Pho — the rice noodle dish is prepared with hot, steaming beef broth that's been simmered for 24 hours to achieve the best possible flavor. V-Nam Cafe's Banh Mi Pork, layered with cold cut pork, daikon, carrots and cilantro, hits the spot. For those who are craving some crunch, District Saigon's spring rolls are fried to perfection and are stuffed with crab, shrimp, pork, scallions, taro and mushrooms.
Continue reading for some of our favorite Vietnamese restaurants in the city. For more food options, check out our list of the best pizza joints in NYC.
MANHATTAN
View this post on Instagram
What to order: BBQ Pork Banh Mi.
Location: 198 Grand St, New York, NY 10013
Website: banhmisaigonnyc.com

View this post on Instagram
What to order: Banh Xeo or Summer Rolls.
Location: 180 Bleecker St, New York, NY 10012
Website: orderhellosaigon.com
Available on: DoorDash, Postmates, Seamless and Uber Eats.

View this post on Instagram
What to order: The Madame Pho, Bun Bo Hue or Banh Xeo.
Location: 212 E 10th St, New York, NY 10003
Website: madamevonyc.com
Available on: Caviar, DoorDash, Foodboss, Grubhub, Postmates and Seamless

View this post on Instagram
What to order: Spicy Short Rib Pho, Bun Bo Hue or Classic Beef Pho.
Location: 43 Mott St, New York, NY 10013
Website: phobar.com
Available on: Caviar, DoorDash, Grubhub, Postmates and Seamless
View this post on Instagram
What to order: Special Pho Bo Dinner, Crispy Softshell Crab Salad, Brisket Banh Mi or Beets and Mango Summer Rolls.
Location: 719 2nd Ave, New York, NY 10016
Website: yelp.com
Available on: DoorDash, Grubhub, Postmates, Seamless and Uber Eats
View this post on Instagram
What to order: Grilled Chicken with Rice, Rice Noodles Beef Soup With Grill Chicken or Vietnamese Spring Roll.
Location: 89 Baxter St, New York, NY 10013
Website: thaisonnyc.com
Available on: DoorDash, Grubhub and Seamless

View this post on Instagram
What to order: Banh Mi Pork, Vermicelli Spring Roll Noodles or Clay Pot Red Curry Fish Rice.
Location: 20 1st Ave, New York, NY 10003
Website: vnamcafe.com
Available on: Grubhub, Postmates and Seamless
BROOKLYN
View this post on Instagram
What to order: Fresh Summer Rolls, Papaya Salad, Crispy Imperial Rolls or Vietnamese Squid Banana Blossom Salad.
Location: 162 5th Ave, Brooklyn, NY 11217
Website: bricolage.nyc
Available on: Foodboss, Grubhub and Postmates

View this post on Instagram
What to order: Kim Tien Rolls, Shrimp Paste Noodle or Tom Hoa Tien.
Location: 9 Bay 35th St, Brooklyn, NY 11214
Website: yelp.com
Available on: Uber Eats
QUEENS
View this post on Instagram
What to order: Crispy Spring Rolls, Grilled Pork Chop Banh Mi or Beef Cubes Over Rice.
Location: 38-40 Bell Blvd Bayside, NY 11361
Website: phograndbayside.com
Available on: DoorDash, Seamless and Uber Eats
View this post on Instagram
What to order: Wood and Herb Smoked Brisket Pho, Round Steak and Angus Brisket Pho or Short Rib Fried Rice.
Location: 37-15 Broadway, Astoria, NY 11103
Website: districtsaigonnyc.com
Available on: DoorDash, Grubhub, Postmates and Seamless

Share this article