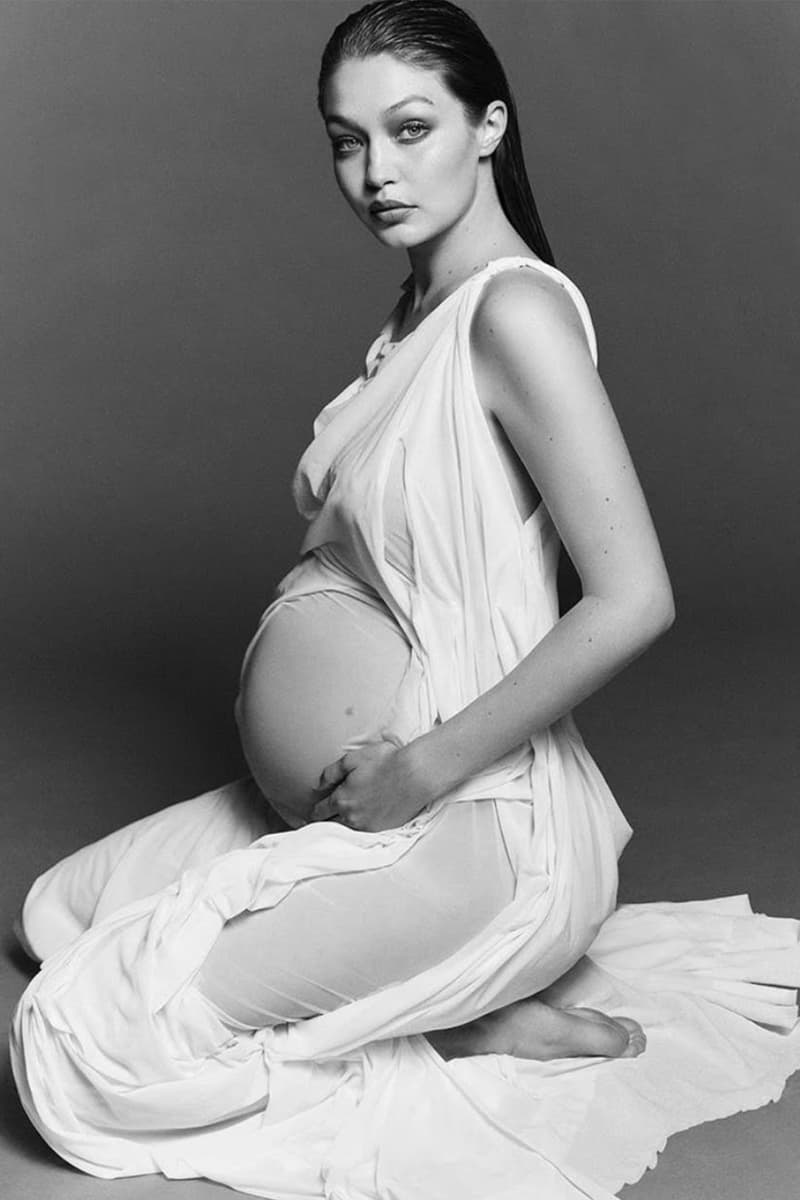 Di Petsa's "Wet Look" Dresses Highlight the Female Body
The emerging designer, loved by Gigi Hadid and FKA twigs, discusses some of her favorite projects thus far.
Fashion
Di Petsa's "Wet Look" Dresses Highlight the Female Body
The emerging designer, loved by Gigi Hadid and FKA twigs, discusses some of her favorite projects thus far.
When Gigi Hadid revealed her baby bump to the world last month, fashion fanatics showed great interest in an image where the model seemed drenched in a long white dress. The Internet was quick to discover Di Petsa – the designer behind the look, who boasts a star-studded portfolio including names like FKA twigs and Kylie Jenner.
Twenty-six-year-old Dimitra has been making impressive strides in her career since graduating from Central Saint Martins' acclaimed MA fashion course in 2018. Not only has she worked with A-list celebrities, but a few months back, 1 Granary pointed out that John Galliano had plagiarized her work for Maison Margiela's Fall/Winter 2020 Couture season. Since then, she has worked with Kourtney, Khloe and Kim Kardashian for their KKW Fragrance campaign.
"I was investigating the relationship between women and water," Petsa explains to HYPEBAE how her signature "wet looks" came to be. During her years at CSM, the designer developed a secret technique to make garments look like they're soaked. Applying that to her background in theater studies, the creative continues to explore the dramatic movements of the body. Now, her eponymous label's aesthetic has become a favorite to many in the fields of maternity and bridal wear, further stressing her central theme of women and wetness.
We spoke with Di Petsa on her designs and brand philosophy ahead of her London Fashion Week presentation this season. Read on to learn more about the up-and-coming name and some of her favorite projects thus far.
What inspired you to create your signature "wet looks?"
The inspiration behind the "wet look" was my performance practice, where I was investigating the relationship between women and water, and women and their bodily fluids. The idea was to create this vision of a woman who is totally wet, fully accepting that she is coming from water. Our goal in fashion is to allow people to be unashamedly wet, and to create beautiful work that can inspire others to consider nature as something of our own. Our bodily fluids: water filtered through our bodies, bodily water, holy water.
How would you explain your connection with water and wetness?
My connection to water is very deep and varied, and constantly changes with new experiences as I grow. But in general, it has been a very big journey of self-discovery and letting go of shame for both myself and the people that I work with.
Could you briefly explain the process behind your "wet looks," from conceptualization to production?
The "wet look" technique is something that we keep a secret because it is an original process that I developed during my Master's at CSM. The conceptualization started from a series of performances I was doing for my BA years studying performance design and practice at CSM, where I had a woman dressed in water walk across Athens. It was this idea that I wanted to crystallize and make a continuation of this performance, so somebody wearing their own "wet look" could be part of this water performance without actually having to be wet.
The "wet" technique took you six months to develop during your Master's program at CSM. What was that process like?
That is correct – it did take six months to develop the final "wet" fabric technique. I won't go too much into the technical process, but in terms of fittings and creating the shapes, the process involved performances with me and my friends and models, where we would wet fabric and drape it onto each other to see how the fabric falls naturally to the body. These fluid shapes are what we recreate with our hand drapery to create motion in the "wet look" silhouette.
How did you jump into bridal and maternity wear? How do you think these categories reflect your aesthetic and philosophy?
Bridal is something very close to the way that we work because our clothes don't concern trends. We're all about making clothes that have special meaning and are very personal and intimate. With my brides, we work very closely together – we focus on their body, how they want to feel as well as the look. We also discuss the ceremony, and it is a very beautiful process overall.
Maternity wear is also another interesting category because that's when women go through a change that is beyond their physical bodies. Maternity and bridal wear are often created under the same archetypes and fashion language that often don't really reflect a human experience, so those attracted to our brand are often people who want a deeper connection with their clothes.
You studied theatre and performance design before getting into fashion. How did you make this transition?
I knew I loved fashion but I was also very interested in performance art, theatre and film. I wanted to acquire skills that would develop my artistic practice and bring new viewpoints and inspiration to my fashion education. I did my first degree in Performance Design and Practice at CSM and when I graduated, I continued on to the Master's in Fashion Design Womenswear. That was where I really combined all my skills and interests into one practice combining couture fashion and textile development with performance, sustainability and film.
As a performer myself, I am also very involved in my work. It is something very personal to me. The relationship between the model, designer and viewer is what motivates me to also take part amongst the performers in my shows exploring my vulnerability and body expression alongside their exploration.
How does your cultural and educational background inform your designs?
I grew up in Greece around my grandmother, who ran her own tailoring school. This is where I learned to sew and construct a dress from a very young age. I believe this experience has influenced the way I see fashion in general. I see it more from the point of view as a seamstress who works with her personal clients, rather than the normal fashion context.
In terms of cultural influence, I am very interested in exploring antiquity, how that still exists in current culture, and how we communicate a relationship with the past in general. I draw upon inspiration from Greek mythology and practice, which inform my designs. For the Spring/Summer 2021 season, we've developed a golden prayer corset that is entirely hand-embroidered using materials traditionally used in Greek orthodox priest wear.
Many fashion enthusiasts would know that you recently dressed Gigi Hadid for her pregnancy shoot. What was it like to work with stylist Gabriella Karefa-Johnson on this special project? Were there any specific points that you kept in mind when creating the custom design?
Gabriella and her team reached out to us back in July to work together for a personal photoshoot for Gigi. I love Gabriella's work, so I was very happy to collaborate with her on this special project. The brief was to create a dress incorporating our signature "wet look" technique, that connected closely to nature and the elements – ethereal but down-to-earth at the same time.
I wanted it to feel modern and highlight her body as it's going through the changes of pregnancy. I wanted to create something that would drape very softly on her form, concealing and revealing the skin and making her appear as if she is floating in the fabric. The dress was made especially for Gigi, and we have been told that she truly adored it. We are happy that it is something she can keep and cherish forever.
What has been another highlight of your career thus far?
Another highlight has been dressing FKA twigs for her Later… With Jools Holland performance last year. We created a custom "wet look" dress, which is something I really loved doing as I love her as an artist in general. I also really like her stylist Matthew Josephs, so this was a very exciting project to work on.
Apart from bespoke pieces, you also have a line of merch. How do you translate your ideas into more wearable items like tank tops and T-shirts?
The more ready-to-wear pieces we have available at our boutique are actually pieces that are inspired by what we wear in our rehearsals and movement classes. The text on the garments is taken from the scripts and movement directions that we give to our performers before we do live shows. It is important to us that these pieces reflect the brand narrative of self-expression and freedom with performance, which is translated not only through the visual graphic texts, but also the physical, as the wearer can move and breathe freely within the mesh fabric. The idea is that these pieces can act as subtitles and a script to your daily performance of everyday life.
What about your first poetry book, Wetness: A Script?
The poetry book is dedicated to different bodily fluids including tears, saliva and blood that each have their own chapter. It recontextualizes their meaning not only in culture, but also on a more personal level through poetic text and illustrations.
We wanted to create a book that feels intimate and invites the reader to re-narrate how they perceive their own body fluids, what their meaning is, and how they make them feel. The book includes scripture and performance notes from our Wetness Workshops, which we have been organizing since the lockdown. We invite small groups to participate in a performative movement class led by myself. We explore deeper the theory behind the Wetness project and our relationship with bodily fluids, and how the way we perceive them has an immediate connection to how we perceive water at large.
What's next for your label? Could you briefly talk about any upcoming projects?
In terms of what's next for the Di Petsa brand, we are very interested in exploring further our performance wear to film and theater, and would love to collaborate on making custom costumes for a film or director we admire. But at the moment, we are excited about our new mesh pieces released on our online boutique for London Fashion Week.
Share this article