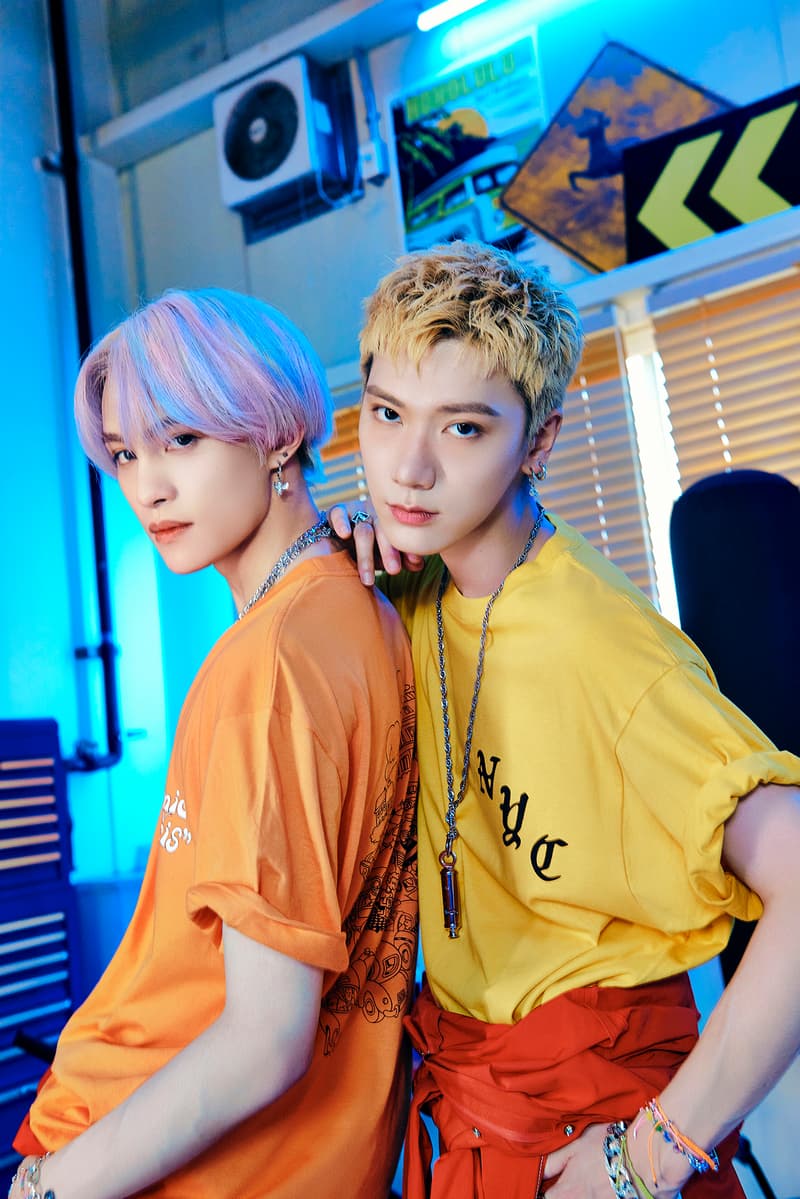 Ten and YangYang on "Low Low," Dance and Fashion
The WayV members discuss the inspiration for their catchy single.
Music
Ten and YangYang on "Low Low," Dance and Fashion
The WayV members discuss the inspiration for their catchy single.
When it comes to singing and dancing performances, Ten and YangYang, the WayV members known for being the whole package, leave you no choice but to stan. In August, the duo joined forces for the release of their carefree, end-of-summer single "Low Low." From the upbeat melody to the choreography of the vibrant music video, the track takes listeners and viewers on a journey. "The music video is a story about a trip with the two of us, and I tried to act like we're really in that situation," Ten reveals. "That made me feel really excited before and after filming the music video, and I was able to pull off that joyful vibe." For YangYang, it's about bringing the thrill of traveling and vacation, something that many have missed during the pandemic, back to their fans.
With lyrics that express hope and excitement, Ten says that he wants to deliver the message of not taking love for granted. From a career perspective, the catchy song marks a new start for him and his team member. For YangYang, "Low Low" also has a different meaning: "It's the first song that I really put a lot of my own thoughts and ideas into. I would say it's a statement to our fans to look out for more from YangYang, as I'll pass your expectations with flying colors."
The pandemic has affected the world in the most devastating ways, and for some, K-pop has been an escape, as it features a wealth of performances, comeback stages, variety shows and so much more. It's been almost three years since WayV debuted, and Ten and YangYang have further ambitions for the future. "I hope we will be doing more activities across the globe, and get a chance to travel to many countries whilst absorbing different cultures and understanding them," Ten shares. Likewise, YangYang says he wishes that all the members will be even more successful and happy in the future.
It's no surprise that the Thai all-rounder is a hot topic online with all his endeavours, from singing to dancing to fashion. On his solo single "Paint Me Naked" and "Low Low," Ten tells us that he didn't have a break in between the preparation for both songs. "I really enjoyed every moment, because it was all the things I really wanted to do. When you love what you're doing, I think it motivates you to try harder and experience everything, or you wouldn't even know if such a world exists."
Other than being celebrated for his musical abilities, Ten is affectionately nicknamed by fans as the "Modern Picasso," thanks to his now sold-out fashion collection for Represent that featured his original designs. "It's such an honor to be called a 'Modern Picasso,' since he is such a legendary artist who was true to his emotions and showed them through his art." The singer humbly reiterates that he feels like he still has more to learn and experience before he can adopt the name. "I would definitely like to get more involved in developing clothing goods, if there is another opportunity for me to do something in fashion like this."
Ten also did not expect his choreography videos to go viral online. His dance video set to Doja Cat's "Need To Know," created with his choreographer friend Bada Lee, sent social media into a frenzy as amateurs and professional dancers alike learned their moves. "At first, I was just freestyling to the song. I decided to call Bada Lee to drop by after I made the first part and wanted to finish the routine together. We filmed it and posted it on Instagram, and I realized the video went viral later on. We were so happy that everyone liked the choreography." This isn't the first time either, as Ten's choreography to Normani's "Wild Side" was also met with admiration from fans around the world. "'Wild Side' is awesome. The original choreography was so amazing that it made me want to create something similar to it. Also, I really love Normani and her music, so I hope to get a chance to collaborate with her someday."
YangYang, who's excited to join the new variety show How a Family Is Made, reveals that "we weren't able to meet our virtual family members for about two years, and will finally be able to fulfil our wishes of meeting them by joining the show." He adds: "By not being able to see our fans for so long, it made us look forward to the day we meet again in person. We've been practicing hard and preparing." As for now, the two artists have been unwinding and relaxing in different ways. Ten enjoys playing with his cats, cleaning whilst listening to his favorite playlist and watching Netflix, while YangYang likes to sit on his gaming chair, turn on his PS5 and play games while time passes.
Looking back at the pre-debut Ten and YangYang, the pair shares what they would tell themselves. "Don't be shy, you are more than what you think you are," YangYang says. In a similar fashion, Ten tells his younger self: "Believe in yourself, be confident and don't hesitate to work very hard for what you want."
---
Bashirat Oladele is a freelance writer covering pop culture and politics. Her work can be found in Teen Vogue, Stylist, Polygon, Cosmopolitan and more. You can check out her work here.
Share this article