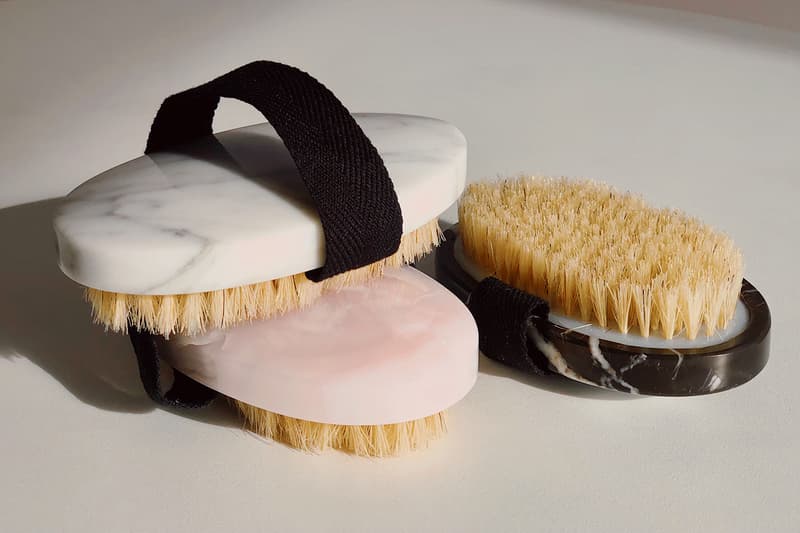 Beauty
Gilded Is the Small Beauty Business Giving Your Body Care Routine a Huge Upgrade
From a marble brush to a candle, the brand creates products for the perfect at-home spa.
Gilded Is the Small Beauty Business Giving Your Body Care Routine a Huge Upgrade
From a marble brush to a candle, the brand creates products for the perfect at-home spa.
If body care hasn't already been a part of your daily regimen, Gilded founder Blair Armstrong and her sleek lineup of products will convince you to start taking extra care of your skin from the neck down. With sustainability, innovation, timelessness and the feeling of luxury being the building blocks of the beauty company, Gilded offers a curated selection of skincare formulas, as well as tools and accessories to help nourish the skin and rejuvenate the mind at once.
The Supreme Body Balm, a bestseller from the brand, is developed to soothe parched skin, while the Brightening Body Polish uses ingredients like organic sugar and lychee fruit extracts to reveal healthy, glowing skin. Taking your at-home spa experience to another level, the brand's award-winning dry brush and beauty editor-favorite scented wax candle are both covered in elegant marble that take on colorations from white to pink onyx.
Below, we talk to Armstrong about how she initially came up with the concept of Gilded, her favorite products from the collection, as well as her proudest achievements as the founder of a small business. Read on for our conversation.
What prompted you to enter the beauty business, specifically with a body care brand?
I've always been into self-care and wellness and it occurred to me that there were limited options for body care, and even fewer options for luxury body care. From a professional perspective, I see patients for annual skincare exams and have seen firsthand what can happen when we neglect the skin on other parts of the body. Skincare is synonymous with facial skincare with an abundance of products at every price point, for every concern for face care. Face care is important as it's how we present ourselves, but body care is an opportunity to really care for ourselves and can be impactful in other areas of our lives. It was important to me to make body skincare an enjoyable experience that people would look forward to.
Talk to us a bit about your background. How did that prepare you for launching Gilded?
My training as a dermatology physician assistant focused on treating conditions of the skin, hair and nails and equipped me with knowledge and skills to understand various skin conditions and the treatment options. The training was research-oriented and followed the evidence-based medicine model, which is very helpful when deciding on ingredient profiles.
Gilded is influenced by my interest in and appreciation of Neoclassical sculpture, art, architecture, travel and history, based on my belief that the things we fill our lives and spaces matter, and that each decision we make is an opportunity to make a statement about who we are and the type of life we want to live. I am passionate about reducing disparities in dermatologic care and improving access to care.
As the founder of an independent business, what has your experience in the beauty and wellness space been like?
Following my passions and being confident in my visions is what I have learned makes for a fulfilling career while driving innovation and evolution. With Gilded, it's been a challenging, rewarding and exciting experience unlike any other. In my free time, I enjoy the freedom of creatively experimenting with different ingredients and materials to create the new and next product.
What about your proudest moments as an entrepreneur?
My proudest moments so far have been winning Allure's Best of Beauty Award and the Byrdie Beauty Award for the Marble Body Brush, and the Into The Gloss award for the candle, as well as when the products sell out. Additionally, it is incredibly rewarding when people write to share how much they enjoy the products and how they've encouraged them to be more mindful to make time for body skincare.
What has been the brand's most popular product? And what is your personal favorite?
The most popular product has been the Marble Body Brush. My personal favorite is the Supreme Body Balm. While I adore the brushes — each one is so beautiful and unique — I love the Supreme Body Balm. The texture is just incredible and it's effective at nourishing and conditioning the skin. It's unlike anything I've ever tried.
How do you see Gilded continue to grow in the future? What kind of products are you planning to launch to complement the current collection?
My plan is to continue to grow the Gilded community, educating individuals on body care and body concerns. Additionally, I want to continue diversifying the market, changing the imagery and predominant representation that we see in the wellness and beauty industry today, with Gilded leading the way and helping bring light to this conversation. Lastly, I see Gilded launching more initiatives to enhance and provide dermatological care for underserved communities. I am designing other body care tools and products and would love to add a body cleanser and bubble bath to the product line, as well as relaunch the Marble Foot Care Tool.
Share this article