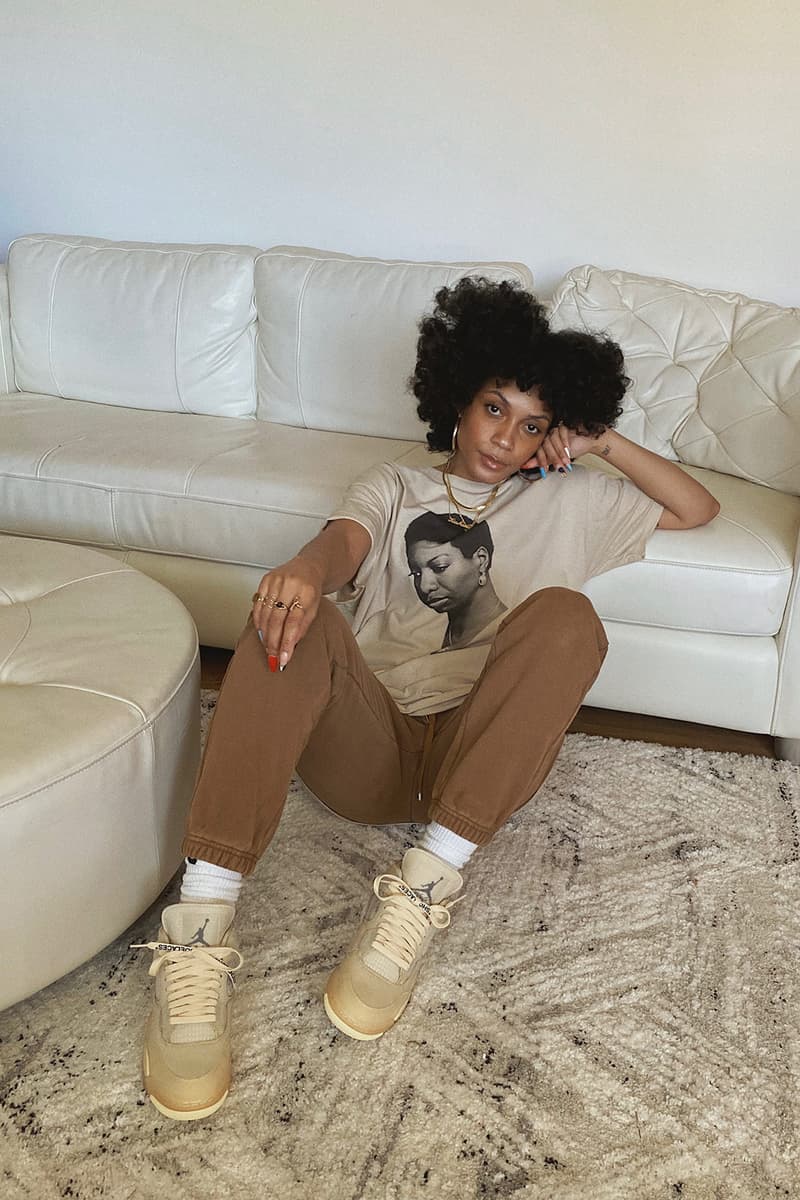 Baes With Kicks: Kia Marie
The Brooklyn creative discusses what makes New York City's sneaker scene special.
Footwear
Baes With Kicks: Kia Marie
The Brooklyn creative discusses what makes New York City's sneaker scene special.
In the latest installment of our Baes With Kicks series, we are taking a look at the extensive sneaker collection of Brooklyn-based Kia Marie, also known as @thenotoriouskia on Instagram. The content creator, stylist and influencer currently owns about 100 pairs of shoes, an impressive lineup that she has been collecting since her adolescent years.
With a background in basketball, it's safe to say that Kia is well-versed in the sneaker culture. "I lived in sneakers on and off the court and that same love is still with me today," she tells us. On top of that, the creative's outfit game is at once effortless and elevated. From comfy-chic looks to boss lady ensembles, Kia's taste in classic kicks like the Air Jordan 1, adidas Stan Smith and New Balance 992 always brings her fits together.
We caught up with Kia to talk about when she first developed an interest in sneakers, her favorite 2020 collaborations and more.
Name: Kia Marie
City: Brooklyn, New York
Occupation: Content creator, stylist and influencer.
You have a diverse sneaker collection. How many pairs do you currently own?
I have around 100, mostly Jordans. My oldest pair is from 2004.
Take us back to the beginning, when did you first develop an interest in sneaker culture?
It's kind of always been a part of who I am. My dad loved sneakers, you could always catch him in a crispy white pair of adidas. I'm also from New York City, which influences so much of not only sneaker culture but streetwear as a whole. In school, I had to wear uniforms, so that meant the only way you could assert your individualism was through footwear. This was also my first introduction to class and poverty. You were judged and ridiculed based on what you wore on your feet. To not have the latest Jordan meant you weren't "poppin'" and I couldn't risk that.
At 12 years old, I borrowed sneakers, traded sneakers and begged my mom for a pair of Jordan 14s in exchange for all the new school clothes I would get. Around this time, I also got into playing sports – track first and then basketball shortly after. I loved both but basketball is what brought me closer to my love for sneakers. I remember watching Love & Basketball with my teammates and I fell in love with Uptowns (also known as high-top Nike Air Force 1s). I also looked up to Sheryl Swoopes and Lisa Leslie who both taught me what representation meant for a little Black girl growing up.
It was also my first introduction to the community through shared interests. I loved flipping the pages of the Eastbay catalog with my friends and pointing out which sneakers we wanted but knew our moms probably wouldn't buy. I lived in sneakers on and off the court and that same love is still with me today. All these experiences play a role in my interest in sneakers. I think that's the beauty of sneaker culture – all the individual stories tell a tale of how personal it is and how we often tie our fondest memories to sneakers.
Do you remember the first pair you bought or received? What was it?
The first pair I purchased myself was a huge accomplishment for me. I worked at Wendy's on the weekends in high school in order to earn "sneaker money" and when I got my first couple of checks, I bought the Air Jordan 12 and it's been history ever since. I still have them today.
In your opinion, what makes New York City's sneaker scene stand out from the rest?
You can't mention sneakers and not say New York City. NYC just has that swag – it's raw, it's authentic and it's real. I think it has a lot to do with hip hop culture and this being the birthplace of hip hop. This is also the fashion capital. If we say it's hot, it's hot. Our influence on fashion and culture is undeniable. Also just the general culture of NYC. We walk everywhere so comfortably that footwear has always been quintessential to our daily wears. Sneakers are everywhere. From the school playgrounds, nurses in their scrubs to the executive on his way to the office in a pair of Air Max's. It's the culture.
What are your top three silhouettes of all time?
The Air Jordan 1, adidas Stan Smith and New Balance 992. They're all classic, timeless and versatile silhouettes, and the inspiration behind many designs today.
What stores or online retailers do you usually cop your kicks from?
Sometimes I get lucky on the Nike SNKRS app, but mainly all I catch are Ls. If I want a sneaker bad enough I'll go the reselling route. GOAT, Stadium Goods and Flight Club are my go-tos. I also have a few "plugs" where I can get sneakers for free or at retail price. However, I always try to support neighborhood sneaker stores first. Solemate NYC is one of my go-to spots.
Which sneaker collaborations do you think were the highlight of 2020?
The most anticipated was definitely the Air Dior that I luckily got my hands on, but they're still in the box and I don't think I'll ever wear them. The Off-White™ x Air Jordan 4 "Sail" was also a game-changer and hands down my favorite release of 2020. Many women who otherwise would have got beat out by bots received an email with early access. Also, the colorway is versatile and on-trend. Wearability is big for me. Soft, muted colors are easy to style and dress up or down. New Balance was probably the most consistent last year for me. Every release was fire and thought out. Excited to see what they come out with this year.
Your Instagram bio reads, "Less consuming, more creating." In what ways do you think the sneaker scene can change in terms of its sustainability efforts?
Firstly we don't need 5,011 Air Jordan 1 colorways, seriously. Also, sustainability is more than just recycled materials. I would love to see more focus on quality, meaningful releases.
When it comes to your work, where do you usually get your creative inspiration from?
Firstly, I can't do anything without music. It puts me in the zone creatively. I love curating playlists. These days, I like going through old magazines, Pinterest, Tumblr, museums or anything that is visually stimulating. Watching documentaries and listening to interviews are also places I get creative inspiration from. Hearing about the path and journeys of successful people and those I admire is motivating. I also like taking a look back at my journey as a reminder of how far I've come and how much I've accomplished. I inspire myself.
How has your style evolved since lockdown considering most people have been staying indoors this past year?
My style is definitely more comfy-chic now. My focus is on function and comfort since we're mostly in the house. Versatile pieces that can take you from the couch to your seventh Zoom meeting, then to the grocery store. One thing I learned during this time is the importance of adaptability. You never know what the world will throw at you, so come prepared and in style of course.
Do you plan your outfits depending on which sneaker you choose to wear for the day or is the process vice versa?
I always start with footwear. I recently started sharing my #KickOfTheDay series on Instagram Stories to inspire me to wear a different pair every day. I think it's great to show the versatility of your collection. Focusing on a cohesive and balanced collection rather than getting every release, especially now when most ride-or-die enthusiasts are losing to bots.
Diversity and representation are still a work in progress in the industry. How do you think that can be improved?
Highlight and hire more Black women in the industry. We are culture. We drive trends but we're also excluded from these tables and conversations. Our aesthetic has been commodified without representation and compensation for too long.
Secondly, we need more women's only releases like the Off-White™ x Air Jordan 4 "Sail." It wasn't flawless but I think this was a step in the right direction. I think access is also important. Make sneakers more accessible to communities that are the foundation of sneaker culture.
Lastly, companies should continue to release diversity numbers. Last summer, we heard a bunch of companies take stands vowing to do better but we haven't heard anything since. Being open and transparent with your consumers builds trust and accountability. Doing the work requires continuous action, not just a post on Instagram.
Share this article