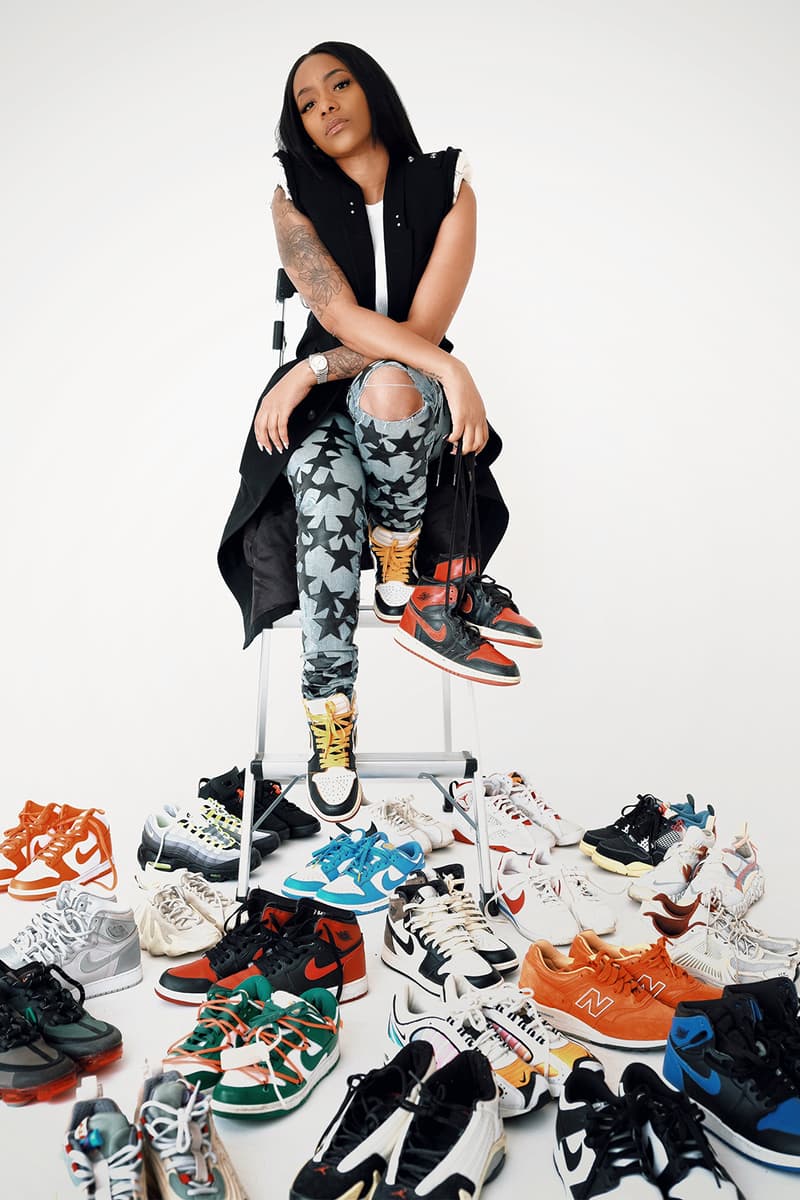 Baes With Kicks: Shaniqua J
The NYC-based content creator shares the root of her love for Air Jordan 1s.
Footwear
Baes With Kicks: Shaniqua J
The NYC-based content creator shares the root of her love for Air Jordan 1s.
Based in New York City, wardrobe stylist and content creator Shaniqua J has dedicated her platform SIMPLICITYxSTYLE to her love for fashion and sneakers. With around 60 pairs in her collection and counting, Shaniqua has always been fond of Nike's Air Jordan 1s. Whether she's rocking leather pants with a graphic hoodie, or is dressed to the nines with a body-hugging gown with a slit, the creative knows how to style all types of fits with any Jordan silhouette.
In our latest Baes With Kicks feature, Shaniqua speaks to HYPEBAE about what ignited her love for sneaker culture, how she thinks NYC's sneaker scene has grown over the years and how the industry can expand its inclusivity efforts in terms of its women's offerings. Read on for our conversation.
Name: Shaniqua Jordan
City: Brooklyn, New York
Occupation: Wardrobe stylist and content creator
How many pairs of sneakers are there in your collection?
I currently have about 60 pairs. I went through a selling phase and I actually let go of some sneakers that I should have kept. I just have to live with that regret.
What are your top three go-to sneakers?
Nike Air Jordan 1s, Nike Air Force 1s and the New Balance 997.
Can you recall what ignited your love for sneaker culture and what inspired you to build your own footwear collection?
Sneaker culture has always been a part of me. My mother and uncles definitely played a role in that. I would have to say I fell in love with sneakers when I was in fifth grade of elementary school. Sneaker culture then was very different than it is now. I would get teased a lot because my last name is Jordan. Classmates would say things like, "She's Michael Jordan's daughter with no Jordans." Somehow, my then impressionable mind came to the conclusion that I needed to have every single pair released. That pretty much started my sneaker obsession
Being born in the '80s, my mother was a diehard Reebok fan, so the 5411 was a staple. As I began to develop my own sense of style, I wanted to break away from letting my mother choose what I wore. I remember crying for a pair of Fila's Jerry Stackhouse — and those weren't the last pair of sneakers I cried for.
When the Eastbay catalogs started to roll in, my peers and I would bring our magazines to school with all the sneakers circled that we wanted. Back then, Jordan releases came with retro cards, so we would have them up in our lockers. That was my first taste of release dates and anticipation for sneaker drops. Back then, the mom-and-pop stores would let you buy your sneakers a little early for a small fee — nothing like the resell fees now. However, it was a big deal to show up a week early with the newest kicks. There were a lot of extra chores being done around the house for early release money.
Who were some of your style inspirations growing up?
A few of my style inspirations came from those in music, like Aaliyah and Lil' Kim. There were a few others but Aaliyah was really my number one. Her tomboy, chic aesthetic really appealed to me. Then there were TV shows like A Different World and The Fresh Prince of Bel-Air that also inspired me.
Where do you usually cop your kicks, both online and in-store?
GOAT, Nike SNKRS, Stadium Goods, WOODstack NY and KITH.
What makes New York's sneaker scene unique? And how do you think it has grown in the past few years?
New York City has an undeniable influence when it comes to fashion — sneaker culture included. What makes the New York sneaker scene so unique is that NYC is the Mecca of sneaker culture. From the birth of hip hop, which played a major role in the sneaker culture, to the summer basketball tournaments, the city is synonymous with the sport and culture of basketball. We can't forget about the mom-and-pop sneaker spots from Fulton Street to Jamaica Avenue, all the way up to Fordham Road.
I definitely feel the sneaker culture has grown just in the fact that more women are comfortable collecting and wearing sneakers. There was a stigma for a while that only tomboys wore sneakers, or you were looked at as less feminine if you wore sneakers. Now, you have things like sneaker balls where you can wear a form-fitted sexy dress with a pair of kicks and feel totally comfortable.
Which silhouette do you treasure the most and why?
As cliché as it may sound, I would have to say the Air Jordan 1. I know it has become the It style of Jordan, but for me, I literally can wear my Air Jordan 1s with anything — dressed up or dressed down. I hope to have my own Air Jordan 1 one day… a girl can dream, right?
How do you keep your shoes looking fresh?
I'm not as hard on my sneakers as I used to be as a teenager. I use Jason Markk cleaning wipes, or I'll go the old school route with some toothpaste and a toothbrush.
What are some other footwear styles you wear regularly other than your sneakers?
Right now, I've been living in my YEEZY Foam Runners. I also can't step out of my Maison Margiela Tabi Boots. For really cozy days, I can't go without my Confetti mink slides.
What are some style trends you are enjoying at the moment?
I am really enjoying the oversized shoulder pad boyfriend jackets, especially cropped. I've also been loving the babushka headscarf and everything green — especially chartreuse, it's the perfect pop of color and I am in love with it.
How do you think the sneaker industry can expand its inclusivity efforts in terms of its women's offerings?
In my opinion, access is very important. It's no secret the sneaker industry favors the needs of men over women, even when it comes down to sizing. Resellers even sell smaller sizes at higher prices because of rarity. Women-only releases are a step in the right direction but often aren't without flaws or gender signifiers like feminine colorways. It's as if women can only wear certain colors. We need access, and we need to be a part of more collaborations and campaigns. Women need the sneaker industry to recognize the importance of providing us a seat at the table.
Share this article