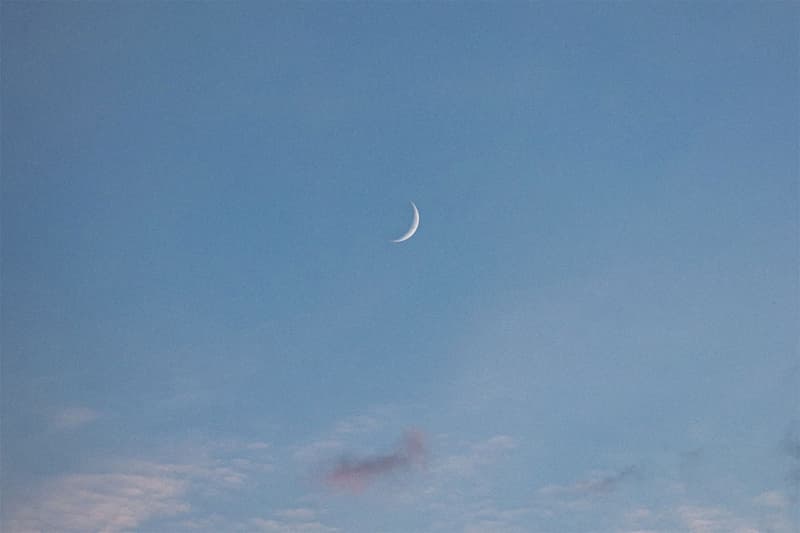 January's New Moon in Aquarius Encourages You To Dream Big
New moon, new me.
Now that Mercury retrograde has come to its long-waited end and Mars is no longer orbiting in reverse, the new year can finally begin in earnest.
Aquarius season is officially in full swing as the first new moon of 2023 rises in the sky on Saturday, January 21 at 3:53 p.m. EST. Ruled by Uranus, a planet that values progressive forward thinking, January's new moon encourages you to let your freak flag fly high in order to find a like-minded tribe that will lead you to victory.
The water sign is known for using its intellect to achieve a greater good for its community, so it's a wonderfully cosmic coincidence that the new moon occurs on the same night of Lunar New Year's Eve. Celebrating the Year of the Rabbit from an Aquarian point of view can only result in a season of magic in abundance as the bouncing creature symbolizes a more gentle and collaborative approach. Always fighting for what's right, the water-bearer is your friend group's cheerleader, hyping everyone up and encouraging them to be their best selves.
With the arrival of a new moon, la luna is wiping the slate clean, giving you a celestially charged opportunity to take stock of the present and possibly reimagine a new path forward. Aquarians are a little rebellious, but it's only because their expansive minds allow them to see beyond what's in front of them, defying the status quo. Use this mindset as inspiration to dream big during the new moon.
Continue reading to discover your zodiac sign's horoscope for January's new moon in Aquarius.
This month's new moon sits in your eleventh house of networking, reminding you that you'll go farther when numbers are on your side. While you still may be in recovery mode from a busy holiday season, make sure you set aside time to hit up that friend you've been meaning to see. Socializing can provide a huge source of inspiration, so be brave and put yourself out there.
With the moon in your tenth house of career, marry your notorious level-headedness with the Aquarius' penchant for experimentation to move full force into any side ventures or passion projects you've been dreaming of. With the cost of living rising, it can feel scary to take risks with your career, but if you mix pragmatism with passion, you'll be well on your way to creating the career of your dreams.
Ever the social butterfly, the new moon shines a light in your ninth house of travel and creativity, encouraging you to put your love for change and newness to good use. While everything seems to be going wrong with flights these days, a road trip or a train ride somewhere uncharted might be just the start you need to kick off the new year.
Resting in your eighth house of intimacy and legacy, the Aquarius new moon allows you to do what you do best — be vulnerable. Since the spirit of the moon's current phase is community and togetherness, open up to a friend or think about the kind of support system you'd like to build for yourself in the future.
The new moon is in your seventh house of partnership, urging you to examine your closest bonds with a fresh set of eyes. It's easy to fall into a rut in romantic relationships and do the things we think we're supposed to do, however, not living authentically will result in unhappiness. Take a cue from the unconventional Aquarius and write your own rules around love, identifying what truly satisfies you.
Rest and relaxation is the name of your new moon game as the crater-filled planet is in your sixth house of daily routine and wellness. As the zodiac's perfectionist-in-chief, it's easy to be on your hustle and grind all the time, but lighting the candle at both ends will inevitably lead to burnout. Put your phone on do not disturb Saturday evening and swap your planner for cucumber slices and a movie.
Romance is top of mind for you as the Aquarius new moon is setting the mood in your fifth house. With Valentine's Day around the corner, you may be thinking of the special someone and we certainly hope you're number one on your list. Carve out a moment to show yourself some tender loving care on January 21.
Decluttering is the perfect new moon ritual as Earth's only natural satellite takes up space in your fourth house of domesticity. While you may be sick and tired of hearing about everyone else's New Year's resolutions, refreshing you home is a surefire way to truly set yourself up for sustainable success as a clean and comfortable environment can also help clear the cobwebs in your mind.
Your voice will be your most powerful tool as the new moon enters your third house of communication. Sit down with a trusted friend for a heart to heart, letting thee ideas and emotions flow out of you. If you're in a state of isolation, feel free to put pen to paper and talk to yourself. Journaling can be one of the best ways to decompress and eliminate mental chatter, especially if you have a one too many tabs open in your brain.
We're all a bit stressed about money, but the January new moon provides an opportunity to change the script around finances as la luna is in your second house of income. Being the zodiac's goat, you know how to stay in your bag, but it doesn't hurt to have a plan B or C. Mapping out different ways to diversify your streams of incomes will undoubtedly have you feeling safe and secure this year.
The new moon is in your first house of self, giving you permission to be a little self-absorbed. While this may seem like a bad thing on the outset, January 21 is technically the start of new year and thinking of yourself as the main character of your life will give you the confidence you need to go after your dreams with full steam. Create a vision board and hop onto Pinterest or go analog and opt for a magazine and glue sticks.
Falling in your twelfth house of spirituality, the Aquarius new moon heightens your already strong intuition, making this the perfect time to manifest your deepest desires for the next eleven months. Harness the energy of the new moon and write down specific, realistic goals, keeping it someplace safe to remind you of your motivation.
---
Share this article