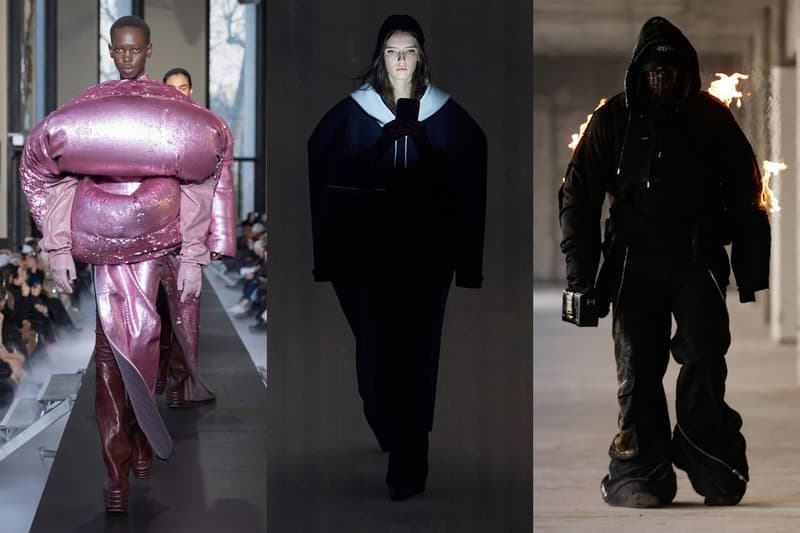 Fashion
The 7 Top Shows and Runway Trends from Paris Fashion Week FW23
Featuring Vivienne Westwood, Rick Owens and Ib Kamara's Off-White™ debut.
The 7 Top Shows and Runway Trends from Paris Fashion Week FW23
Featuring Vivienne Westwood, Rick Owens and Ib Kamara's Off-White™ debut.
The Fall/Winter 2023 season of Paris Fashion Week has come to a close and what we're left with (aside from a string of peculiar celebrity sightings and very high screen time scores) is an intriguing selection of current and emerging trends. Most notably, winter outerwear appeared to develop some pretty bulbous silhouettes, while raw finishing and excess thread detailing made their way onto the runways of Sacai, Y/Project and Cecilie Bahnsen.
Elsewhere, brands and designers continued to draw inspiration from bodies and silhouettes, resulting in screen prints, thermal images and curve-enhancing cuts. FW23 also saw the introduction of boots as trousers (or trousers as boots, depending on how you look at it,) evidenced through the radical designs of Alexander McQueen, Vivienne Westwood and Victoria Beckham.
Overall, fashion continued to provide theatrics and entertainment this season, despite what Demna said, through showcases like HELIOT EMIL and Coperni, while more established brands like A.P.C. and Victoria Beckham took the route of sticking to their much-loved classics and reinventing them for a new audience.
Finally, this season continued to build upon the trends we spotted at London Fashion Week, with concepts like furry footwear and concealed identities favored throughout.
With PFW officially wrapped, Hypebae looks back on our favorite runway shows of the season alongside deducing the biggest trends and takeaways.
HELIOT EMIL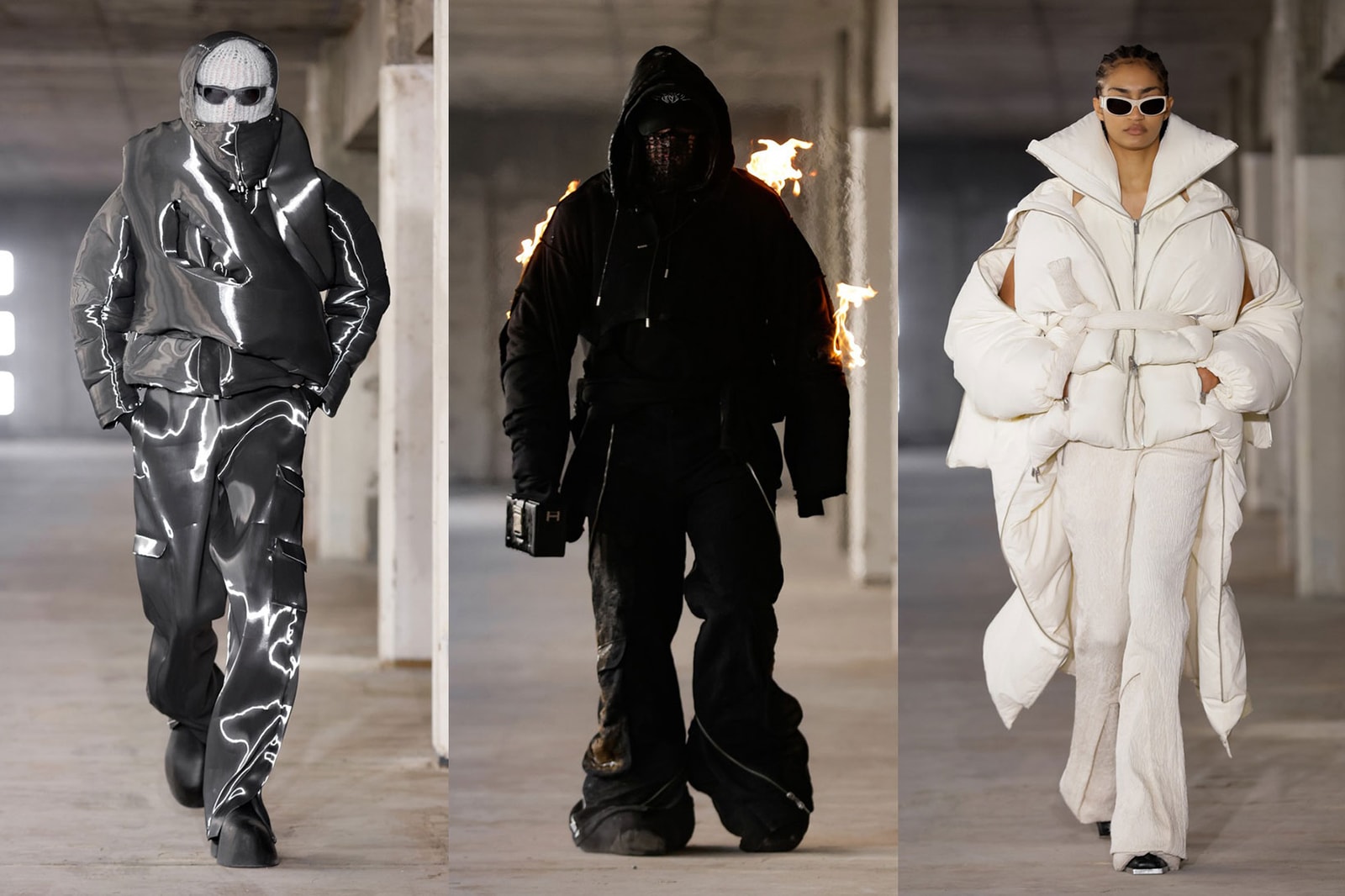 HELIOT EMIL's FW23 showcase was a masterclass in destruction. With a penchant for fabric manipulation and illusion, the Danish brand took things to the next level as it featured a model walking down the runway whilst uh, set on fire. The collection took cues from the sculptural works of English abstract artist Henry Moore and looked to explore the intricacies of texture and all its capabilities. The showcase featured more than a few nods to concealed identities, through face masks and coverings, alongside silhouettes of dramatic proportions and modular layering techniques.
Rick Owens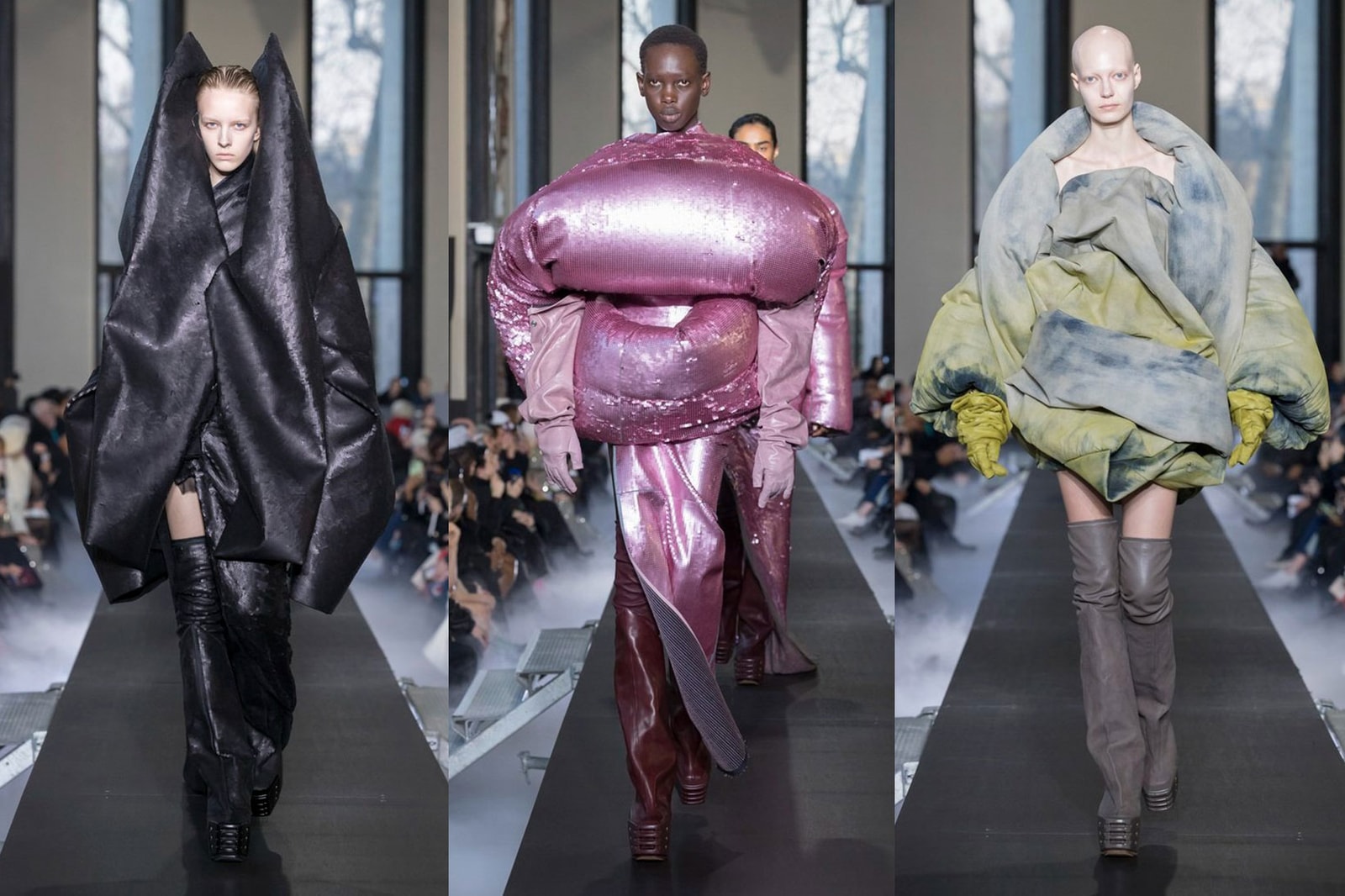 Similarly, Rick Owens' FW23 brought the drama in all senses of the word, whether it be through silhouettes and proportions, beauty looks or color palettes. The collection centered around plush, pillowy forms and the introduction of metallic sequins, once again exploring textural perceptions and designing for tactility. In terms of trends, there's a notable shift towards experimentation, particularly with outlandish proportions and the concept of sculpture as fashion.
Vivienne Westwood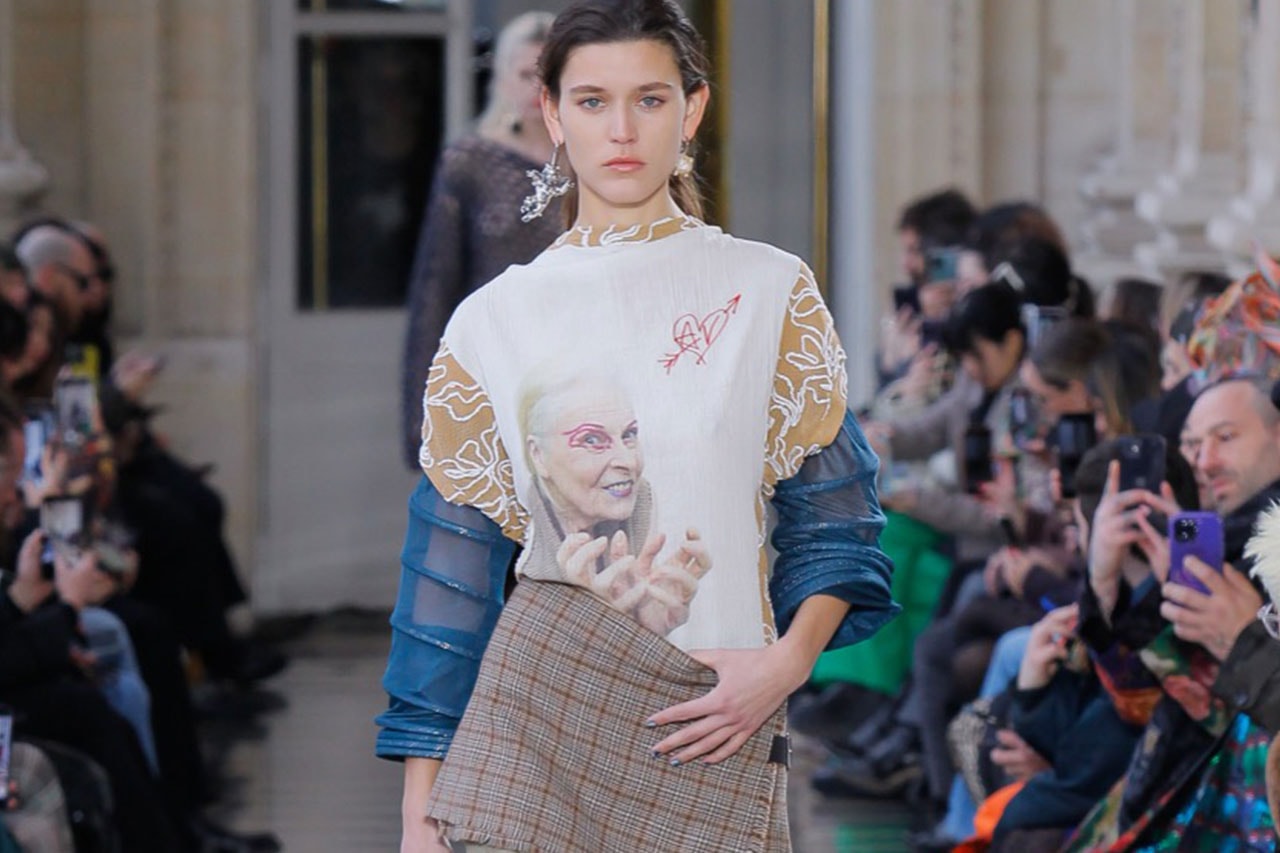 Andreas Kronthaler's first solo Vivienne Westwood collection paid tribute to the late designer's rebellious spirit, with punk-inspired influences permeating the runway. The highly-anticipated showcase came to a close with Westwood's grand-daughter, Cora Corre, dressed in a white lace playsuit, arm in arm with Kronthaler as the audience quietly remembered an icon. In terms of the collection, FW23 featured an excessive amount of layering, with clashing patterns and prints becoming the norm, alongside sheer pants and shrunken knits as an ode to Westwood's seductive side.
Courrèges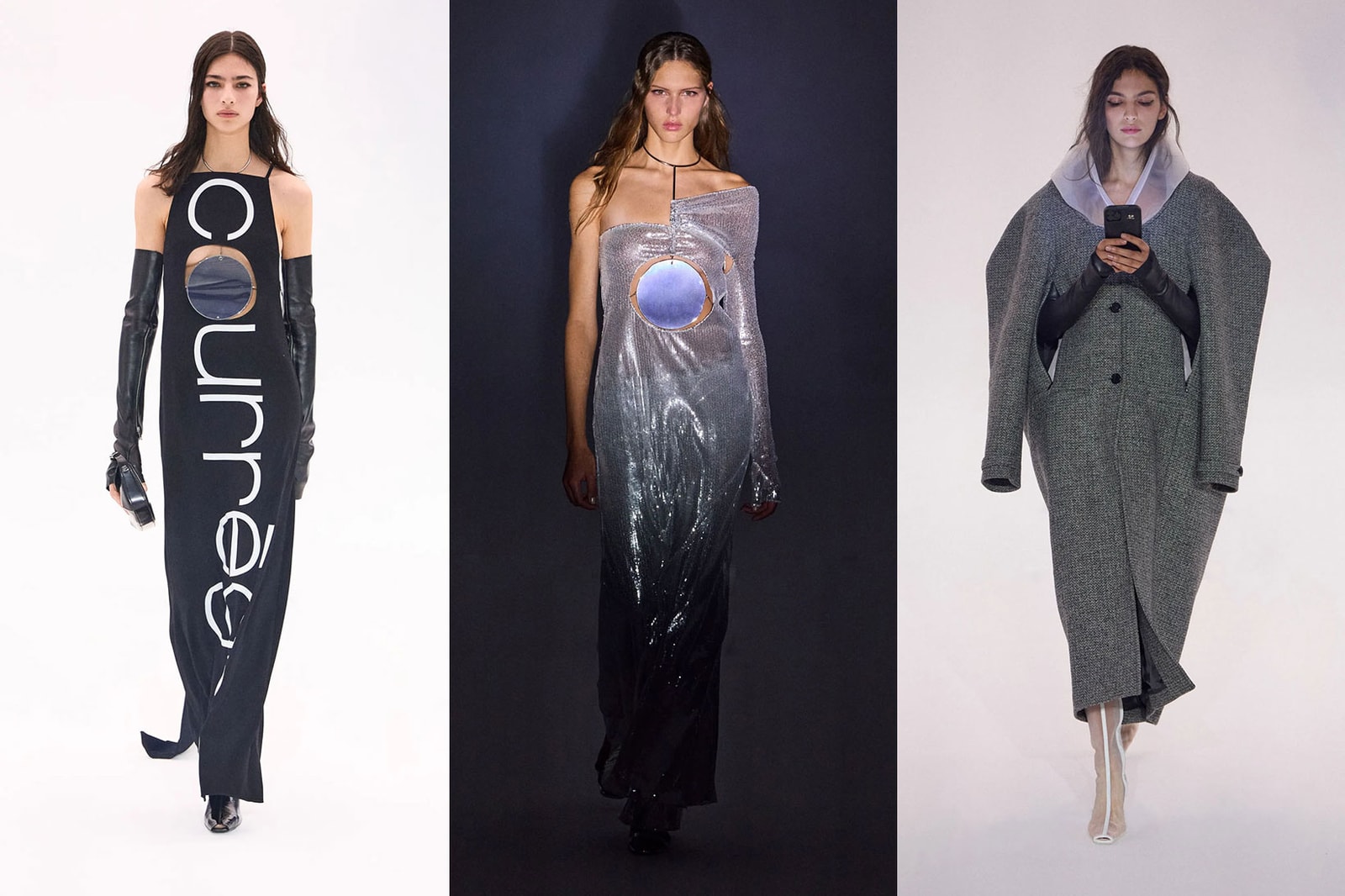 Courrèges FW23 explored the modern consumer's obsession with technology and aimed to represent how consumed we all are by our devices, as it featured models walking down the runway eyes fixated on their phone screens. Overall, the collection favored a muted color palette, paving the way for structural cut-outs, arm slits and mirror pendants. A more literal take on our recent "Screenwear" trend, the showcase proved that technology continues to act as a core inspiration for fashion, whether it's good or bad.
Off-White™

Ib Kamara's debut collection for Off-White™ drew from the realm of intergalactic exploration and design, showcased in an otherworldly setting akin to a space landing. Metal studs, space-suits and planetary colorways absorbed the runway, as Kamara explored the concept of "delivery" in an out-of-this-world display. In terms of trends, FW23 marks a paradigm shift in the possibilities of fashion, with a continued and renewed focus on experimentation, exploration and going against the grain.
Y/Project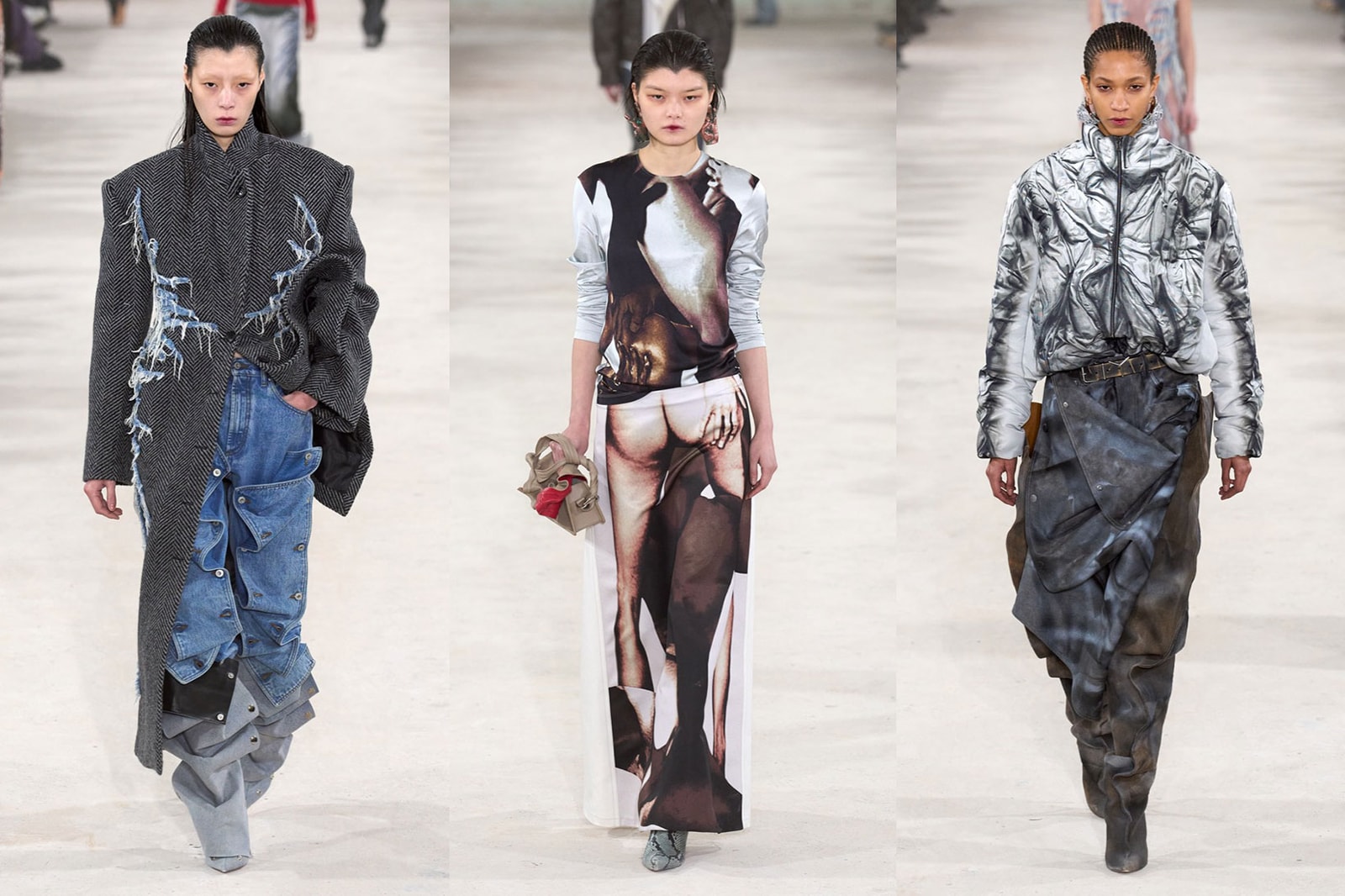 Glenn Martens' Y/Project made a welcome return to Paris this season, with a dramatic collection that took inspiration from an Italian-language soprano aria. Models were cocooned in boxy jackets and oversized coats, elevated by ruched, layered boots and asymmetrical skirting. The collection also celebrated freedom and sexuality, with dresses adorned with screenshots of old porn films and held together by statement jewelry. FW23 spoke to previous trends of "Feminine Grunge" and "Y2K," through cut-out and distressed denim, fraying threads and acid washes.
Victoria Beckham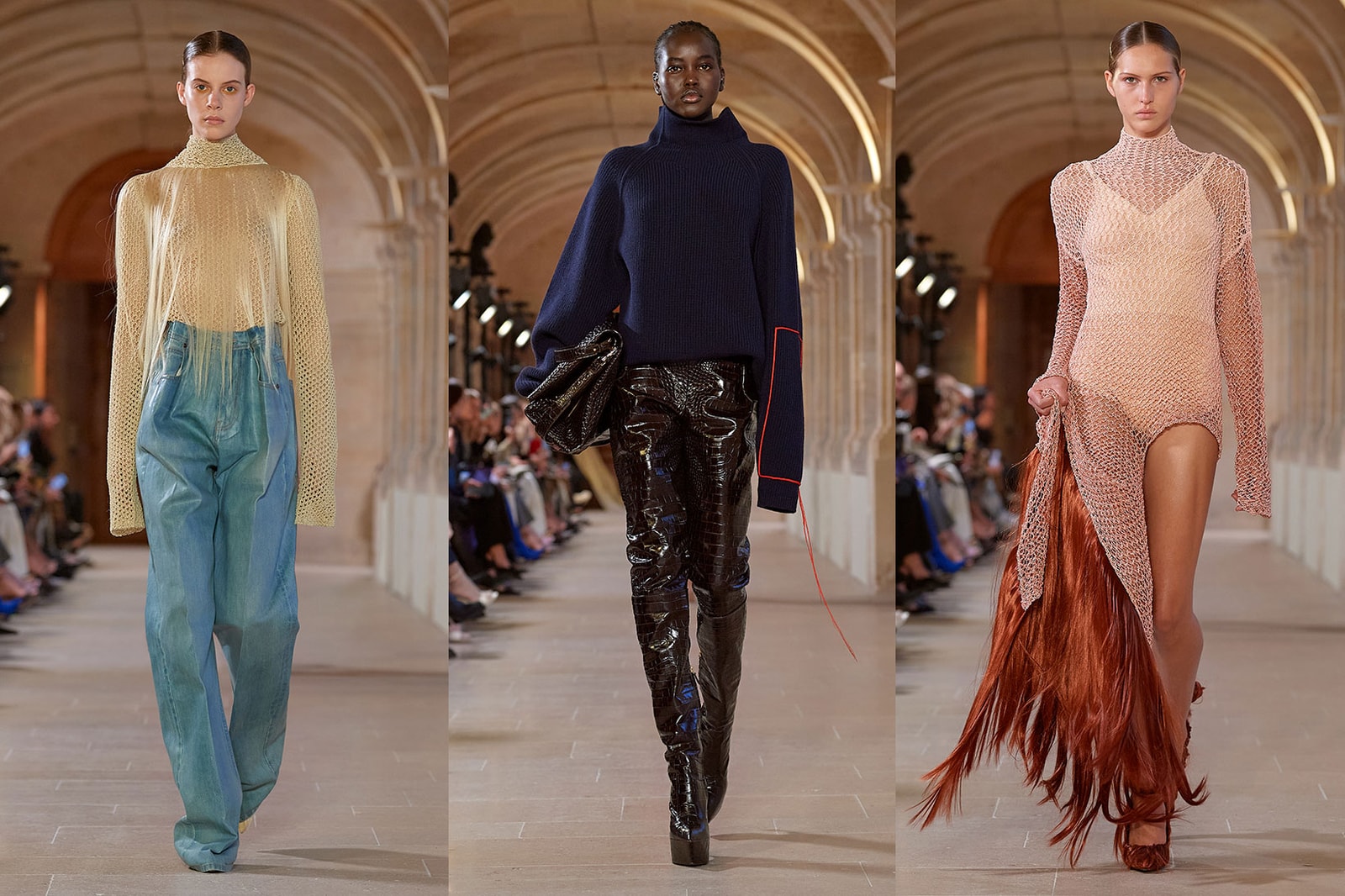 Finally, and perhaps one of the more surprising showcases was Victoria Beckham's FW23. The collection felt like her most experimental and eccentric one yet, with shoes as boots and wigs as accessories dominating the runway. Offering a playful departure from Beckham's previous, more sartorial efforts, FW23 fused elements of Y2K and grunge with evening attire and workwear. To incorporate such trends, think oversized boots, fraying and fringing materials and plush knitwear.
---
Share this article