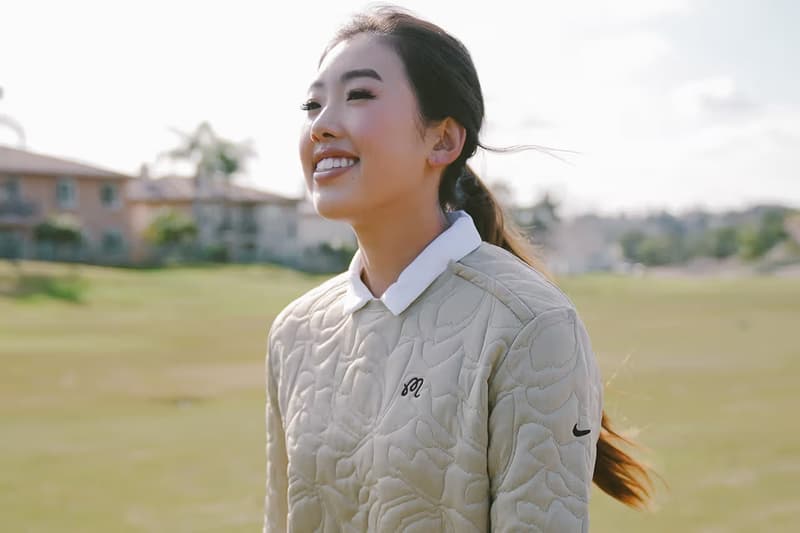 Fashion
Why Yealimi Noh Is So Important to Golf's Style Revolution
Getting to know Malbon Golf's new ambassador.
Why Yealimi Noh Is So Important to Golf's Style Revolution
Getting to know Malbon Golf's new ambassador.
At just 21 years of age Yealimi Noh is still establishing herself as a professional golfer. And yet, in the blink of an eye she gained a ton of credibility in an emerging space where golf and fashion intersect. That's because West Coast golf label Malbon Golf introduced her as its first ever official ambassador, part of the brand's push into the women's golf market.
Although there are options like Nike and adidas for female golfers, the selection of streetwear influenced garments is decidedly slimmer. Noh understands the potential that her partnership with the LA brand has to reach new female golfers, as well as the wider power of fashion to change the game.
The question remains, who is the woman that went from a relative unknown to the poster child for Malbon Golf's foray into women's wear overnight? For starters, she was born and raised in the Bay Area, and forwent attending college to turn professional at just 17 years old. Noh qualified for the LPGA Tour the following year in 2020, and is now coming up on her fourth season on tour where she'll wear Malbon's buckets logo for the first time.
Hypegolf sat down with the up-and-coming pro golfer to discuss why she partnered with Malbon, how she lives her life on and off the course, when she got into the sport and much more.
Golf is becoming more fashionable and a lot more people are starting to care about what they wear to the golf course now.
How did you first get into golf?
I was about 7-8 years old and my dad had just started to play so he took me to the range. I think it's rare to have started golf with a parent at the same time, but it's been a nice experience getting to improve, learn and have fun with each other.
Who were some of your role models in golf or sport growing up?
A role model I had growing up, like most golfers would be Tiger Woods. His aura, work ethic, determination and many more aspects are qualities any athlete would like to possess and replicate.
What made you want to be a pro golfer? And when did you know?
When I realized how much I loved playing in front of people and showing my abilities, that's how I knew. The summer before I turned pro, I had to make the decision whether to continue on to collegiate golf or start my professional journey. That was a tough decision but a milestone in my life, and I believe the right decision for me.
What's been your favorite moment of your career so far?
My favorite moment in my career so far would have to be having my best finish in a major at my favorite event, the Evian Championship in France. Having the chance to contend in that field and just enjoying every minute of it, whether it was the nerve racking moments, or simply appreciating the beauty of Lake Geneva and the [French] bread of course.
What does it mean to be Malbon Golf's first ambassador?
It means a lot to me. I feel very honored and grateful that they chose me to represent their style and motto. Malbon has a very unique vibe and I hope to portray it well on and off the golf course.
What appeals to you about the brand?
Malbon's effortlessly cool, casual style is what really attracted me to the brand. The way some pieces are oversized and comfy but still very fashionable. I also like how the styles vary from preppy to athletic and laid back. I won't have to stick to one style and will be able to express myself more with Malbon.
How would you describe your personal style on the golf course, and how does it compare or differ to your style off the course?
I'd say my personal style on the golf course would be simple and chic. Which would be similar to my style off the course.
Are there any other golfers, male or female, past or present, who you think dressed particularly well?
I would say Paula Creamer had the best style as a female golfer.
Do you think style and fashion has the potential to change golf?
Definitely, and I'd say it already has drastically. Golf is becoming more fashionable and a lot more people are starting to care about what they wear to the golf course now. And not exactly the "traditional" style, I feel like a big change has been that brands are starting to provide more clothing that would be considered "lifestyle" wear. For example: hoodies, joggers and un-collared shirts are now very acceptable on the course, when in the past it wouldn't have been.
We've seen you rock the Air Max 90 G on some occasions, and the Air Zoom Infinity on others. How do you decide which one to wear on a given day? Will you be adding any new models to your repertoire?
Ever since I first tried the Air Zoom Infinity, I loved them. They're the kind of golf shoes that don't need much time breaking into, so it's very convenient when you know that a new pair of shoes will be comfortable to walk in right away. It's also got a sporty, clean look to it so I find it easy to match with any outfit. The Air Max 90s are also really great, mainly because they come in more colors which is nice to match with outfits. I'll probably stick to those two styles for this year until I find something that is equally comfortable and looks good.
Whether it's the fashion, the competition or the people you connect with, golf has so much to offer and it's time for women to be a bigger part of it.
What do you like to do when you're not playing golf?
I like to spend quality time with friends and family. Since I have a very busy schedule year round I find it really important to make the time to connect with the people I care about. Doing normal things like just going out to dinner, watching movies and going shopping are things I really appreciate. As much as I enjoy traveling and golfing around the world, taking a break from it all and relaxing is essential.
Do you think of yourself as a golfer first?
I like to think of myself as a person before a golfer. I feel like there's a very fine line between the two and it can get blurry at times. Everyone is looking at the golfer Yealimi and I have my own expectations and goals as a professional golfer. However, it's really important to me to always keep my mental health in check and to remind myself that I am more than just a golfer, and fortunately I'm lucky to have amazing people around me to help me keep track of that. I still believe I have areas to grow as a person and golfer but I'll enjoy the process and appreciate every second of it.
In your opinion, what will it take for women's golf to continue to grow?
I think it's really important that golf develops a more welcoming image for young girls in order for women's golf to continue to grow. We need to show girls how fun and attractive golf can be. Whether it's the fashion, the competition or the people you connect with, golf has so much to offer and it's time for women to be a bigger part of it.
---
Share this article