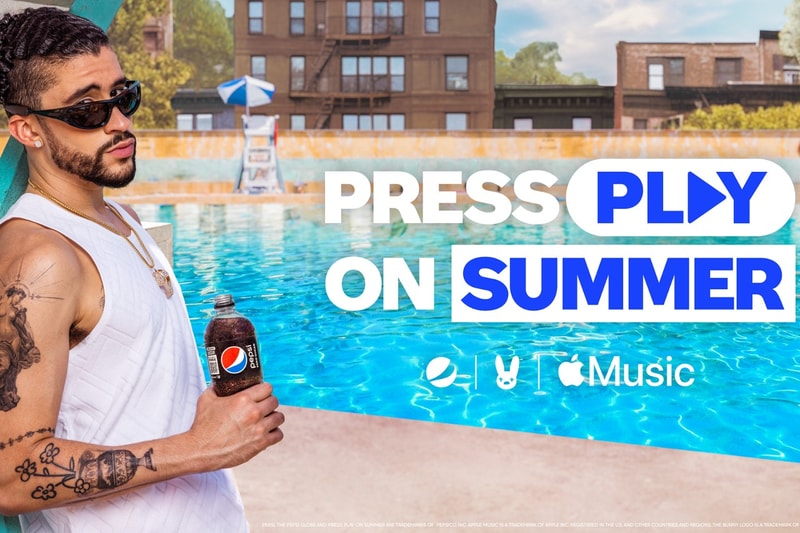 Music
INTERVIEW: Bad Bunny on His Music-Making Process, Thoughts on Crossing Over and New Summer Campaign
In an exclusive conversation with Hypebae, the Puerto Rican trailblazer discusses culture and his latest partnership for fans.
INTERVIEW: Bad Bunny on His Music-Making Process, Thoughts on Crossing Over and New Summer Campaign
In an exclusive conversation with Hypebae, the Puerto Rican trailblazer discusses culture and his latest partnership for fans.
Late last year, Bad Bunny announced he was planning on "taking a break" in 2023, but even while doing so, he continues to succeed and make waves in the music industry, especially now that summer is approaching. In an exclusive interview with Hypebae, the reggaetonero, whose real name is Benito Antonio Martínez Ocasio, discusses his music-making process, his latest single, "Where She Goes," his thoughts on creating music in English and/or Spanglish and his new Pepsi x Apple Music campaign, which offers three months of unlimited Apple Music as part of the "Press Play on Summer" program.
As part of the new campaign, Benito filmed a commercial, which premiered today (June 1). While the three-time Grammy-winning artist has starred in several commercials throughout his career, this one is extra special, mainly because of the legacy Pepsi has had on pop culture over the last couple of decades. When you think of iconic Pepsi propaganda, Britney Spears, Beyoncé, Pink and Enrique Iglesias' "We Will Rock You" commercial from 2004 may come to mind as well as Cindy Crawford's thirsty hot 1992 Superbowl ad. Now, in 2023, Benito is the new face of Pepsi and his new commercial could be leaving a similar mark or even bigger simply because he's a Latin music star paving a new way, and his mission is always to represent Puerto Rico and his culture in everything he does.
"It's surreal to know that I'm joining a company like Pepsi for what could become another monumental campaign in our culture," he tells Hypebae. "For me, it always goes back to being a voice for Puerto Rico and its people. Knowing that this could be as memorable as some of Pepsi's previous campaigns with icons like Britney Spears, Beyoncé, Pink and Enrique Iglesias is a win for Puerto Rico."
Additionally, what makes this campaign so special is it gives back. On why his partnership with Pepsi and Apple Music is important, Benito says, "First and foremost, 'Press Play on Summer' is centered around my favorite season — summer — and gives my fans the opportunity to enjoy the gift of music. Secondly, it pairs me with two of the world's most iconic brands, which is an immense honor."
The commercial sees the musician portraying a lifeguard and vibe curator, who dramatically unlocks three months of unlimited listening on Apple Music whenever he opens a bottle of Pepsi Zero Sugar. Naturally, because the setting is summer and the vibes are immaculate, a Bad Bunny song is being played — "Where She Goes."
Benito dropped "Where She Goes" in May. A few days before debuting the song, he shared a snippet on social media, giving away that the single was an EDM track — specifically Jersey club — a genre Benito had never previously incorporated into his music before. "I like to experiment and have fun when creating music," he says about the new summer anthem. "Jersey club has an upbeat tempo that will put people to dance this summer. Everything I do is always based on what brings me joy and inspires me at the moment. The type of music I experiment with is never really planned and happens organically in the studio."
One day prior to releasing "Where She Goes," Benito revealed the title of the track, which is notably in English — a first for him. As a result, many fans thought this meant the majority of the lyrics would possibly be in English or Spanglish. But it turns out, "Where She Goes" is a Spanish-language track with the exception of one line in which Bad Bunny sings, "I wanna feel that pussy again." Though Benito admits his music-making process is always unique and spontaneous, the English-language title was intentional. "I always like to create some type of mystery when I'm going to release new music and announcing the track name in English created a lot of speculation on whether the song would be in English," he explains. "Then, everyone was surprised when it was in Spanish."
When asked if he would ever cross over and make music other than in Spanish, he says, "If I were to ever sing in English or Spanglish, it would be a thing of the moment. When I'm in the studio, we just flow and have fun, so it's something that would happen naturally without being planned."
Bad Bunny is only 29 years old and in many's eyes, he's already reached icon status. Just in 2022, he set the record for the highest-grossing tour in a year, he was the highest-paid Latin artist and his fourth solo studio album, Un Verano Sin Ti, became the first all-Spanish-language LP nominated for a Grammy in the Album of the Year category. This year, his success continues to skyrocket with his latest achievement being breaking the Spotify record for the biggest streaming day in 2023 for a male artist. So for someone who continuously hits new milestones and makes history, one can't help but wonder how Benito wants to continue evolving in his career as an artist.
"I'm all about embracing the unexpected and exploring the unknown," the Latin trap star says. "I'm an artist because it brings me happiness. I never do anything in my career with expectations. The only thing I know for sure is that I hope to continue being a voice and pride for my island of Puerto Rico."
Check out the new Pepsi x Apple Music "Press Play on Summer" campaign commercial above and revisit the "Where She Goes" music video below.
This interview has been condensed and edited for clarity.
---
Share this article