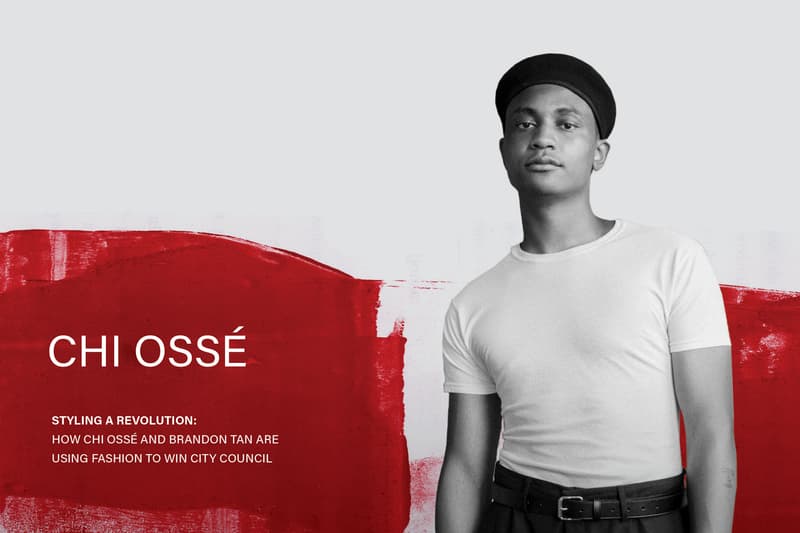 Culture
Styling a Revolution: How Chi Ossé and Brandon Tan Are Using Fashion to Win City Council
The Gen-Z politician and his stylist reveal a sartorially paved path to political victory.
Styling a Revolution: How Chi Ossé and Brandon Tan Are Using Fashion to Win City Council
The Gen-Z politician and his stylist reveal a sartorially paved path to political victory.
"I never thought I would be a politician," Chi Ossé muses. "I'm a 22-year-old, Black, queer, college dropout," he explains with a self-awareness that public figures — particularly, those who navigate life unburdened by identity politics — rarely exhibit.
Ossé's ascent to public recognition has been astonishingly fast. The Brooklyn native established himself as a leader in the Black Lives Matter protests that began sweeping New York City in early June, following the murder of George Floyd. From there, Ossé and several other engaged protestors formed Warriors In The Garden, a social justice collective that organizes peaceful protests and other public programming related to racial injustice. In just a few weeks, the collective caught the attention of The New York Times and Buzzfeed, and its Instagram account amassed thousands of followers.
On June 19, Ossé announced his candidacy for New York City Council as a representative of District 36, which encompasses Bedford-Stuyvesant and Crown Heights, where he grew up. His decision to run for public office was motivated by a gradual yet obvious reduction in crowds attending the protests he helped, and continues to help, lead. "I picked up on how less frequently these protests have been happening, how the crowds have been getting smaller, yet the passion I have for change, for civil rights and for the safety of Black people isn't going anywhere," he says. "I was thinking internally, what are my next steps?"
A quick scroll through Ossé's Instagram account proposes a fresh prototype of a politician. His early posts paint a picture of a young man thoroughly plugged in to the New York scene: shots of him at events for Gucci and Fendi are peppered amongst family photos and documentation of daily life. In April, he won a T-shirt design contest hosted by something of a local legend, Instagram anthropologist @newyorknico, with a design referencing Chinese restaurant takeout menus. Campaign materials feature sleek black-and-red graphics surrounding a portrait of Ossé, in three-quarter profile, wearing a black turtleneck sweater.
In addition to his social media presence, Ossé's choice in clothing — nothing close to the buttoned-up uniforms most politicians favor — plays a central role in marketing his political platform, which champions the dissolution of qualified immunity and a 50 percent cut to the NYPD's budget. Ossé's political fashion statements started with a beret: on his third day of protesting, Ossé donned the hat so that others could easily identify him as a leader in the crowd. "Even if someone didn't know my name, they recognized the beret and knew who to listen to when things escalated," he recounts, adding that he chose the accessory with its associations with revolutionary figures — namely, the Black Panthers — in mind.
Ossé's aesthetics-conscious approach to social media may very well appeal to his generational cohort, who have largely led the Black Lives Matter movement by mobilizing online and spreading crucial resources and information on Instagram and Twitter. "There's a strategy behind all of this," Ossé clarifies. "We want to catch peoples' eyes, we want people to be interested in local politics."
To assist his cause, Ossé enlisted Brandon Tan, a stylist and image consultant whom Ossé met years ago through mutual connections. "I've always respected him. Chi left an impression on me because he's so confident," Tan says. "In terms of agreeing to work together…[it] kind of came up organically and naturally," he explains, adding that Ossé initially approached him for advice on how to equip fashion and way of dress as a part of his political movement.
By reflecting cultural values and historical moments across decades, fashion has long held political connotations. Take Catherine Malandrino's flag dress, for instance: the stars and stripes-printed frock, originally released in 2001, was relaunched in 2008 to celebrate the election of former President Barack Obama. In 2016, Meryl Streep made headlines after wearing the dress to the Democratic National Convention. Besides the messages garments alone can convey (see: President Donald Trump's red tie or First Lady Melania Trump's "I Really Don't Care" jacket), the decision of politicians — largely, female ones — to wear a particular piece at a particular time can sway their favorability in the public eye. In 2009, former First Lady Michelle Obama was criticized for wearing a sleeveless dress, which some thought was too informal, to her husband's first congressional address. More recently, Mrs. Trump wore a pith helmet, headwear commonly associated with European colonial rule, on a safari trip in Kenya.
"Fashion is political, it's a form of visual communication. It's a tool of visual communication," Tan contends. "Style has always been focused, especially in terms of First Ladies almost strictly, in a way that commodifies them as billboards to push product," he adds, going on to reference Gucci and Dior's Jackie and Lady handbags, named after Jacqueline Kennedy and Lady Diana Spencer (better known as Princess Diana), respectively. "I think there's so much more in a statement piece or a conversation piece and it's time that we used that to conjure the conversations we should be having."
For Ossé and Tan, garments go deeper than appearances. "Clothes are overlooked as something so materialistic or shallow, and that's so not the case," Tan remarks. By dressing Ossé in Black designers such as Telfar Clemens and Graces Wales Bonner, the two aim to bring overlooked Black talent into the spotlight, or at least the consciousness of Ossé's following. In fact, Tan recounts describing Telfar to a member of the press who had never heard of the brand before. Later, the individual told Tan he begun noticing people wearing Telfar "everywhere."
The ripple effect Tan describes mirrors that which occurred when, under the guidance of stylist Meredith Koop, Mrs. Obama donned a Jason Wu gown to her husband's inauguration in 2008. At the time, Wu had been running his eponymous label for only two years. Mrs. Obama's endorsement helped put the Taiwanese-Canadian designer on the map. With Koop's help, Mrs. Obama contributed to the success of several other minority-owned labels including Thakoon and Cushnie. Tan hopes to achieve the same: "A huge focus for us has been to champion Black designers, who are a marginalized group within the greater system of fashion," he explains.
Backing Black-owned brands holds a distinct meaning to the Gen-Z and millennial voters Ossé is courting. In the wake of George Floyd's murder, younger generations were quick to circulate lists of brands and companies with ties to the Trump administration and "cancel" those with a history of discrimination and mistreatment. Social media users urged consumers to boycott problematic brands and instead "open their wallets" to small Black-owned businesses.
Aurora James of Brother Vellies called on major retailers such as Sephora to take the #15PercentPledge and purchase 15 percent of their product from Black-owned businesses. Activists created master lists of Black-owned restaurants on Google Documents, allowing supporters to copy and paste the link into their own social media profiles for easy access. For generations that grew up with Instagram, Twitter and Facebook, consumerism is closely tied to belief systems and values. Fashion, it seems, is an outwardly visible and often immediately recognizable way of conveying one's consumer habits — and therefore, political leanings.
"In this day and age there's so much information available, and there's so much visibility that not being conscious of your consumption is, in itself, a conscious choice," Tan argues. "Visibility has brought forth accountability. We have those pages like Diet Prada, or other news sources to hold those brands accountable but also hold us accountable as consumers," he says, name-checking infamous fashion callout account @diet_prada. Granted, @diet_prada has received its fair share of criticism, particularly for panning Kanye West's GAP partnership without mentioning the fact that West appointed Mowalola Ogunlesi, a Nigerian-British designer, as the project's design director. Nevertheless, social media and its facilitation of call-out culture has made accountability increasingly easy to accept, reflect and act on — as well as weaponize.
Of course, fashion isn't the only sector privy to consumer activism. Tan cites the Goya debacle, which began when the president of the food company expressed support of the Trump administration. Longtime fans of Goya products, many of whom are Latino, called for a boycott. Alexandria Ocasio-Cortez even Tweeted that she would begin making her own Adobo instead of purchasing it from Goya. Ivanka Trump later Tweeted a photo of herself holding a Goya can of beans, endorsing the company with the caption, "If it's Goya, it has to be good."
To image-obsessed Gen-Z and millennials, however, touting a fashion piece rather than a can of beans makes a bigger splash in the visual economy of Instagram and Twitter. "What I'm trying to do with this campaign in every aspect of it, including the clothes that I wear, the design that I put out on my website, the graphics that I choose to use…I want it to be as loud as it can possibly be so that I can bring out the millennial and Gen-Z vote," Ossé confirms. According to census data from 2010, 21,068 residents out of District 36's total population, approximately 149,000, was made up of 10 to 19-year-olds. Now, these constituents are aged 20 to 29 and, if they still reside in District 36, are eligible to vote for Ossé. During next year's election, the mobilization of Gen-Z and millennial voters could make all the difference — Ossé says that the district's last City Council election in 2017 saw a little over 5,000 residents, less than one percent of its inhabitants, turn up to vote.
Ossé hopes to invigorate interest in local politics, which are often overlooked in favor of goings-on at a national level, through the styling of his campaign. "To get people excited, you need a consistent image," he asserts, referencing his signature beret. "The conversation in 2016 was so focused on the presidential election, but we need to take a deeper look at who's running our own city. What's going on in our own backyard?" he challenges.
He also aims to inspire other young progressives who haven't mustered the courage to get involved with politics, those who "maybe don't look like [a politician] or maybe don't have a specific background that aligns with what a politician should be," Ossé describes. "Politics [are] presented in such an unapproachable manner and it comes off as so exclusive that people don't even try to care," Tan adds. "Part of his role as a candidate is making that digestible."
Of course, it remains to be seen whether Ossé's image will be digestible to those unaware of and uninterested in, or perhaps even averse to, boundary-breaking fashion. Several of the brands Tan has previously dressed Ossé in, such as Telfar and Martine Ali, are hallmarks of a certain in-the-know set who work and socialize amongst those in the fashion or art industry. To some, these brands represent a certain kind of elitism that thrives in the fashion industry in particular. Despite the relatively accessible price points of Telfar's most popular product, the logo bag ($150 USD for the smallest size), and Ali's jewelry (several styles sell for under $200 USD), their products are status symbols. The press has even coined Telfar's purse the "Bushwick Birkin" and "Gen-Z's first it-bag." In-and-of-itself, the trendiness of these brands confers an exclusivity that may be off-putting to those unfamiliar with the fashion industry.
In November 2021, Ossé will run against three candidates, one of whom will unseat current District 36 representative Robert Cornegy, who will have reached term limit by then. A quick Google search of currently registered District 36 candidates reveals that none of them — neither John Joyner, Ralph Yozzo nor Regina Edwards — have a social media presence as strong as Ossé's. Joyner runs a campaign-dedicated Instagram page with 62 followers while Edwards' website links to a Facebook page with 398 "likes" as her sole social media platform. Yozzo appears to run a Twitter account, followed by 188 users, under the handle @fedex1. Ossé's Instagram on the other hand boasts 12,000 followers. (Due to its status as a non-profit, Warriors In The Garden is unable to endorse Ossé's candidacy.)
In the months leading up to the election, Ossé hopes that his image marketing strategy, rolled out via social media, will increase name recognition and translate into ballot numbers. "Voting has always been an impulse thing — recognizing a name or a face," he says. "Image is very important…it's especially something that we're considering when it comes to fashion." In Ossé's case, fashion may very well help him push the city in a more progressive direction — the politician's main goals include defunding the NYPD and investing those funds into heavily policed communities, as well as ending qualified immunity, which protects public officials like police officers from being liable for misconduct. (If a court does manage to overcome qualified immunity and prove that an official violated the law, judgments and settlements for victims are paid for by the official's municipal employer: taxpayers.)
Ossé's politics — and image — are a welcome antidote to those of seasoned career politicians such as New York City Mayor Bill de Blasio, whose $1 billion USD cut to the NYPD's $6 billion budget would simply shift police officers to school safety programs ("Defunding police means defunding police," Ocasio-Cortez said of de Blasio's NYPD cut. "It does not mean moving police officers from the NYPD budget to the Department of Education's budget so the exact same police remain in schools.") Further setting Ossé apart from traditional politicians, his entire campaign will run on grassroots efforts and only accept donations from individual donors. "[Money] will not be coming from police unions. It will not be coming from large corporations, it will not be coming from real estate companies," he maintains.
It only makes sense that Ossé's wardrobe is as unorthodox as his path to politics. "I don't want to look like a boring man in a suit," he declares. "We know what boring men in suits do."
Composite Imagery

Yuri Hong/Hypebae
Share this article