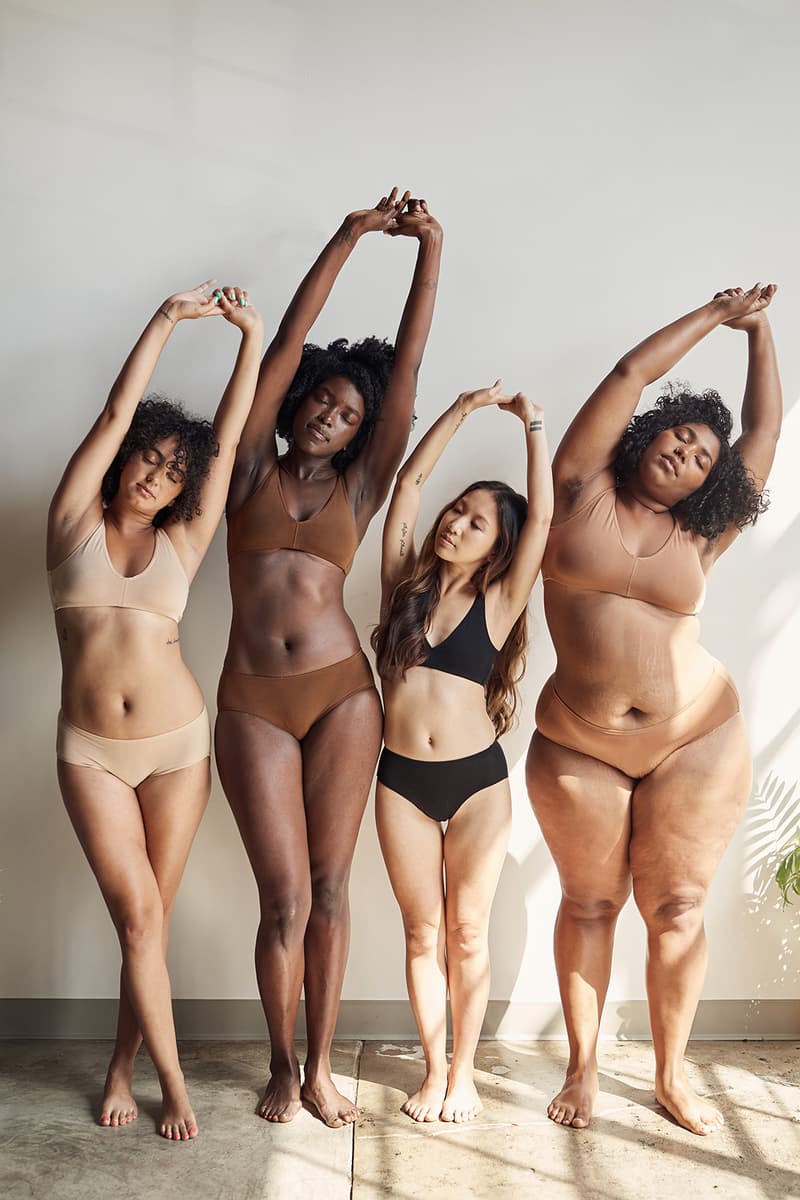 10 Sustainable Underwear Brands That Keep Your Intimates Drawer Chic and Eco-Friendly
From Insta-cool label Fruity Booty, to minimalist-favorite PROCLAIM.
Fashion
10 Sustainable Underwear Brands That Keep Your Intimates Drawer Chic and Eco-Friendly
From Insta-cool label Fruity Booty, to minimalist-favorite PROCLAIM.
As the world continues to adapt to the "new normal" lifestyle amid the ongoing coronavirus pandemic, lingerie and loungewear have become the fashion staples for many. To help keep your intimates drawer stylish and eco-friendly, we've compiled a list of sustainable underwear brands that you can consider for your next purchase.
A commonly known fact today, fashion is among the most polluting industries in the world, with its production causing issues such as water pollution, carbon emissions and textile waste. Moving in the right direction to help combat these problems, underwear brands like Dora Larsen, Parade, Organic Basics and PROCLAIM utilize eco-conscious materials such as organic cotton and TENCEL™ Lyocell. These labels also ensure environmental responsibility through staying carbon-balanced or reducing carbon emissions by minimizing transport and keeping their supply chains in one location.
Read on to learn more about some of the best sustainable underwear brands on the market. For more eco-conscious choices, check out our list of environmentally friendly activewear labels.
Founded by Brook DeLorme, Brook There is one of the sustainable labels that strive to minimize environmental pollution by taking the entire supply chain into consideration. The brand's production is based in New England, with inventory located in the same facility where undergarments are cut and sewn. This helps minimize transport as much as possible for low-impact distribution. The label also allows customers to choose between non-vegan and vegan underwear options made without leather, silk and wool. All products are made with organic cotton milled in South Carolina and California, and dyed in Pennsylvania. Unless ordered in bulk, your purchases will arrive in eco-enclosed recycled poly bags and recycled tissue paper.
A family-run label loved for its sexy lace bralettes, Dora Larsen donates $1.99 USD from every online order to charities that support environmental and social change, such as The Ocean Clean Up and Sad Girls Club. Understanding the harmful impacts caused by the fashion industry, the label uses recycled yarns that are woven with textile waste, fishing nets and more. The brand additionally produces its knicker gussets with 100 percent organic and GOTS-certified cotton. To prevent any production waste, Dora Larsen also drops its coveted styles in limited quantities.
London-based Fruity Booty produces small quantities of each collection to prevent overproduction and to reduce its impact on the environment. The label provides transparency to its customers by providing information on its production sites, including a small village near Porto, Portugal and local studios in East London and Nottinghamshire. Crafted by a workforce of women who have been in the industry for over 30 years, Fruity Booty's lingerie pieces are comprised of surplus fabrics sourced within the UK. Currently, the independent brand is developing ways to use natural dyes, with the aim to ban the use of virgin fabrics this year.
With its roots in activewear, Girlfriend Collective expanded its product range with underwear and socks last year. Dubbed "Everyday GF," the collection features a range of seamless briefs and thongs in minimal shades. The label is size-inclusive and offers options running from XXS to 6XL. On its website, the brand informs customers of the amount of waste saved with a sustainability report displayed on each product page. Girlfriend Collective's intimates are made with 80 percent recycled plastic bottles (RPET) and 20 percent spandex, and each order is packaged in 100 percent recycled and recyclable material.
HARA, which stands for "green" in Hindi, creates lingerie and loungewear designs with sustainable and ethical practices at its core. The label was founded in 2016 by Allie Cameron after she recognized the environmental impact caused by the fashion industry on her trip to India. To launch her own brand, Cameron headed to Indonesia to explore natural dyes and clothing production. With this knowledge, HARA creates underwear from eco-friendly bamboo fabric. Each piece is naturally dyed using plants like turmeric, indigo and madder root, which help prevent the skin from getting irritations from the fabric.
From the different stages of shopping to waste disposal, Knickey acknowledges some of the most serious issues of the fashion supply chain. The brand uses certified organic cotton, which has a quarter of the environmental impact of regular cotton and is free of toxic chemicals. Knickey is completely transparent about its supply chain, including where its organic cotton seeds are farmed, as well as where the yarn is spun and sent to its office in New York. Each purchase comes with packaging made using recycled post-consumer waste and low impact inks.
With a goal to create products that are designed to last, Organic Basics guarantees the use of eco-friendly and quality fabrics. Some of the materials that the label uses include organic cotton and TENCEL™ Lyocell — the latter uses 80 percent less water compared to cotton plants. Organic Basics also promises carbon balance in partnership with CHOOOSE, an organization that helps invest in CO2-reducing projects for every order placed. In addition to The Organic Basics Fund which supports grassroots activists and environmental organizations, the company ensures transparency for its customers through its Impact Index, an infographic that indicates the amount of waste prevented, water conserved and chemicals saved for each product. Apart from its products, Organic Basics' website also features a "Low Impact" option, allowing users to browse through items with data transfer reduced by up to 70 percent, minimizing carbon emissions.
Having debuted earlier this year, Pantee is a label that makes bras and briefs using deadstock T-shirts. "When we learned about the number of garments going to waste each year, we just had to do something about it," the brand's co-founder Amanda McCourt comments on the inspiration behind Pantee's launch. The rising name offers extra-comfy bralettes and panties that can be worn on their own for lounging around at home, or under pieces like flannels for a casual look in the spring and summer seasons.
Founded by two friends Cami Téllez and Jack DeFuria in New York City, Parade has quickly reached cult status with its affordable and sustainable underwear as well as body-inclusive campaigns. With the use of compostable packaging and the brand's core fabric Re:Play, made of 85 percent recycled polyamide, Parade is committed to zero waste. In addition to being environmentally friendly, the label champions diversity and supports improved sex education in America by donating one percent of its revenue to Planned Parenthood.
A Los Angeles-born lingerie brand focused on sustainability and inclusivity, PROCLAIM aims to "expand the definition of nude, one ethically-made bra at a time." Cut and sewn in LA, the label's undergarments are made with TENCEL™ fibers, known for their high efficiency and low impact, along with REPREVE® recycled polyester, made from 100 percent post-consumer recycled plastic water bottles. The brand's bralettes and briefs are mindfully packaged with 100 percent recycled and recyclable materials for poly mailers, wrappers and hang tags.
Share this article