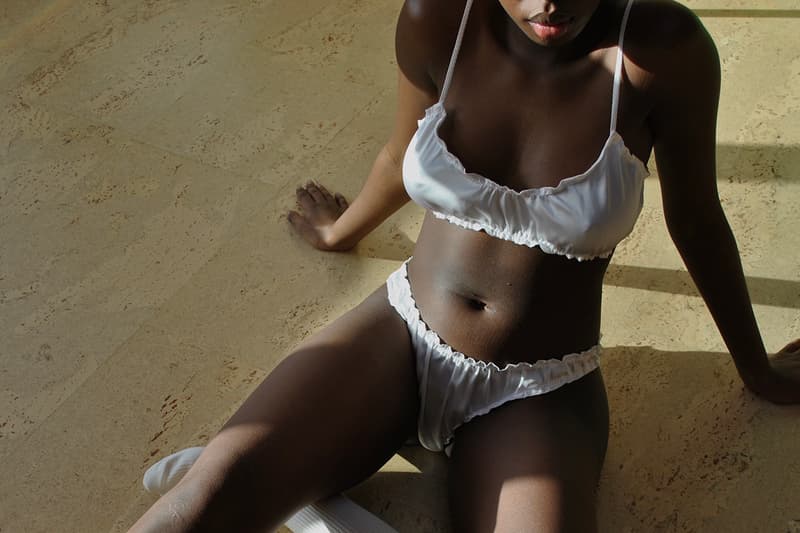 Fashion
The New-Gen Lingerie Brands Shaking up the Women's Underwear Market
From softandwet to Fruity Booty, these labels have risen to the tops of our Instagram feeds and intimates drawers.
The New-Gen Lingerie Brands Shaking up the Women's Underwear Market
From softandwet to Fruity Booty, these labels have risen to the tops of our Instagram feeds and intimates drawers.
If there's one good thing that has come from the chaos of 2020, it's the official #cancellation of Victoria's Secret. After years of waning sales, corporate scales and increasingly outdated branding, the notorious lingerie label cancelled its annual fashion show in late 2019 and was finally bought out earlier this year. On its way out, VS brings with it the outdated beauty standards and sexual politics that have plagued the lingerie industry for decades — size zero models, airbrushed images, predominantly white casting and male gaze-y ad campaigns.
In the wake of VS' decline, a new breed of lingerie labels have risen to the tops of our Instagram feeds and our underwear drawers. Brands like Parade, Fruity Booty and softandwet have been wholly embraced by a new generation of consumers. Why are they so popular? These brands are offering up a revolutionary approach to the underwear category. One that taps into the shifting values of millennials and Gen Z: inclusivity, sustainability, and, well, fun.
Cami Téllez, CEO of new underwear label Parade, founded the label on the tenet of inclusivity. Fed up with the restrictive definitions of "womanhood" and "sexiness" her (and her generation) had been presented by mainstream box-mall lingerie retailers (read: Victoria's Secret), Cami and co-founder Jack DeFuria established Parade as a way to expand upon these definitions. "We're rewriting the American underwear story," she writes in the label's manifesto, "When you see us, you're seeing people ranging from XS to 3X, because we know all women are dynamic, free-wheeling and expressive."
In a similar vein, Hattie Tennant and Minna Bunting created their lingerie label Fruity Booty as a means of embracing the singularity of all women. "We wanted to shift the focus from the idealized woman to celebrating individuality," Minna says of the label's ethos. "What is important to us is to not solely promote one look as what women should strive towards or consider the 'sexiest' or 'most attractive'. Instead, it's about celebrating and presenting women as they are."
These statements come to life on Fruity Booty's Instagram feed, which appears as both a mosaic of and an ode to Fruity Booty's many and various customers. Nearly indistinguishable from the imaginative mirror selfies and self-directed photoshoots are Fruity Booty's official campaign images — all unretouched and featuring models who look just like… us. Minna explains, "When it comes to our imagery, we decided to strip back the high-gloss, hyper-sexualized and airbrushed look which makes lingerie intimidating to a lot of women, in order to make it more relatable."
Likewise, Italian designer Alice Brnra launched softandwet — whose ruffled silk undies went viral last summer — as a means to empower all women to feel comfortable with their bodies, no matter the shape or size. "Although this isn't as easy as it sounds," says Alice, "I wish we can all find acceptance and freedom in our bodies and in any way we choose to celebrate them."
In addition to inclusivity and body positivity, these new-gen brands foreground sustainability. With the acceleration of global warming — the planet was literally on fire earlier this year — and climate change imminently reaching the point of no return, millennials and Gen Z consumers are looking to eco-conscious labels to source their latest lingerie.
The second mandate on Parade's campaign to "rewrite the American underwear story" is to "lead the revolution into a safer future." Parade's commitment to the planet takes shape predominantly across its famously colorful textiles. The labels' core fabric, Re:play, is made up of 85% recycled nylon. All the materials used in the creation of its covetable undies are Oeko-Tex, which means they're free from the harmful chemicals that pollute our oceans.
Fruity Booty designers Minna and Hattie create all products and collections together, in-house, in order to minimize emissions. The majority of their colorful designs are created from surplus fabrics — from its "très française" broderie anglaises to their sexy laces and cheeky leopard prints — that would have otherwise ended up in a landfill. "This means that we usually work backwards — sourcing the fabric and then creating something we love out of it," says Minna. They create their collections in small, seasonless batches. Each Fruity Booty set is limited-edition. The opposite of the environmentally-detrimental fast fashion industry, Fruity Booty's "slow" model encourages consumers to buy less and treat their garments as indisposable. "By working this way, we hope to encourage our customers to treat [our pieces] with care knowing they are not replaceable," explains Minna.
And, finally, this new generation of lingerie labels advocates pure, unadulterated fun: Color! Patterns! Fantasy! We'll take one of each, please!
If you're looking for the successor of "millennial pink," look no further than the pastel hues of Parade's "Cotton Candy" collection. The label's recent drop offers up a veritable confections shop of frosted colors to sink your teeth into. "Frostee," a delightful purple, reads as Glossier pink's second cousin. "Buttercup" arrives as a soothing matcha-lite, while "Cotton Candy Colorblock" serves us up a scoop of Neapolitan ice cream.
Conversely, Fruity Booty specializes in mix-and-match patterns and quirky embroideries. Pairing a tiger-striped unlined bra with a leopard-spotted thong or perhaps a cherry-embroidered G-string? Why not? According to the label's designers, lingerie is all about self-expression.
In contrast to the male desire-oriented fantasies of obsolete lingerie giants (think the Victoria's Secret "Fantasy Bra"), softandwet is offering up a much more covetable and comforting, women-oriented fantasy world. Crafted from lush silk, the label's underwear are a veritable dream to wear. They're the kind of underwear you'd dream of wearing alone at home: sitting on the couch poring over a favorite book or quietly sipping coffee. Or maybe they're the kind of lingerie that take you places, say, a villa on the Italian Riviera or the Côte d'Azur. Designer Alice describes her silk creations as "a self-care extra step, the same feeling as putting on a fresh face mask while wearing something comfortable around the house."
In the end, this new generation of lingerie labels are shifting the industry conversation to one of self-acceptance and body positivity. softandwet's Alice says she hopes that those who wear her silky creations feel "caressed by the fabric, relaxed and serene." Minna and Hattie hope that by slipping into a Fruity Booty set, the wearer feels like "the most confident version of themselves." And who wouldn't want to feel that?
Composite Imagery

Teresa Lam/Hypebae
Share this article