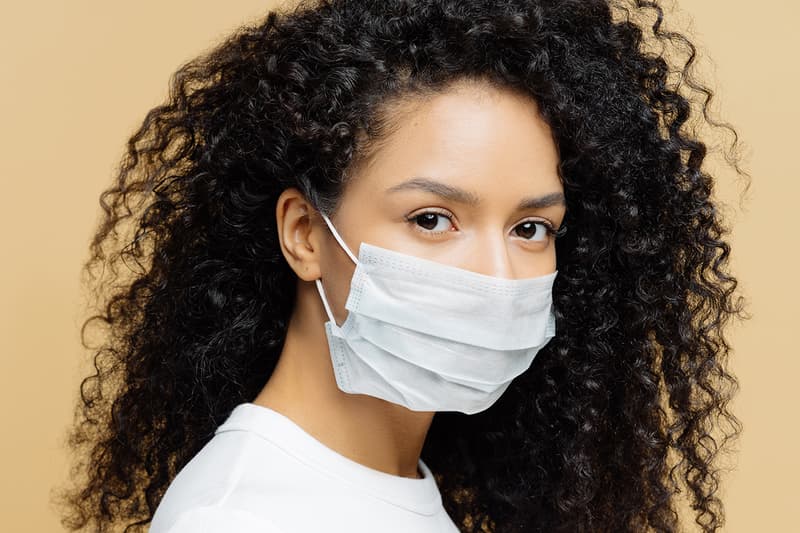 Beauty
"Maskne" Is Real — Here's How To Deal With It, According to Skincare Experts
These products may help calm your face mask-induced acne.
"Maskne" Is Real — Here's How To Deal With It, According to Skincare Experts
These products may help calm your face mask-induced acne.
In 2021, the term "maskne" is likely all too familiar for most of us — you wear a face covering to keep yourself and others safe from the spread of COVID-19, and like some terrible plot twist, the result is bumps, acne, redness and general irritation in the area that your protective mask covers. Breakouts and flare-ups are a pain to deal with, and in the case of "maskne" even more so, since the root cause literally sits on your face (and is a legal requirement in most parts of the world). Factor in heat, bacteria, makeup, and cortisol-spiking stress, and you've got a recipe for never-ending breakouts.
On a mission for clearer, calmer skin, we enlisted the help of skincare experts for their advice and product recommendations. Ahead, you'll discover what maskne is, how maskne is caused, and how to prevent and treat maskne.
What is maskne?
Let's first define "maskne," a not-so-technical term that derives from a play on the words "mask acne." According to Dr. Barbara Paldus, scientist and founder of biotech skincare brand Codex, maskne is a catchall phrase that covers dermatological conditions that result from long-term mask wearing, including: periorificial dermatitis (a rash of papules around the mouth), contact dermatitis (a red, itchy rash), and acne mechanica (skin irritation formed from rubbing against the skin). "These skin conditions can lead to the formation of unsightly and painful red rashes, acne-like bumps, and flaking or scaling on the face where the mask is worn," Paldus says .
What causes maskne?
London-based dermatologist Dr. Michael Prager explains that the lack of light, increase in moisture and warm temperatures under the mask create a hotbed for bacteria. To make matters worse, long-term mask wearing applies constant friction and irritation. Paldus agrees: "Over prolonged periods of time, the encapsulation of moisture and bacteria on the surface of the skin by the mask, coupled with its constant rubbing of the skin's surface, creates the perfect storm for facial skin problems."
How can you prevent maskne?
The experts agree that the best thing to do to prevent maskne is to simplify your skincare routine, focusing on cleansing and hydration. "I would suggest not wearing makeup underneath, nor SPF or any cream containing microplastics, retinols, or other active or chemical ingredients," Prager says. "The mask acts like a catalyst for all sorts of allergenic reactions which one would normally not have, like a greenhouse for skin irritation."
Dermatologist Dr. Sonia Khorana recommends shifting focus to strengthening and maintaining your skin's barrier function to help skin better combat irritation and irritants. "Moisturizing plays an important part in preventing maskne," Khorana says. "Look out for ingredients that support and rebuild your skin barrier like ceramides, glycerin and niacinamide, and products labeled non-comedogenic."
When it comes to cleansing, supporting the skin barrier should remain the focus. Paldus recommends using gentle, pH-balanced face washes formulated for sensitive skin, and avoiding harsh scrubs and exfoliators so that skin isn't stripped of its natural oils.
How can you treat maskne?
If you're past prevention and need to treat pre-existing maskne, apply targeted blemish treatments for immediate relief. Khorana recommends using products with ingredients like salicylic acid and benzoyl peroxide, which are proven to address acne. If you're experiencing pain and discomfort, Paldus advises moisturizing immediately to begin the process of restoring the skin barrier and its natural microbiome. And since you'll still need to wear a face mask, ensure that you wash it daily. "Opt for masks made of cotton or bamboo," she adds. "They are gentler on the skin when it comes to friction."
According to the experts, these are the best products to help treat and prevent maskne.
Soothing skin is key to treating and preventing maskne, and this cooling serum has long been a favorite for anyone suffering from inflammatory skin conditions like rosacea, acne and eczema. "Cica has been found to have anti-inflammatory and anti-microbial activity against P.acnes bacteria, which is one of the factors responsible for acne," Khorana says. "This makes it a brilliant ingredient for maskne. It can also promote healing, help minimize the appearance of scars and support the skin barrier by maintaining hydration."
Ideal for if you're on-the-go, spritz this refreshing toner onto the skin throughout the day to treat breakouts and stop future ones. According to Dermalogica Education Manager Candice Gardener, it's perfect for a cooling pick-me-up whenever you get a mask-free moment. "Niacinamide (aka vitamin B3) helps diminish the appearance of pores, brightens skin and evens skin tone, while an antioxidant-rich blend of witch hazel, green tea and matricaria flower extracts provide a pore-tightening effect, and cucumber extract refreshes," she explains.
Acids are great for exfoliating skin and preventing maskne, because they prevent pore buildup without the irritation of a physical scrub. "It reduces dead skin cells, skin bacteria and normalizes inflammation," Prager explains. "The specific formula is designed to combat the bacteria that causes acne, and the gentle exfoliation prevents clogging of skin pores and sebaceous glands."
The product name sums it up: this moisturizer works by nourishing and protecting the skin barrier and microbiome by adding a light, protective film that traps moisture in the skin. "Our efficacy trials have shown that after 28 days of use, it provided a 42.5 percent hydration increase in 90 percent of subjects tested, a highly significant improvement in skin barrier function," Paldus explains.
This Sunday Riley face oil is an old favorite that's become newly relevant, thanks to its ability to simultaneously soothe, hydrate and clear skin. "The combination of salicylic acid, a beta hydroxy acid that actively unclogs pores and sloughs off debris and old skin cells that may linger on the surface of the skin, and cucumbers and chamomile that soothe and help maintain hydration, are the real key to U.F.O.'s success in treating maskne," says Alexander Johnson, in-house skincare expert at London pharmacy John Bell & Croydon. "It's all about clearing out the pores and keeping the protective barrier layer of the skin strong and defended."
Spot stickers have become increasingly popular lately, and they're now more important and relevant than ever — especially since you can wear them under your mask without anyone noticing. "Spot patches are great for treating maskne as they can keep any spots covered and protected from the friction caused by masks," Khorana explains. "The ZitSticka Killa Kit ones contain salicylic acid and have the added benefit of niacinamide, which is a great skin barrier-supporting ingredient."
This soothing gel mask is a welcome relief for skin that's been under a mask all day. Designed for acne-prone complexions, the product helps reduce sebum production and inflammation, while hyaluronic acid and blue algae extract work to maintain a healthy skin barrier so that skin is hydrated without clogging pores. Gardener even recommends using this as a moisturizer under your mask, since the weightless jelly formula is so fast to absorb.
---
Grace Day is a full-time beauty editor based in Manchester, UK. Her first job, as a beauty advisor in department stores, was where her love of beauty began — and where she discovered the importance of a good concealer. She loves the science of skincare and counts herself as the resident skincare advisor among friends. You can find Grace on Instagram and her blog.
Share this article