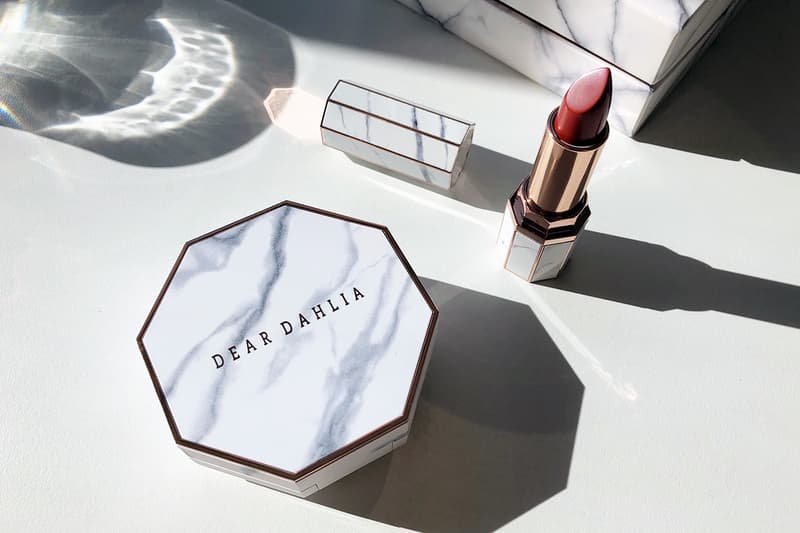 Beauty
Here Are 8 Korean Beauty Brands With the Best Packaging
Instagram-worthy makeup and skincare from Dear Dahlia, tamburins and more.
Here Are 8 Korean Beauty Brands With the Best Packaging
Instagram-worthy makeup and skincare from Dear Dahlia, tamburins and more.
K-beauty's global domination has been unstoppable over the past few years. Whether that means practising the now popularized multi-step skincare regimen, or learning about celebrities' secrets to achieving flawless skin, beauty lovers are eager to experience the wonders of Korean beauty for themselves. Effective and innovative formulas aside, the country's makeup and skincare brands are also known for their on-point packaging. From the marble-printed compacts of Dear Dahlia, to the tasteful, couture-like hand creams by tamburins, continue reading to check out eight K-beauty brands with the best packaging design.
While you're here, read our guide to shop for K-beauty products in the U.S., and and check out the top K-beauty trends for Fall/Winter 2019.
OUR FAVORITE PRODUCT: Nude H & C 7 Hand Cream (Rosewood, Mandarine, Lavandin)
When it comes to packaging, skincare brand tamburins is easily a favorite of ours. Its hand creams, available in two different scents, are designed with sophisticated tubes featuring dainty chains that connect to the shiny gold caps. They look almost like luxury handbags if you ask us, except they are filled with nourishing cream that replenishes the skin. The brand also boasts a beautifully-bottled toner, a fragrance range, as well as a Tiger Leaf serum.
OUR FAVORITE PRODUCT:
Lip Paradise Effortless Matte Lipstick
Covered in marble patterns and accents of gleaming rose gold, Dear Dahlia's makeup line is probably one of the most photogenic on the K-beauty market. Not only are the brand's lipsticks incredibly Instagram-friendly, but the cruelty-free and vegan formulas are also often praised for their rich pigmentation and smooth texture. You won't be able to take your eyes off of the brand's eyeshadows and blushes either.
OUR FAVORITE PRODUCT: Petal Spa Oil to Foam Cleanser
A K-beauty name that's been gaining popularity stateside, Mamonde offers a selection of skincare and makeup products that are formulated with flowers such as hibiscus, honeysuckle and lotus. In particular, the brand's fan-favorite Petal Spa Oil to Foam Cleanser features a vegan, rose-infused formula that helps gently remove makeup while also moisturizing and purifying the skin. Aptly designed with floral motifs, the packaging is another reason why you should add this cleanser to your top shelf.
OUR FAVORITE PRODUCT: Mood Recipe Collection
An in-house beauty brand by STYLENANDA, 3CE is well-loved by makeup enthusiasts for its candy-colored products ranging from lipsticks and foundation, to blushes and makeup brushes. Our editor-favorite is the Mood Recipe collection, which is made up of tone-on-tone eyeshadows, blushes and lip colors coming in a variety of wearable, everyday shades. The tonal packaging is simple but nonetheless aesthetically-pleasing.
OUR FAVORITE PRODUCT: Itaewon 565 Candle
With over 30 different scents in its collection, Korean fragrance brand Soohyang has earned a cult-following not only in its hometown, Seoul, but also across the globe. Packaged in its signature pastel pink boxes, its stylish candles and diffusers are currently stocked in a number of retailers in New York, London, Paris and Hong Kong among other cities. Our top pick would have to be the Itaewon 565 candle. Named after the address of Soohyang's first location, the bestselling scent is infused with green floral notes.
OUR FAVORITE PRODUCT: Combination Red matte lipstick set
Recommended by K-pop group BLACKPINK's makeup artist, Maeng, moreas is a K-beauty gem you need on your radar. Coming in classic red, pinkish as well as orangey tones, the cool-girl makeup brand's Power Lip Matte lipstick line comes packaged in sleek tubes designed with a faux rusty aluminum finish.
OUR FAVORITE PRODUCT: Mood Enhancer Matte Lipsticks
If you're in the market for wearable lip colors and eyeshadows that you can use daily, look no further than hince's makeup offering. The brand's beautiful, muted shades of peachy, rosy and plum hues are packaged in equally gorgeous lipstick tubes, while its eyeshadows are encased in minimalist mirrored compacts.
OUR FAVORITE PRODUCT: Matte Lip Stories
A favorite lip product of celebrity makeup artist PONY, the stimmung lipsticks are uniquely packaged in cute, small bags that resemble juice pouches. The smudge-proof formula comes in a variety of textures including matte, velvet and glossy, and leaves a perfect stain on your pout.
---
Share this article