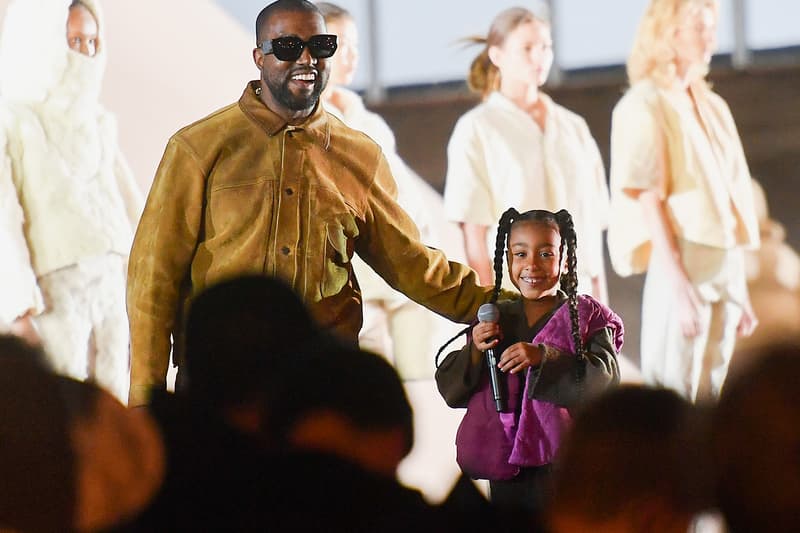 Fashion
The Most Talked About Moments During Fashion Month FW20
North West made her stage debut at her dad's YEEZY Season 8 show.
The Most Talked About Moments During Fashion Month FW20
North West made her stage debut at her dad's YEEZY Season 8 show.
Fashion Month has officially come to an end for the Fall/Winter 2020 season, closing off with brands like Chanel and Louis Vuitton. Rounding off the hectic four weeks from New York to Paris, we've rounded up some of the most memorable moments this time around.
In the French capital, Kanye West showed his highly-anticipated YEEZY Season 8 show, where his daughter Northie took the mic to accompany models walking down the stage. Meanwhile, unexpected stars made their runway debut including Storm Reid and Snoh Aalegra.
For the Gucci collection in Milan, Alessandro Michele placed a giant spinning carousel at the center of the show venue where models were dressed onstage. Elsewhere, Paloma Elsesser and Jill Kortleve made history as the first-ever body-inclusive models to walk for Fendi.
British designer Anya Hindmarch made a bold statement on plastic use and pollution by closing down all of her London stores and filling them with plastic bottles — an alarming display of the amount of disposable plastics that go to landfill every 8.5 minutes. Burberry was another brand that attempted to raise awareness about the environment, showing a collection that is certified to be carbon-neutral, along with announcing a new project that tackles the environmental impact caused by its supply chain.
Star choreographer Parris Goebel, who recently signed with IMG Models, made her modeling debut on Tommy Hilfiger's runway. Elsewhere, MM6 Maison Margiela unveiled a collaboration with The North Face that's sure to become a popular release when it hits shelves.
In New York, stages were filled with surprise appearances — from Debbie Harry at Coach, to Miley Cyrus at Marc Jacobs. Also seen on the catwalk was Ash Foo, a cancer-surviving model who made her runway comeback this season.
Scroll down for a look at some of the highlights this Fashion Month. While you are here, peep the latest street style trends spotted in London this season.
PARIS FASHION WEEK
Jill Kortleve was the first plus-size model in a decade to walk the Chanel runway.
For its FW20 show, Chanel cast Dutch plus-size model Jill Kortleve on the runway. This is the first time the house had a body-diverse model walk its fashion show in a decade, with supermodel Crystal Renn being the first at the 2011 Cruise collection.
North West made her stage debut at her dad Kanye West's YEEZY Season 8 show.
While a diverse cast of models walked down the stage at Kanye West's latest YEEZY presentation, the sound of honking cars followed by a special performance by Northie served as soundtracks for the show. Going viral on various social media channels, the Kardashian youngster sang "What Are Those?," a remake of five-year-old musician ZaZa's original title "What I Do?."
A 16-year-old star who made her breakthrough after starring in HBO's Euphoria, Storm Reid has been spotted front row at fashion shows this season, including Longchamp. Taking her involvement in the fashion industry to another level, the actor made her runway debut by opening the Miu Miu show.
Snoh Aalegra added "fashion model" to her resumé by making a surprise appearance at Mugler's runway presentation.
In addition to Storm Reid, another unexpected star spotted on the catwalk was musician Snoh Aalegra. The "Whoa" singer showed off her strut in designer Casey Cadwallader's mesh bodysuit paired with a long black coat, alongside Bella Hadid and Nyagua Ruea.
While Bella and Gigi Hadid have worked alongside each other numerous times throughout their modeling career, they landed a chance to walk the runway with their mother Yolanda for the first time at Off-White™. Her first time in 30 years, the momager took to social media following the show: "Such a surreal experience to be back on the runway after 30 years but now together with my girls… Thank you Virgil Abloh for having me, I had the best time and appreciate you and your brilliant mind."
MILAN FASHION WEEK
Alessandro Michele brings backstage scenes upfront on a spinning carousel for Gucci.
Michele invited show attendees to the Gucci Hub, where a giant spinning carousel was placed at the center of the venue show showcase the designer's latest creations. Bringing the backstage scenes on stage, models dressed up in the showpieces under the spotlight to the tune of Ravel's "Boléro."
Paloma Elsesser and Jill Kortleve made history as the first plus-sized models to walk for Fendi.
With inclusivity becoming an increasingly important topic in the fashion industry, Fendi enlisted Paloma Elsesser and Jill Kortleve on its runway. This marks the house's first time ever to feature body-inclusive models. "I will save all the prophetic language, for once, as I literally have no words! I would simply like to express my gratitude for this monumental moment. Thank you to everyone involved," Elsesser took to social media to celebrate the milestone.
Prada announced that Raf Simons would join the house as co-creative director alongside Miuccia Prada.
Following rumors that the Raf Simons was headed to Prada Group, Miuccia Prada announced at a press conference in Milan that the former Calvin Klein designer would join Prada as co-creative director. Effective from April 2, Simons and Prada will be working alongside each other to share "equal responsibilities for creative input and decision-making."
On the first day of MFW, Moncler Genius unveiled its highly anticipated collaborations of the year ranging from RIMOWA and fragment design, to 1017 ALYX 9SM and Craig Green. Presented in a massive warehouse as a fashion theme park, Moncler showed each of its capsule collections in divided spaces on models, mannequins and puppies.
LONDON FASHION WEEK
With sustainability being a keyword in Fashion Weeks all over the world, instead of keeping its doors open to push sales during this busy week, designer Anya Hindmarch opted to close all five of her London stores. The spaces were instead filled with more than 90,000 plastic bottles from landfills. "This may sound like an astronomical number, but this is how many plastic bottles go to landfill every 8.5 minutes," the brand announced on Instagram. This eco-conscious move accompanies the British label's latest campaign "I Am A Plastic Bag," featuring a collection of bags with materials sourced from recycled plastic bottles and windshields.
Richard Quinn stunned the crowd with crystal face masks and BDSM-inspired looks.
Following an announcement that the star choreographer has signed with IMG Models, Parris Goebel made her runway debut at Tommy Hilfiger's latest show created in collaboration with Lewis Hamilton and H.E.R. The new model walked alongside big names including Naomi Campbell, Alessandra Ambrosio, Candice Swanepoel, Halima Aden and Winnie Harlow.
NEW YORK FASHION WEEK
Coach presented a limited collection emblazoned with paintings by legendary artist Jean-Michel Basquiat. Blondie's Debbie Harry completed the show with a surprise performance, starting off with "One Way or Another." The musician ended her performance with a walk down the runway with Stuart Vevers.
Another celebrity cameo at NYFW came from Miley Cyrus, a long-time collaborator and friend of Marc Jacobs. Taking the stage at the designer's latest show, the star was dressed in all-black with a zebra-print coat in hand.
Photos of the dream Nike squad featuring G-Dragon, Rosalía, Hiroshi Fujiwara and more went viral on social media.
NYFW kicked off with a bang with a star-studded event hosted by Nike. The sportswear brand unveiled a range of collaborations and collections for the 2020 Tokyo Olympics at its Future Sport Forum, with attendees including G-Dragon, fragment design's Hiroshi Fujiwara, Rosalía, Simone Porte Jacquemus, Drake, Travis Scott, Virgil Abloh and more. The star-studded group posed in front of a mirror, creating a viral Nike squad moment.
Cancer survivor model Ash Foo made her runway comeback to spread awareness of the disease.
Hailing from Canada, 23-year-old Ash Foo returned to the catwalk this season following a half-year hiatus after being diagnosed with ovarian cancer. Walking for designers like LaQuan Smith, the model told Vogue that she wanted to raise awareness of the disease that affects 21,000 women in the U.S. every year.
Share this article