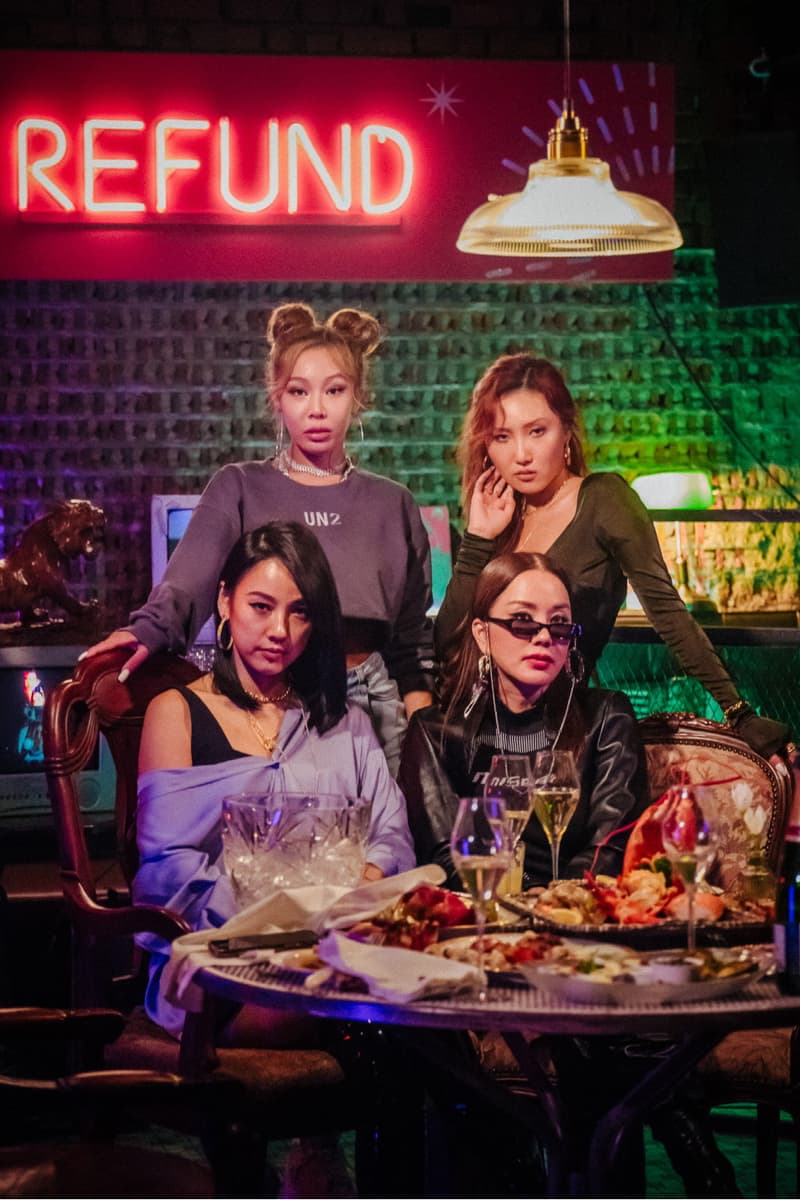 Meet the Members of K-Pop's Newest Girl Group, Refund Expedition
OG artists Lee Hyori and Uhm Junghwa join forces with K-pop sensations, Hwasa and Jessi.
Music
Meet the Members of K-Pop's Newest Girl Group, Refund Expedition
OG artists Lee Hyori and Uhm Junghwa join forces with K-pop sensations, Hwasa and Jessi.
Despite the ongoing coronavirus pandemic, the K-pop industry has been seeing a boom this summer with exciting new releases from groups like BLACKPINK and BTS. The latest act to join this summer's K-pop roster is Refund Expedition, a four-member group comprised of Lee Hyori, Uhm Junghwa, Jessi and Hwasa.
For those unfamiliar with '90s and '00s K-pop, Refund Expedition may seem like a group of entirely new musicians just starting their careers in the industry. However, the group actually features some of the biggest names in the industry, including OG icons Junghwa and Hyori. The crew was first proposed by Hyori in an episode of MBC's Hangout With Yoo, in which the star was participating in a project group dubbed SSAK3 with comedian Yoo Jaeseok and Rain. Responding to a question on whether she would create a girl group with some of the top divas in K-pop following SSAK3, Hyori jokingly mentioned the names of the three other artists and very quickly, her suggestion received much attention amongst fans.
The seemingly random idea became reality with Hyori making a surprise appearance on Jessi's new single "NUNU NANA (눈누난나)." By mid-August, MBC unveiled a teaser of the new team pictured at a Hong Kong-themed bar in Seoul. Along with the four singers, Jaeseok is set to star as the group's manager through his latest alter ego Jimmy Yoo. This weekend, the members will be making their first appearance on the show, walking viewers through their journey of creating another hit title of the year.
Hangout With Yoo airs every Saturday on MBC at 6:30 p.m. KST. Read on to learn more about Junghwa, Hyori, Jessi and Hwasa.
Making her debut in 1992 as both an actress and singer, Uhm Junghwa is one of the most influential figures in the Korean entertainment industry to date. Often referred to as the "Korean Madonna," the musician quickly rose to fame in the late '90s with iconic tracks such as "Poison (포이즌)," "Rose of Betrayal (배반의 장미)" and "Festival (페스티벌)."
Later in the early '00s, Junghwa continued to pursue music by dabbling in electronica and won Best Electronic Dance Record at the Korean Music Awards. By the late '00s, she had collaborated with Big Bang members T.O.P. and G-Dragon for her "D.I.S.C.O." series. After taking a break in music following her 2017 release The Cloud Dream of the Nine, Junghwa is set to mark another milestone in her discography with Refund Expedition.
Lee Hyori entered the K-pop industry in 1998 as part of one of the first idol groups, Fin.K.L. After becoming one of the most iconic acts in Korean entertainment with hit tracks "To My Boyfriend (내 남자친구에게)," "Eternal Love (영원한 사랑)," "White (화이트)" and more, Fin.K.L.'s members later split with Hyori making a solo debut. The singer once again topped charts in the early '00s starting with lead single "10 Minutes" and won some of the most prestigious awards in K-pop. Making headlines almost all year long, 2003 was dubbed "The Year of Hyori" for the star's influence not only in music, but also in TV.
After more than a decade of building her career, Hyori announced that she would be taking a two-year break in 2015, halting all television activities and moving to Jeju Island with her singer-songwriter husband Lee Sangsoon. She slowly resumed her career by hosting a bed and breakfast on reality series Hyori's Homestay and releasing her new album Black. In May, the star joined Yoo Jaeseok and Rain under her new stage name Linda G to create project group SSAK3. The trio has dominated charts this summer with their single "Beach Again (다시 여기 바닷가)."
While her solo career officially began in 2006, Jessi was originally a vocalist for the hip hop group Uptown. After a five-year hiatus from 2009 to 2014, the artist eventually returned to South Korea, appearing in first season of female rapper competition show Unpretty Rapstar and landing in second place. Following the finale, the star has continued to appear on various television shows and is loved by audiences for her unapologetic personality. Since then, Jessi has released multiple hit tracks including "SSENUNNI (쎈언니)" and her latest, "NUNU NANA (눈누난나)."
The youngest of the group, Hwasa first emerged as a member of Mamamoo in 2014. Boasting strong vocals, she kicked off her solo career last year with "Twit (멍청이)," which topped K-pop charts. Earlier this year, the singer was featured in Dua Lipa's remix of "Physical" and sang one of the original soundtracks for K-drama, The King: Eternal Monarch. Hwasa has also been taking TV by storm, with foods that she eats on the show I Live Alone selling out almost immediately. Most recently, the star began a new series titled YeoEunPa with her alter ego Maria, along with model Han Hyejin (Samantha) and comedian Park Narae (Georgina). She has also released her EP, Maria.
Share this article