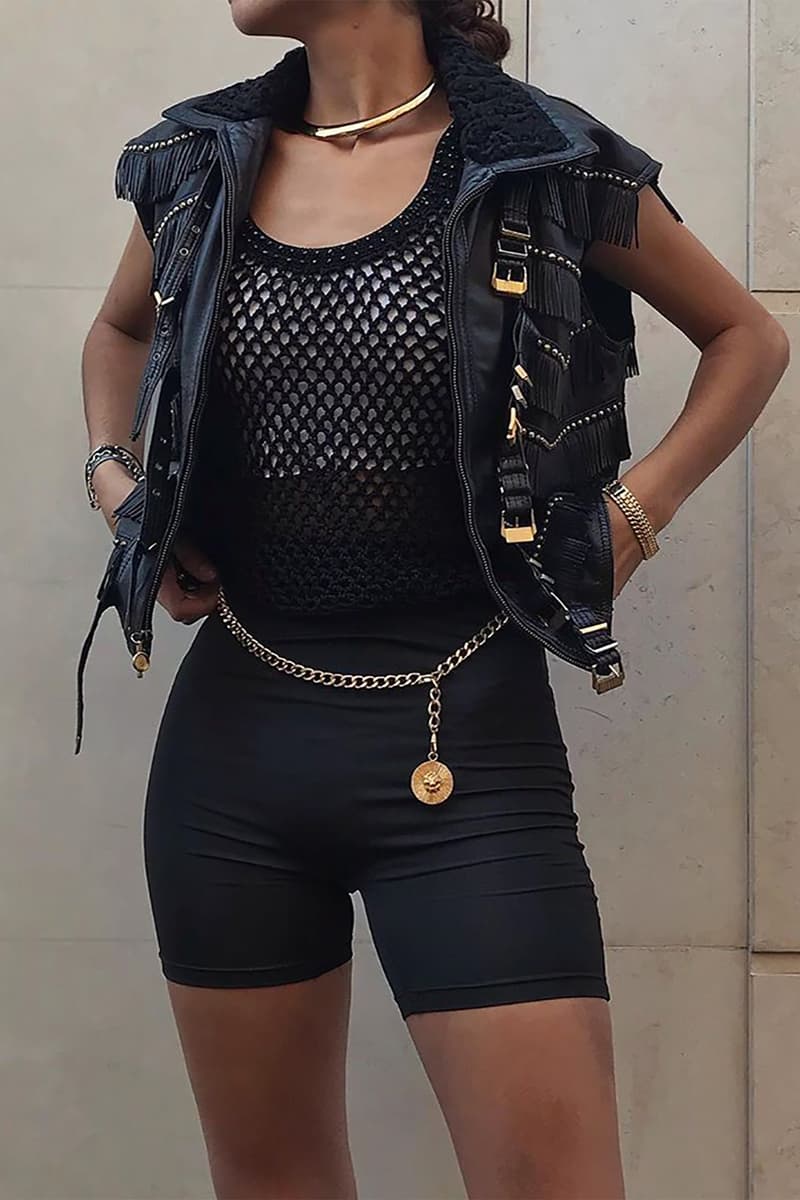 6 Editor-Approved Ways To Wear Bike Shorts
Here's how HYPEBAE editors are rocking the '80s trend in 2020.
Fashion
6 Editor-Approved Ways To Wear Bike Shorts
Here's how HYPEBAE editors are rocking the '80s trend in 2020.
Over the last few years, athleisure wear has slowly taken over our wardrobes thanks to its versatility and comfortable fit. Yoga pants are no longer exclusive to the gym or fitness studios and are commonly styled with chic crop tops paired with statement jackets.
More recently, the '80s and '90s bike shorts trend — popularized by Princess Diana back in the day — has re-emerged in the fashion realm. Inspired by the late member of the British royal family, Virgil Abloh even decided to feature the garment in Off-White™'s Spring/Summer 2018 show, where models like Naomi Campbell were styled in ensembles of tailored blazers and bike shorts.
If you've been contemplating whether to hop on the bike shorts craze or not, check out HYPEBAE editors' personal style guides below for some tips on how to wear the item. Read on for six different takes on the trend, featuring picks from Jacquemus, Girlfriend Collective, WARDROBE.NYC and more.
For more fashion inspiration, here's how we like to wear sweats at home.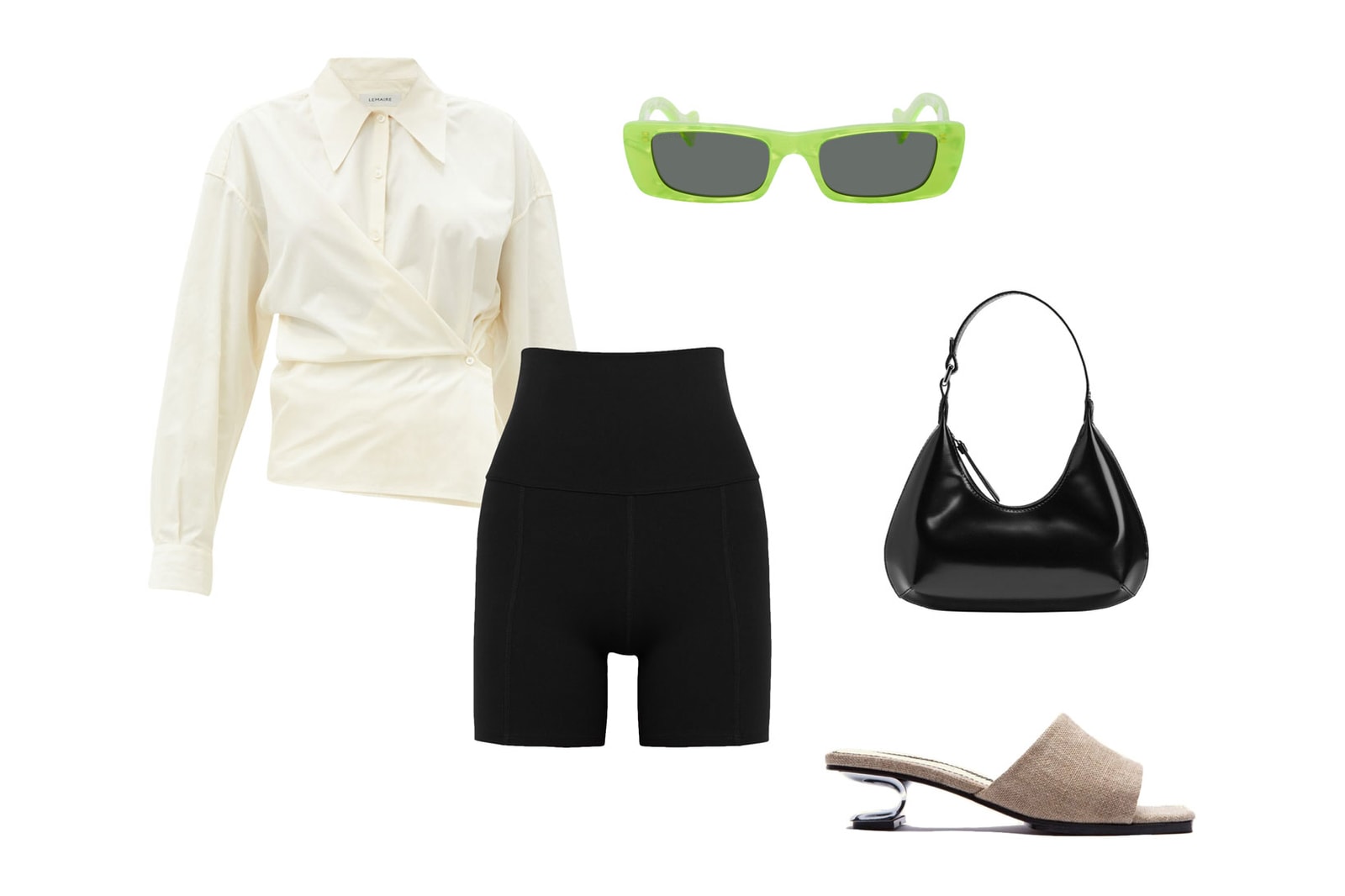 I'll be honest — it took me a while to board the bike short train. When Naomi Campbell paraded down the Off-White™ runway in bike shorts and a blazer back in September 2017, I wrote off the style as goofy and bizarre. Fast forward to October, and bike shorts were an integral component of my Halloween costume (I donned bike shorts, a crop top and a waist-length, blonde wig in an attempt to look like an "influencer" for a night) and I realized how comfortable — and surprisingly flattering — the trend is. Since then, I've been hooked.
I usually opt for bike shorts made of thicker, more substantial material like Live The Process' seamed pair. To dress the look up, I'll pair them with a tailored top — Lemaire's cotton-poplin wrap-around shirt is polished yet easy-to-wear. The Sarah mule by Nicole Saldaña adds interest with its curved chrome heel, and Gucci's lime green geometric sunglasses provide a pop of color. The Baby Amber by BY FAR, a sleek black shoulder bag, fits everyday essentials and finishes the look off.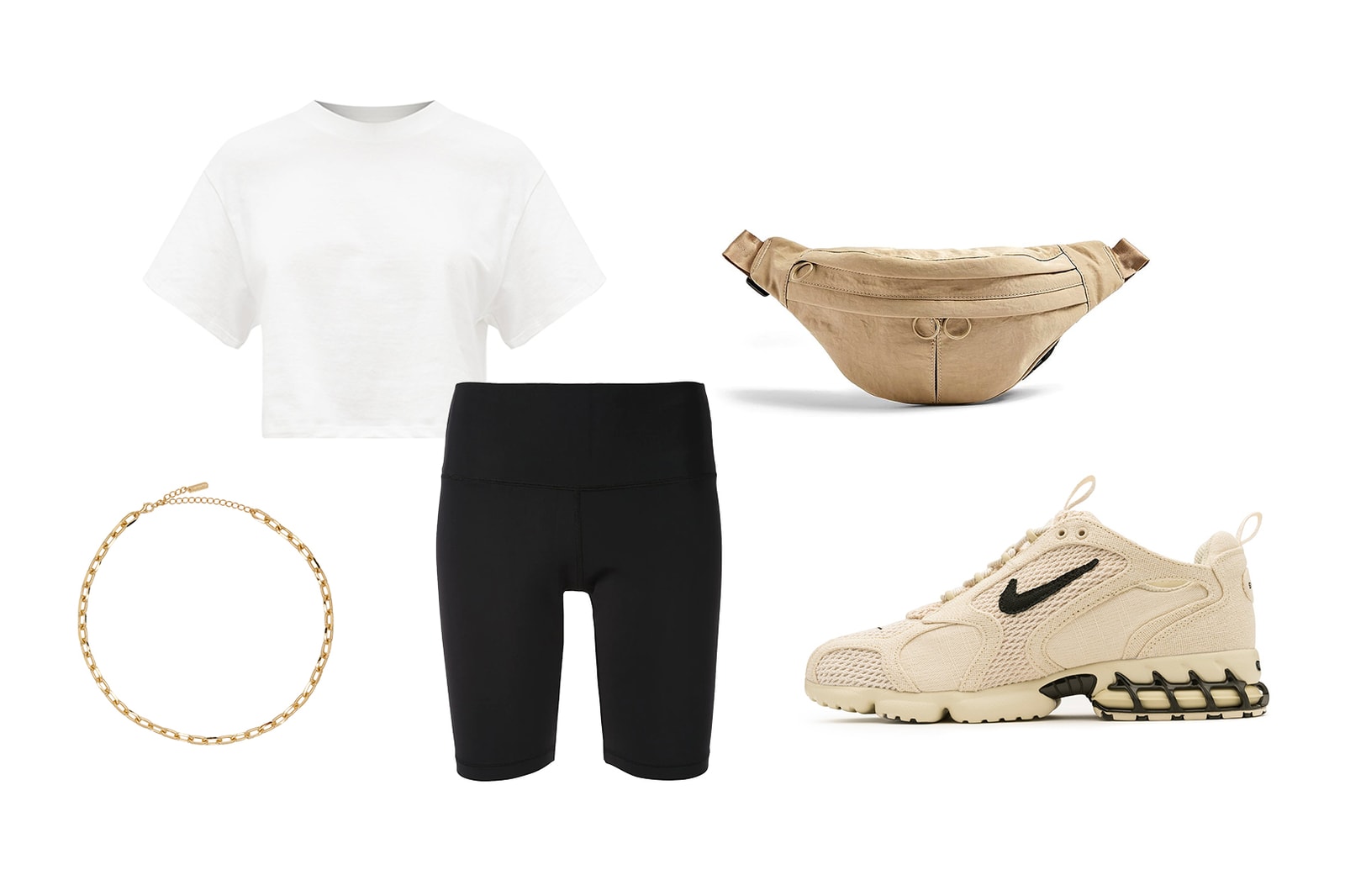 With many in Hong Kong trying to stay home as much as possible to flatten the curve, my wardrobe lately has been flooded with athleisure wear. I've actually forgotten what it's like to wear high-rise skinny jeans and a wired bra — the thought of that actually makes me feel uncomfortable.
I was initially quite skeptical about bike shorts trend, mainly because of my thick thighs and how awkward it would look if the ends of the garment didn't fit right. However, when I finally got my own pair a few months ago, I found that it accentuated my curves instead. I like to pair my WARDROBE.NYC Release 02 bike shorts with a basic white crop top like X Karla's. If I need to go out to run some errands, my footwear of choice would be my Stussy x Nike Zoom Spiridon Caged 2 in "Fossil." To elevate the look, I like to accessorize with Numbering's gold chain necklace while carrying all my necessities in my beige fanny pack from Topshop.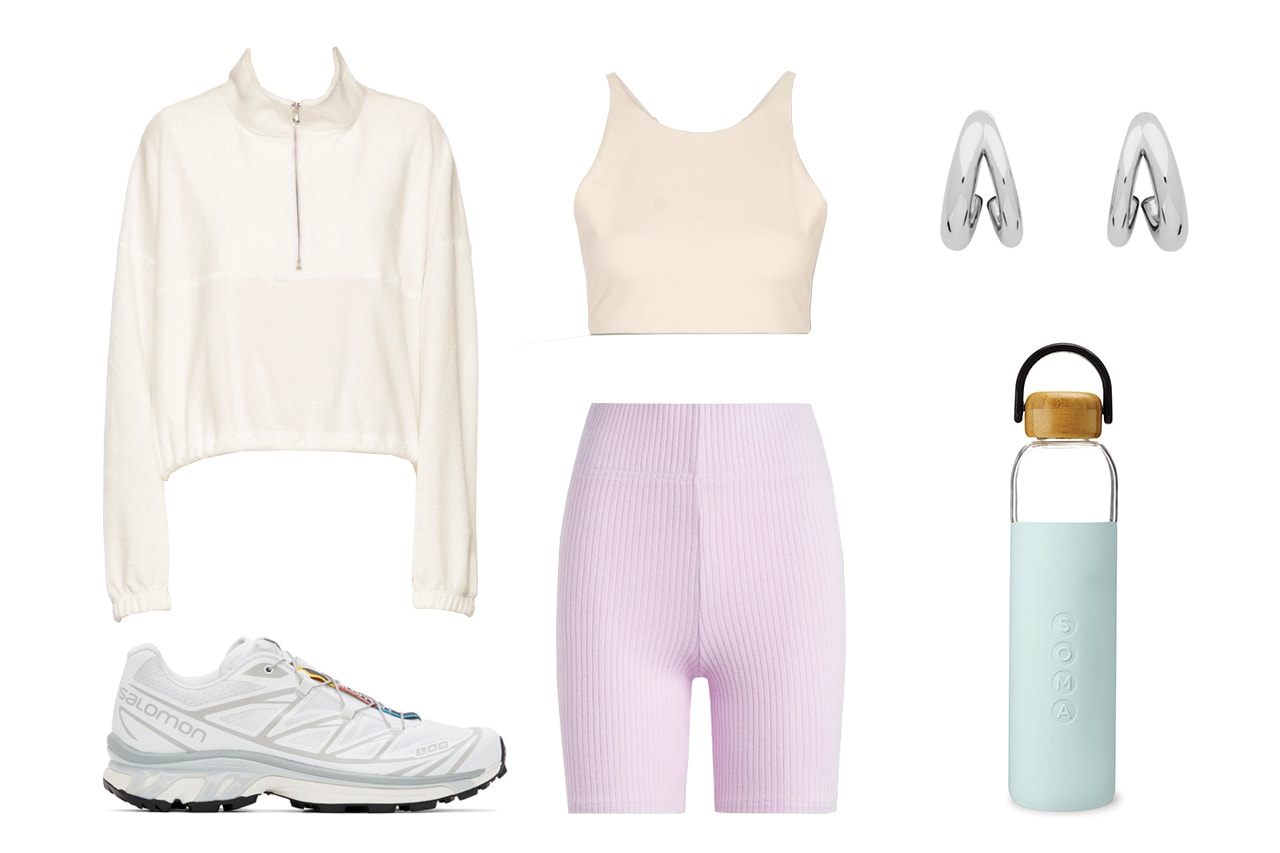 If you had asked me whether I was into the athleisure trend a year ago, I would have probably answered no. As someone who typically gravitates towards more tailored pieces (and let's be real, someone who hasn't always been the most active), I didn't really think I could pull off a sporty look. Oddly enough, over the past few months of quarantine and inactivity, I've found myself becoming more eager and motivated to exercise than I normally would. Sartorially, I'm also starting to embrace the idea of incorporating workout clothing into my daily outfits.
I've recently been taking a lot of long walks (socially distanced, of course), and bike shorts have seemed to be the perfect thing to wear for this occasion. Rather than skintight styles, I much prefer ribbed knit designs like these lilac shorts by LA label LESET. I'd pair the bottoms with a simple crop top — Girlfriend Collective makes a beautiful, ivory sports bra — and to keep it cozy, I'd layer a half-zip sweater on top. Reminiscent of Princess Diana's iconic gym attire, this Gil Rodriguez top is made with cotton-blend terry cloth for ultimate comfort and features an adjustable drawstring at the waist. Salomon's sneakers complete the sporty-chic 'fit. To accessorize, I love Korean brand Portrait Report's double hoop earrings; and to hydrate, I like to carry with me this sleek SOMA glass bottle that conveniently comes with a top handle.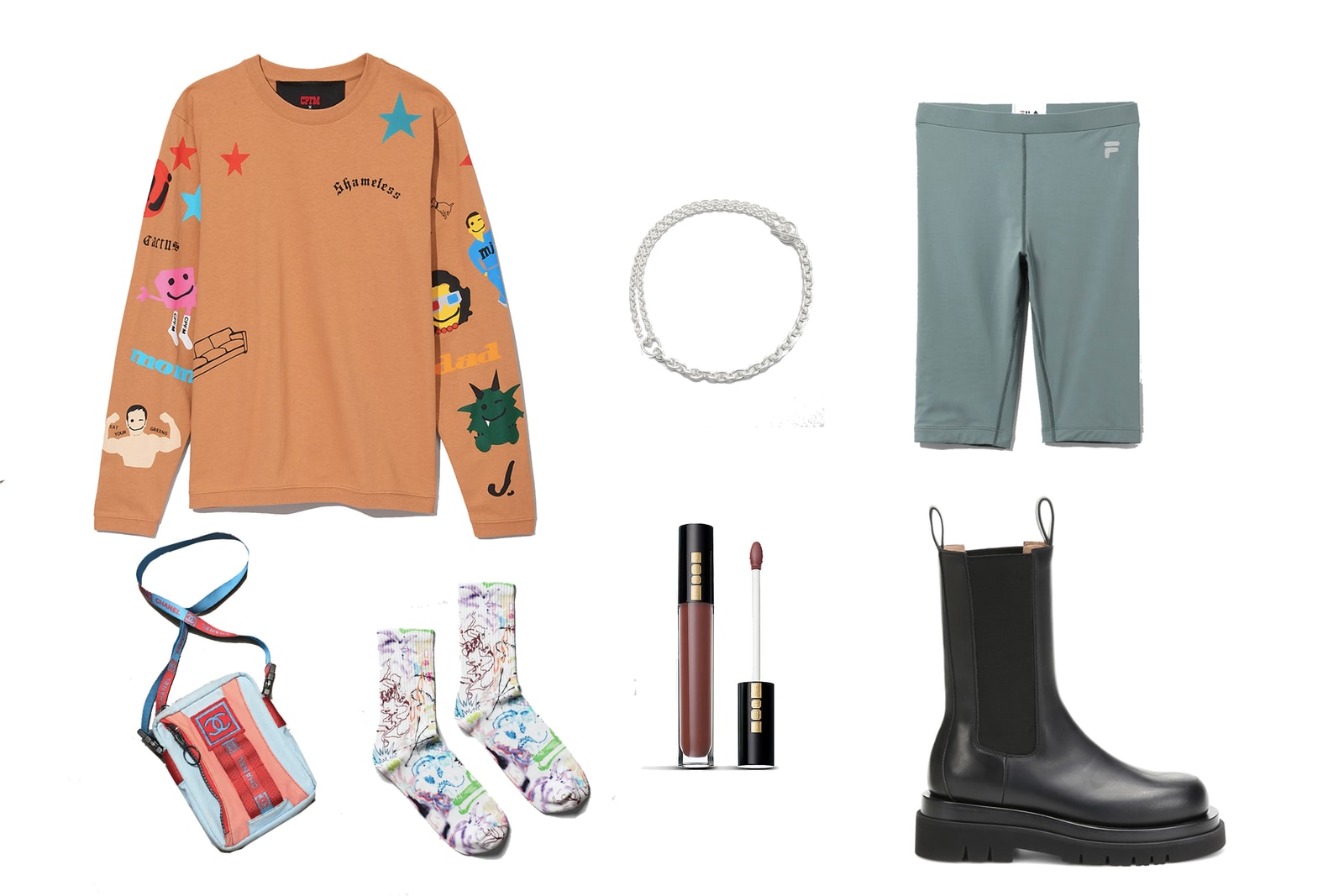 I swear by bike shorts. They have been my go-to item of clothing for the past six months. I've spent most of my time at home, and now that London is slowly beginning to open back up, I can't seem to let go of my comfortable and always loyal biker shorts.
My current favorite is an old pair from a FILA x Weekday collaboration that end just above the knee, and I love to pair it with an oversized long sleeve or sweater. Lately, that has been my Cactus Plant Flea Market x Marc Jacobs shirt. In terms of footwear, Bottega Veneta's leather ankle boots are always on my feet. For accessories, I love a chain necklace and my recent favorite has been from Swedish label All Blues. My bag is a vintage Chanel Sport piece that I found in Tokyo years ago. To complete the look, a coat of Pat McGrath's lip gloss in "Flesh #4" always does the trick.
YeEun Kim – Associate Editor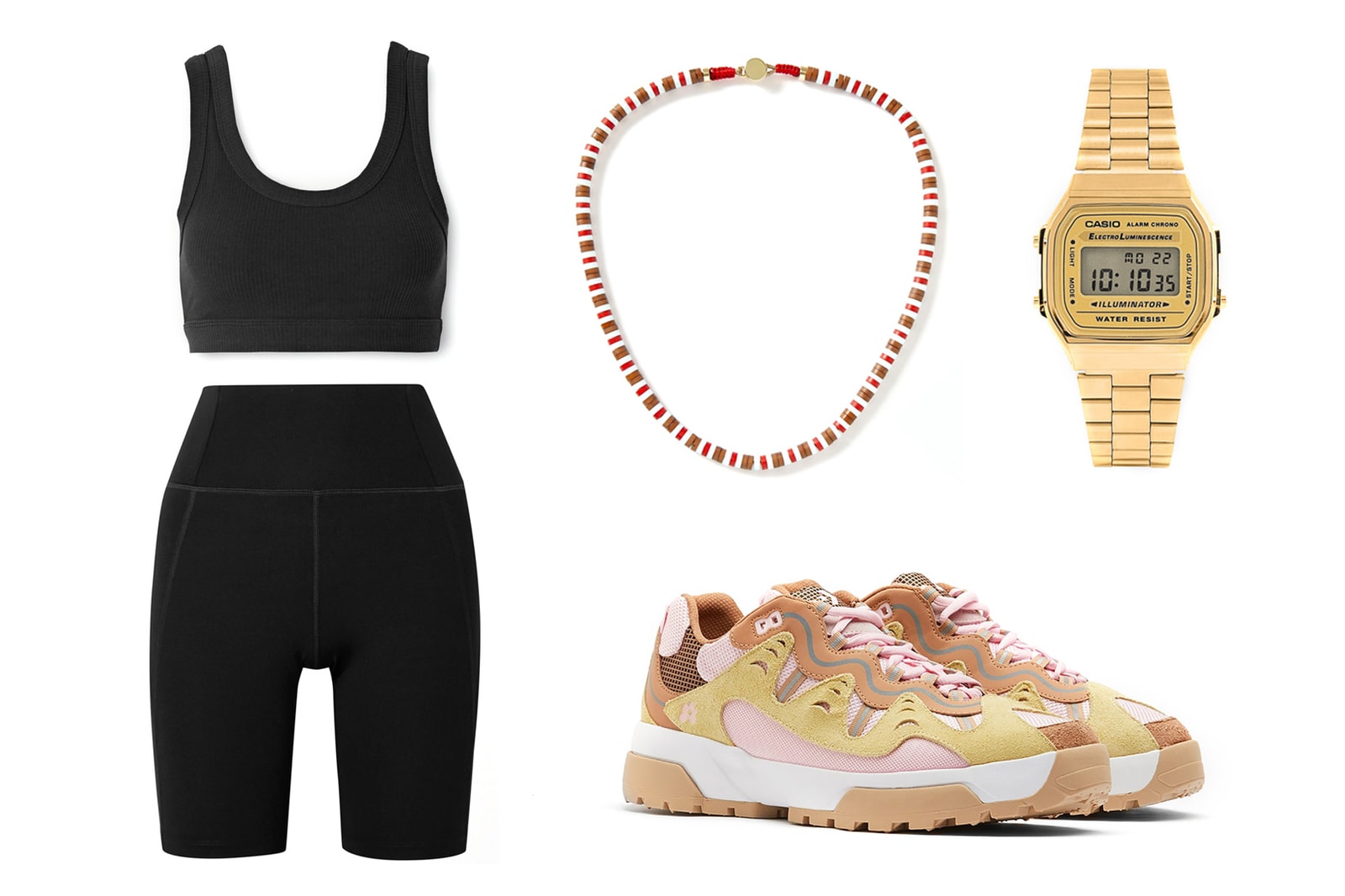 Believe it or not, it's been almost eight months since we began living the "new normal" lifestyle here in Hong Kong. I can barely remember the last night I went out, and haven't put much makeup on my face for a while.
The items in my wardrobe have become a lot more focused on comfort, since staying home is all I do now. Girlfriend Collective's bike stretch shorts and Alo Yoga's wellness ribbed sports bra have been my go-to combo for most work-from-home days. I'll throw on a couple of playful accessories like Roxanne Assoulin's U-Tube necklace and put my hair in a bun to feel ready for work. When I'm stepping out of my apartment for a walk or a grocery run, I'll make sure to wear my daily Casio watch and finish off my look with a pair of comfy sneakers like the GOLF le FLEUR* x Converse Gianno Ox in "Parfait Pink."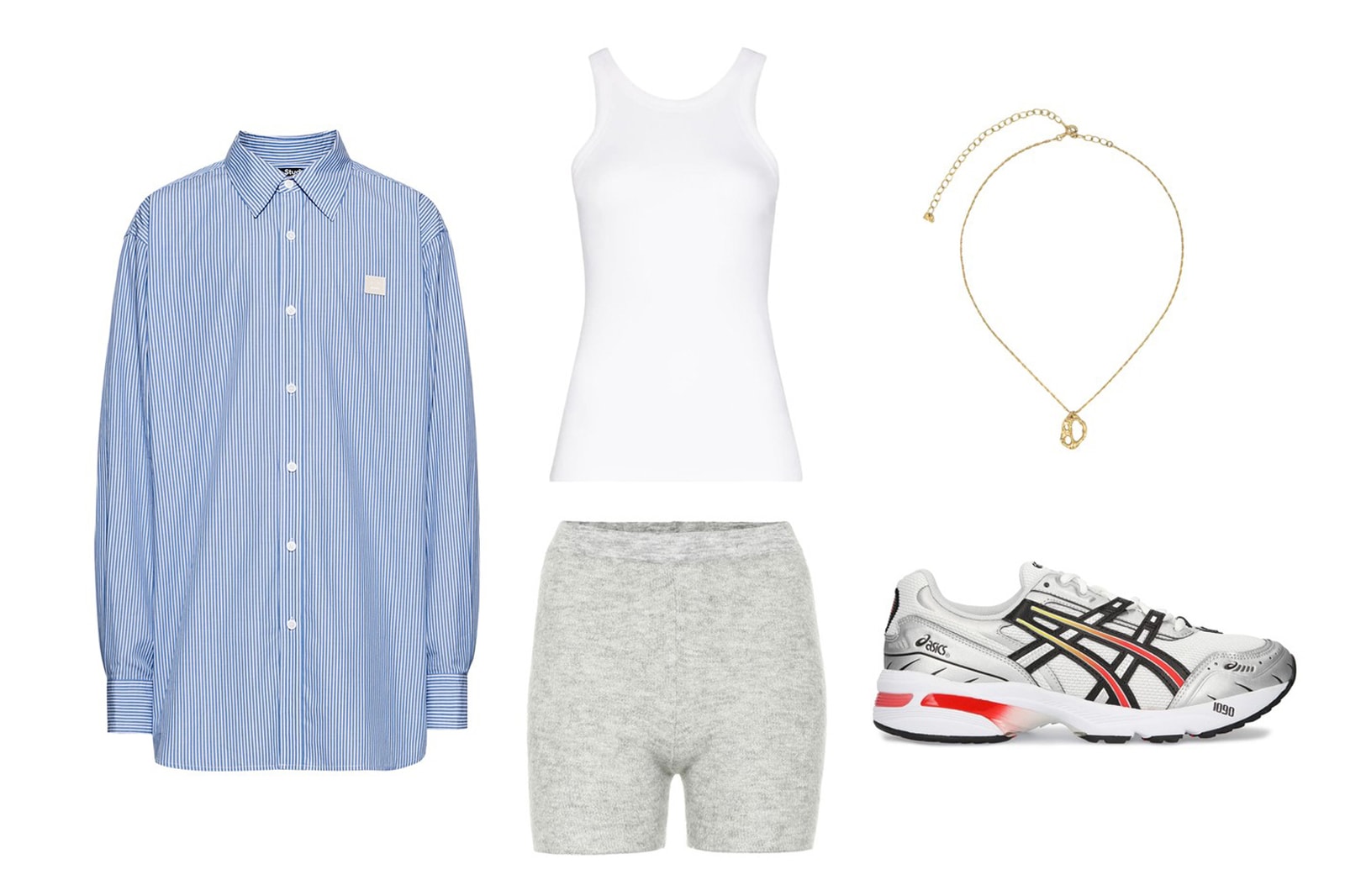 Where bike shorts were once considered to be a uniform for soccer moms who were too busy to worry about wearing real pants, the elasticized sportswear item seems to have instead become an indicator that one is in with the fashion trends and is savvy enough to know about athleisure — but yes, still also too lazy to put on real pants. I embrace it.
As quarantine and work-from-home situations persist, I have long forgotten what it means to "dress up" and now only understand the language of comfort. Bike shorts have become my own personal uniform, alongside a button-up shirt and sneakers. I like to pair Jacquemus' Le Short Arancia ribbed-knit biker shorts with an oversized Acne Studios striped shirt worn over a basic cotton tank from Totême — nothing says "quarantine casual" like a half-buttoned blouse. To add a touch of elegance and to prove that I haven't completely let myself go, my jewelry of choice is the Antha necklace from Loveness Lee, a London-based studio. Lastly, as a means to ensure that I'm amply prepared for marathon visits to the grocery store (don't judge; it's the only time I get to leave my house and something I deeply look forward to each week), I finish the look with the most comfortable sneakers I own, the ASICS GEL-1090.
Share this article