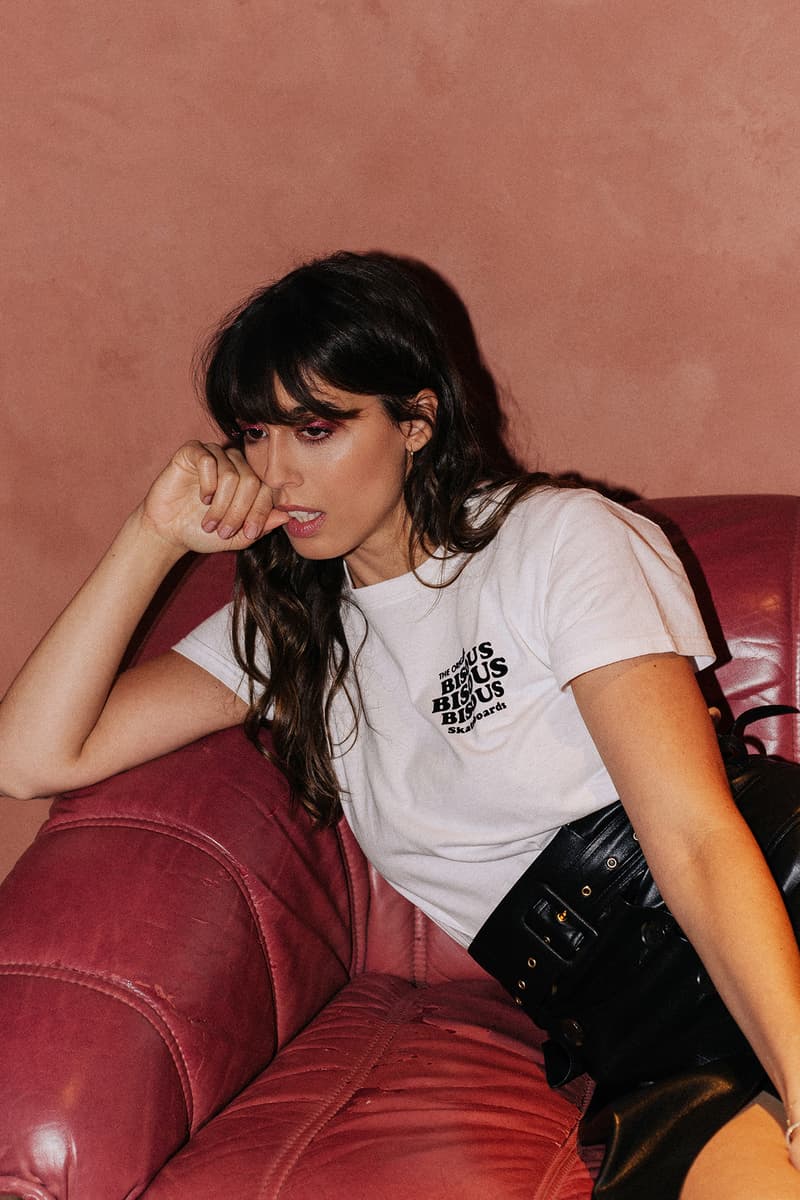 French Makeup Artist Violette Shares Her Beauty Philosophy and Low-Maintenance Routine
Her newly launched brand, Violette_FR, wants you to celebrate your individuality.
Beauty
French Makeup Artist Violette Shares Her Beauty Philosophy and Low-Maintenance Routine
Her newly launched brand, Violette_FR, wants you to celebrate your individuality.
For French makeup artist Violette, beauty is all about expressing your individuality and embracing your authentic self. It's a philosophy that she's held on to throughout the last 17 years of her impressive career. A self-taught makeup artist, the New York-based Parisian has established her name as one of the most sought-after creatives within the beauty industry, with stints at Dior Makeup, Sephora and more recently, Estée Lauder as its Global Beauty Director. Some may also recognize Violette from her stylishly edited YouTube videos, in which she and her guests channel different "color moods" through the use of makeup. Her newly launched brand, Violette_FR, is the culmination of everything she's learned over the years and what she's visualized beauty to be about — it's fun and creative, and more importantly, it should be a celebration of yourself.
As the brand prepares for its next launch, a range of sheer matte lipsticks called the Bisou Balm, we spoke to its founder about the development of her products, her low-maintenance beauty routine and why French pharmacies will always be her favorite place to shop for skincare.
Violette's Beauty Essentials
PURITO From Green Cleansing Oil: I'm obsessed with double cleansing. Every night when I use this product, I'm like, "This oil is so nice." The texture is perfect.
Herbivore Pink Cloud Creamy Jelly Cleanser: I've been noticing so many good gel cleansers on the market. This Herbivore one is what I use and love.
Violette_FR Boum-Boum Milk: I use this at night after cleansing my face.
Supergoop! sunscreen: In the morning, I just rinse my face followed by an SPF — I love Supergoop!'s.
Aveda Lip Saver: The best lip balm ever and a must-have product.
Shiseido Synchro Skin Self-Refreshing Liquid Concealer: After trying so many different concealers, I'd say Shiseido's is my favorite so far. It's really one of the best.
Crown Affair The Hair Towel: For haircare, I love everything Aveda does. I also love Crown Affair's Hair Towel. It's so good — it absorbs all the water.
Violette_FR Frange Puff and Petal Bouche: In addition to Boum-Boum Milk, these two products are also my favorites from my brand.
You've been working on your namesake brand for quite some time. How did being a makeup artist yourself, and having those experiences of being on set and working with different brands, prepare you for launching your own beauty company?
Playing with bold pigments on photoshoots has given me an understanding of textures, and it has allowed me to decode colors. [I've also learned to observe] how models feel when they wear the makeup and what their reactions are.
What [working with] makeup brands really taught me was more on the business side. For example, I quickly understood that marketing — the way it was done especially back then — might kill the soul of a brand. So it was very important for me to feel the heartbeat of what people want, what their mood is and why they like something. I'm always asking, "Why? Why is a brand successful? And why do people like it?" I'm always asking why until I find the real reason behind it, so in a way that was very good training.
What's extremely precious about working on this brand is turning it from an idea to putting it on the market, and figuring out the steps needed and the amount of work required to [launch the brand]. I would say I had a 360-degree training — from my time at art school, my work on sets and my work with brands. The last thing that really trained me for the creation of this brand is social media. When I started being on social media, I began to really talk with people about what they wanted and built an audience. That was the most precious thing.
Within your launch collection, which product was the most fun and exciting to develop?
I always say I'm the most proud of Boum-Boum Milk, our skincare product, because it was very challenging to create and it's super innovative. From formulating with ingredients that very few brands in the beauty industry use, to the product's usage and texture, it was very hard [to make the product]. I was dreaming of this liquid-cream spray that would be a toner, serum and moisturizer at the same time.
I cannot wear foundations and I really want my skin to look impeccable, so a lot of work is required in order for me to have "naked" skin and feel good about it. I used to be this skincare junkie who had many products, and now I want to use just one product but not sacrifice on the effect. So I worked with chemist Luc Jugla, a genius in the skincare industry, who helped me create the vision. In the morning, I just rinse my face, then I use Boum-Boum Milk and put SPF on — that's it. I simplified my skincare routine incredibly, but my skin has never felt so good since I've been doing this.
On creating Petal Bouche, your beautiful red lip color, you've shared this story about you discovering and obsessing over the color of a rose that you saw as a little girl in a Parisian garden. Do you have other favorite beauty memories you can share with us?
One of my earliest beauty memories was that in Paris, most women would wear red lipstick to go to the grocery store or to do their laundry. It was never something they do to seduce anyone — it was just for them to feel good. As a little kid, I was fascinated by women and thought they're the most incredible creatures, so I couldn't wait to become one myself. I saw wearing red lipstick as something you do to celebrate yourself.
Something that also had a huge impact on me was the movie The Wizard of Oz. I was obsessed with this movie and thought one day, I would [create] a glitter, red lipstick. [I was also inspired by] the black-and-white movie Beauty and the Beast by Jean Cocteau. You see [Belle] crying diamonds. Even at an early age, I saw beauty as something extremely poetic. That shaped my beauty philosophy.
Speaking of your beauty philosophy, has being a mother changed the way you think about the idea of beauty in any way?
I wouldn't say it has changed, but [becoming a mother] has definitely made me appreciate beauty more. In the first weeks [after giving birth], I remember that I just didn't have the time or energy to put makeup on. And because I was always touching my baby's face, I didn't want to have makeup on. But then the first time I put my red lipstick back on [since delivery], I felt so empowered. When you don't have kids, you have much more time to think about yourself. But when you have a family, then you start to give those moments away (laughs). [Doing makeup these days] is kind of my way of bringing back these moments for myself.
Anyone who has been following your journey on YouTube would know that community plays a huge part in what you do. You're always interacting with other individuals in your videos, and have even invited a number of content creators to take over your channel. How does this strong sense of community extend to your beauty brand?
Since entering the beauty industry, it's always been important for me to make sure that [what I do] is inclusive and that everybody feels represented, because this is my job. When I consult for brands as a makeup artist, my responsibility is to make sure that everybody feels represented.
When I had just started doing YouTube videos, I remember one day I did a master class and I spoke to a few fans. They told me they'd always have to translate makeup looks [they saw on YouTube] — maybe it's figuring out their foundation color or their lip color — in order to create a look that suited them. That made me feel sad. I said to them, "I want you to not have to make the effort. I want to provide you with whatever it is that you need." So I started to consider having more hosts on my channel, because my channel is not about me. It's about sharing my philosophy, and that is very much connected to mental health. When I moved to the U.S., the first thing I heard was, "You want to be the best version of yourself." I thought that was such a scary statement, because why don't you like the version of yourself right now? What's wrong with this version? Why don't we focus on this and appreciate this? I could see people using makeup as a way to transform themselves and to become this supposedly better version of themselves. When I started my YouTube channel, I wanted to tell people that they don't need to do that. The channel is about this movement of using makeup as a way to love yourself, celebrate yourself and express yourself, instead of fixing yourself.
It was very key for me to have different hosts on the channel, so they could share their own culture and their own vision. My brand is [an extension of] this philosophy. Even having my friends as my muses is important, because I want to give a shout-out to all the people that I love, who are my inspirations. Usually, the classic route when you launch a brand would be to hire models whose names you don't know, whose stories you don't know. When we shoot with our models, we become friends with them. They become part of the brand and we want to talk about their story. That's kind of how I see things.
You're often praised as the embodiment of French girl chic. How would you describe the French approach to beauty?
The first thing that I'm going to say is there is nothing in our DNA that's different from other people. It's really not about being French. I studied a little bit, and what I understood is that it all comes down to the lifestyle in France — we are much more interested in going out with our friends, having a bagel, living our life rather than preparing for it. When you are in Paris, just look around and you will see barely anyone walking with a coffee to-go. People actually sit down, take five minutes to have the coffee and then leave. I remember when my husband and I came to Paris in October, he said, "I need a coffee." And I was like, "There's no coffee to-go here." It took us 30 minutes in the center of Paris to find the weirdest place that let me grab a cup for him.
So this is really what it is. When you are more focused on being happy — it means loving yourself, it means living your life — then you definitely are not going to change yourself as much, because how can you love yourself if you're constantly changing yourself or rejecting yourself? There's a better chance that you're going to love yourself if you stop judging yourself and learn to love what you have now. That's a very French philosophy in a way. We don't want to spend the time in our bathrooms contouring — it was never a thing in France, neither were false lashes. We want to be different and unique, because being unique means we are irreplaceable. All of these tie back to this French philosophy of effortlessness. If you want to look effortless, you need an effortless technique that is quick. That means not too much foundation. That means messy hair. We want to look real.
In addition to your web store, your products are available at select pharmacies in Paris. What do you think makes French pharmacy beauty products so appealing to many?
A pinch-me moment for me was to see my products on the pharmacy shelf. That's because that's where we shop for our skincare products in France. We go to pharmacies because we have pharmacists that studied medicine and health for years. It's a real craft and knowledge, and a source of information. When you have very sensitive skin like me, you get hypoallergenic skincare products from the pharmacy. This is where we get products that are vetted by pharmacists — I know I can trust it. It's my dream to have my products there because I've been guided by a pharmacist. It's a big moment for me, for sure.
What's next for Violette_FR? 
We are going to have a new product launch almost every three months. I've been teasing about the Bisou Balm. In France, we do what we call the "bitten lip" effect — or bouche mordue — which is a bit of a lip balm and a touch of lipstick. [To celebrate the launch,] we're also releasing some merch with this super cool, underground skateboard brand in France called Bisous Skateboards. They're the real deal. They're real skate fans. I fell in love with their work and we're excited about doing this collaboration with them. We also have new colors of eyeshadows that I've been teasing online as well — they're coming in the fall.
Share this article