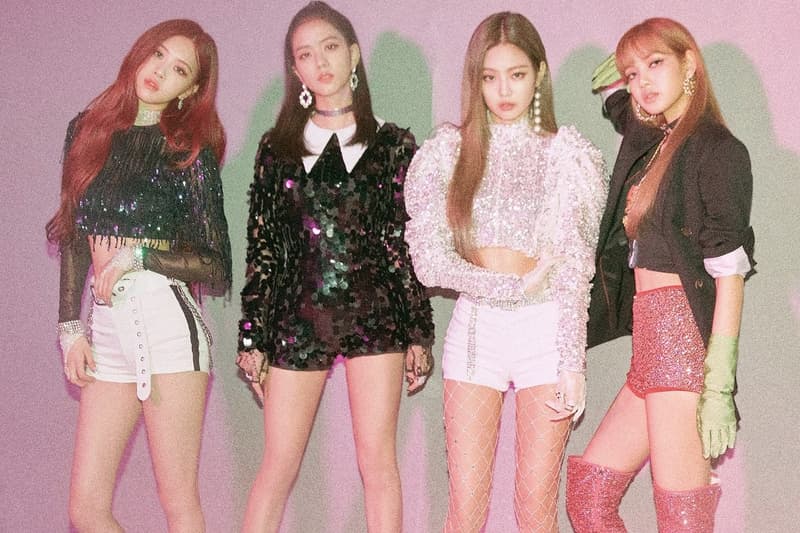 Music
These Are the Best K-Pop Songs and Music Videos of 2019
BLACKPINK, BTS, NCT 127 and more on repeat.
These Are the Best K-Pop Songs and Music Videos of 2019
BLACKPINK, BTS, NCT 127 and more on repeat.
The world's obsession with K-pop has undoubtedly reached an all-time high in 2019. While Big Hit's chart-topping boy band BTS continued its global domination with its Love Yourself: Speak Yourself  tour, hitting stadiums in Bangkok, Los Angeles, Chicago, London and Paris among other major cities, YG Entertainment's BLACKPINK made history this April when they became the first-ever K-pop girl group to perform at Coachella.
With different acts' significant breakthroughs stateside and beyond, the K-pop fandom is bound to grow even bigger in the next decade. Get familiar with some of the most popular artists and groups right now, and take a listen to a compilation of the best K-pop songs that released in 2019.
While you are here, check out five new K-pop singers and groups we have on our radar.
iKON – "I'm OK"
YG boy band iKON kicked off 2019 with a January release titled "I'm OK." As the title track of the group's first compilation album, The New Kids, the melancholic tune was released alongside a music video that depicts the loneliness of getting over a breakup.
Jimin – "Promise"
In January, BTS member Jimin treated the ARMY to his very first solo single, "Promise." Accompanied by acoustic guitar, the track is an easy listen, with the 24-year-old singer musing on love and heartache over a soulful tune. The emotional lyrics are co-written by Jimin and BTS leader, RM, while the song is composted together by Jimin and Slow Rabbit.
TXT – "CROWN"
A new addition to the Big Hit Entertainment family, TXT (short for TOMORROW X TOGETHER) released its first single "CROWN" back in February. As an introduction to the newly-formed boy band, the uplifting song arrives with an equally vibrant visual that employs fun and colorful animations and backdrops. For more from TXT, check out its debut mini album, The Dream Chapter: STAR.
TAEYEON – "Four Seasons"
SM signee and Girls' Generation member TAEYEON released her new single "Four Seasons" along with a poetic music video in March. In the beautifully-filmed visual, the artist sings about an ill-fated, past relationship and even compares it to a "Shakespeare's play."
NCT 127 – "Wakey-Wakey"
In March, SM Entertainment's NCT 127 unveiled its badass music video for "Wakey-Wakey," the lead single of the group's studio album Awaken. Notably, the project marks the 10-piece band's first-ever full Japanese album. If you're a fan, don't miss our exclusive interview with NCT 127, where the members discuss their North American debut, personal style and more.
Epik High (ft. BTS SUGA) – "Eternal Sunshine"
Those who've been following K-pop before the genre has even become the global phenomenon that it is today are probably familiar with Epik High. Formerly a group under YG Entertainment, the veteran and now independent hip-hop trio released "Eternal Sunshine" in March, featuring bars delivered by BTS' SUGA.
BLACKPINK – "Kill This Love"
Before making its Coachella debut, four-piece girl group BLACKPINK released its album Kill This Love in April. Its title track of the same name shows Jennie, Lisa, Rosé and Jisoo rapping and singing about bidding farewell to a relationship that no longer serves them. Shot against elaborate sets, the music video is captivating and stylish, filled with an abundance of utilitarian-inspired fashion moments, festival-ready beauty looks and in-sync choreography, of course.
BTS (Ft. Halsey) – "Boy With Luv"
BTS and Halsey surprised fans back in April by announcing their collaboration, "Boy With Luv." The addictive track dropped alongside a colorful music video, where RM, Jin, Suga, J-Hope, Jimin, V and Jungkook dance together with the "Strangers" artist against a background of lit-up, Broadway-style signs. The music video swiftly broke the record for racking up the most YouTube views in 24 hours.
NCT 127 – "Superhuman"
After taking over a giant billboard in New York City's Times Square with a live performance of "Superhuman," NCT 127 dropped a dance-filled music video for the song in May. Lifted from the boy band's latest album We Are Superhuman, the upbeat track is a bop.
BoA – "Feedback"
The queen of K-pop is officially back. In June, BoA made her comeback with the song "Feedback," a dance-inducing track featuring South Korean rapper Nucksal. In the accompany video, the songstress is seen making multiple wardrobe changes, donning some of the chicest Spring/Summer 2019 looks from Marine Serre, Chanel and Off-White™.
TXT – "Nap of a Star"
In June, TXT released its music video for "Nap of a Star." The fairy tale-inspired visual follows the group as its members wander around an imaginary forest. The song itself is a soothing ballad that'll make you want to play on repeat.
Heize – "Falling Leaves are Beautiful"
In October, Heize released her romantic mini album titled Late Autumn. Filled with the artist's angelic vocals, the record's opening track "Falling Leaves are Beautiful" will put you in the mood for cuffing season.
Super Junior – "SUPER Clap"
For its ninth album, Time_Slip, Super Junior delivered an arena-ready anthem titled "SUPER Clap." Accompanying the song is a fun music video that sees members of the group showing off their unbeatable dance moves.
NU'EST – "LOVE ME"
NU'EST completely stole our hearts with its single "LOVE ME." As part of the boy band's mini album The Table, the song accurately captures the romantic feeling of a new, blossoming relationship. Peep the dreamy visual above.
TWICE – "Fake & True"
The title track to TWICE's second Japanese album, &Twice, "Fake & True" was released along with a candy-colored music video featuring a sequence of dance scenes and glamorous wardrobe changes. From sequined mini dresses to all-black ensembles, the clip is a lesson in style.
CL – "+DONE161201+"
Within weeks after departing from YG Entertainment, former 2NE1 member CL announced her new project entitled In the Name of Love in November. For her first single on the album, "+DONE161201+," the singer and rapper enlisted a number of friends including Alexander Wang and Kiko Mizuhara to appear in a sing-along-style music video.
Share this article