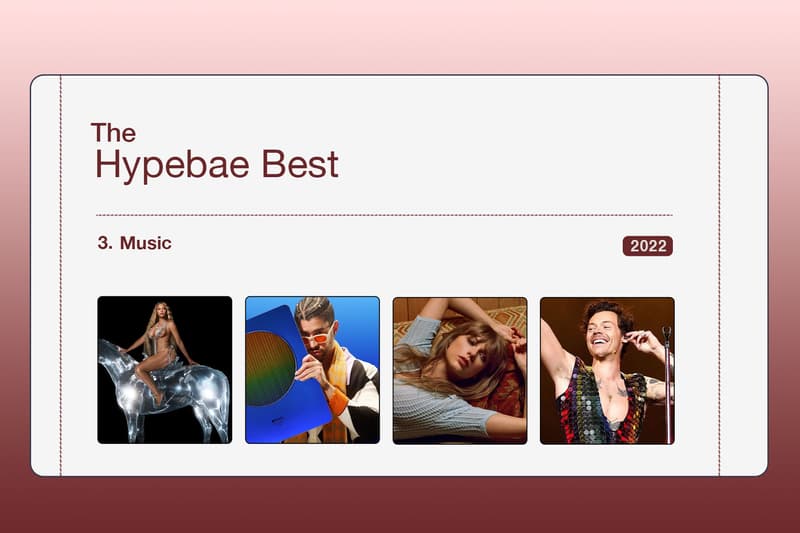 Music
The Hypebae Best: Our Editors Ranked the Top Albums and Songs of 2022
Here are the albums and tracks we've had on repeat all year long.
The Hypebae Best: Our Editors Ranked the Top Albums and Songs of 2022
Here are the albums and tracks we've had on repeat all year long.
Music is such a key part of humanity and 2022's drops did not disappoint. It's been two years since lockdown due to the COVID-19 pandemic; 2021 was an adjustment period, but 2022 was the first time in a while we began to feel some normalcy again. The music released this year is a reflection of that. Several artists dropped some of their best work to date in 2022, reminding listeners to once again celebrate the simple things in life.
Bad Bunny, Taylor Swift and Beyoncé are a few of the artists who released critically acclaimed albums we can soundtrack our lives to. Others, such as SZA and Rihanna, made comebacks to the music industry that we will never forget.
We've compiled the top albums and songs of 2022 as part of our Hypebae Best series. Keep scrolling to see our favorite drops of the year.
ALBUMS
Un Verano Sin Ti – Bad Bunny

Bad Bunny's fourth solo studio album, Un Verano Sin Ti, may be considered the biggest album of the year. Thanks to the hit LP, the Puerto Rico native broke several records. For starters, it's the most streamed album on both Spotify and Apple Music. It's also the first time an all-Spanish-language album received a Grammy nomination for Album of the Year. To support the project, Bad Bunny embarked on the World's Hottest Tour this summer, which ended up being the highest-grossing tour in a calendar year with $435.38 million USD. Un Verano Sin Ti is a special project because it serves as representation for Latinos, proving the sky is the limit.
Midnights – Taylor Swift

Taylor Swift dropped what is considered so far as the most successful album of her career. Midnights, which is her 10th studio album (12th if you count her re-recordings), reiterated the fact that Swift is still the queen of writing songs about heartbreak despite being in a happy relationship. The pop-infused LP led her to make history as she became the first artist to occupy the entire top 10 spots on the Billboard Hot 100 chart.
Renaissance – Beyoncé
For her seventh studio album, Renaissance, Beyoncé decided to switch it up by doing the unexpected — putting out a dance record that celebrates club music. Queen Bey used the project to tell the story as the end of each song when listened in order, perfectly blends in with the next. Fortunately, fans can expect more albums like this from the musician, who revealed Renaissance is the first of a trilogy. "This three-act project was recorded over three years during the pandemic. A time to be still, but also a time I found to be the most creative," Beyoncé wrote in a letter to her fans. "My intention was to create a safe place, a place without judgment. A place to be free of perfectionism and overthinking. A place to scream, release, feel freedom."
SOS – SZA

SZA finally returned to music and released her sophomore album, SOS, five years later after her debut, Ctrl. SOS is what can be considered empowering sad girl music, as it features lyrics that are deeply vulnerable, raw and honest. The album cover reflects that vibe as well. For the artwork, SZA was inspired by Princess Diana; the singer recreated one of the late royal's last photos taken before her death. "Originally, I was supposed to be on top of a shipping barge, but in the references that I pulled for that, I pulled the Diana reference," SZA told Hot 97. "Because I just loved how she isolated she felt, and that was what I wanted to convey the most."
Harry's House – Harry Styles

Harry Styles brought the '80s back with his third solo studio album, Harry's House. The LP, which is made up of 13 tracks, is a modern pop record with a hint of nostalgia. As a result, it's his favorite album of his so far. "It's also so much more intimate to me. And so much more intimately made," he told Zane Lowe. "This is my favorite album at the moment, and I love it so much."
MOTOMAMI – Rosalía

MOTOMAMI is Rosalía's third studio album, her first in four years. The LP further escalated Rosalía's stardom as it helped her gain more respect. The Spanish artist dabbled into a few different genres, proving versatility is her strong suit. "Motomami … There are so many different influences — there's a flamenco influence, a bolero influence, a dembow," she told Billboard. "And I need to feel free to create and I need to create in order to feel free. I make music because that's my truth."
Born Pink – BLACKPINK

BLACKPINK's Born Pink was a highly anticipated record as it's the K-pop group's follow-up to their debut, The Album, which dropped in 2020. The project, consisting of eight tracks, helped further revolutionize K-pop as it covered and mixed a variety of genres, including hip-hop, pop and EDM.
Special – Lizzo
Lizzo's fourth studio album lived up to its name because it is indeed Special. The singer developed the project from a different perspective, which made the album stand out. "I started writing from a place of gratitude rather than fear, and that's always where I wanted to be," Lizzo told Apple Music. "Whether I have everything in the world or it's all taken away from me, always want my base level to be gratitude. These songs are a celebration of who I am right now."
Traumazine – Megan Thee Stallion
Megan Thee Stallion's Traumazine, her sophomore studio album, showcased the rapper's ability to create a hip-hop record that's both equally vulnerable and powerful. The Texas native did not shy away from speaking about issues relating to mental health, while still maintaining her signature boasts. "I want to take you through so many different emotions," she told Rolling Stone. "At first you was twerking, now you might be crying … I just always want people to remember, 'Yes, Megan Thee Stallion, she was great, she was a rapper. She was one of the best rappers, the coldest.'"
Come Here The Kids Miss You – Jack Harlow

Come Here The Kids Miss You is Jack Harlow's follow-up to his debut album, Thats What They All Say, released in 2020. The sophomore LP was comprised of 15 tracks, "Nail Tech," "First Class" and "Dua Lipa" being the most notable songs. Harlow used the album to be vulnerable in an unexpected way. He seemingly manifested his love life through music; the rapper used "Dua Lipa" to shoot his shot on the "New Rules" singer, whom he's recently been linked to.
SONGS
"Tití Me Preguntó" – Bad Bunny
"Tití Me Preguntó" is one of 2022's best tracks for many reasons. For starters, it's super catchy. Bad Bunny mixed reggaeton with dembow to deliver a song the Latino community can relate to. The single addresses a very common issue found within Hispanic traditional families, which is the double standard presented between men and women to find a romantic partner and settle down.
"As It Was" – Harry Styles
"As It Was" is Styles' lead single from Harry's House. The track is a perfect representation of the rest of the album as it's heavily electronic and '80s sounding. Easily, thanks to the catchy riffs, "As It Was" may be the biggest pop song of 2022.
"BREAK MY SOUL" – Beyoncé
"BREAK MY SOUL" is one of Beyoncé's biggest songs of the year simply because it symbolizes a different era for the artist. The lead single from Renaissance, "BREAK MY SOUL" reinstated that regardless of how much time passes, Beyoncé can always reinvent herself and deliver something that feels equally nostalgic and new.
"CUFF IT" – Beyoncé
Thanks to social media, Bey's "CUFF IT" took a life of its own, making it her other biggest hit of the year. Fans, stars and influencers uploaded videos online of them dancing to the romantic, upbeat track. Additionally, the lyrics to "CUFF IT" make it a perfect song to get any night started.
"Lift Me Up" – Rihanna
Rihanna shocked us all when she finally released a song. The singer-slash-entrepreneur made a comeback to the music scene to pay tribute to the late Chadwick Boseman with "Lift Me Up," which is featured on the Black Panther: Wakanda Forever soundtrack.
"BIZCOCHITO" – Rosalía
"BIZCOCHITO" became a big hit thanks to social media. "BIZCOCHITO" became a standout during Rosalía's tour due to her facial gestures while performing the track; the singer shows off her sassy side while pretending to chew gum, which fans have imitated online. Thanks to the song's online presence, "BIZCOCHITO" has become a fun song celebrating sass.
"Unholy" – Sam Smith and Kim Petras
Sam Smith and Kim Petras' "Unholy" is one of a kind because it mixes choir music and pop. The song, which discusses adultery, is also unique because it marks a special chapter for Smith — their villain era.
"Shirt" – SZA
"Shirt" was especially exciting for SZA fans because it was the last single to drop before releasing SOS. The music video was first teased in 2020, adding to the anticipation. For the music video, SZA showcases her acting skills with Lakeith Stanfield, who serves as her love interest.
"Grrrls" – Lizzo
Similarly to "Truth Hurts," Lizzo's "Grrls" serves as the perfect female anthem. "That's my girl, we codependent/ If she with it, then I'm with it/Yeah, we tussle, mind your business," she sings.
"Shut Down" – BLACKPINK
"Shut Down" is BLACKPINK's second single off of Born Pink, and it serves as proof of how versatile their sound can be. The K-pop track, which is heavily pop and hip-hop based, includes bass and violins. The song samples composer Niccolò Paganini's second violin concerto aka "La Campanella."
---
Share this article