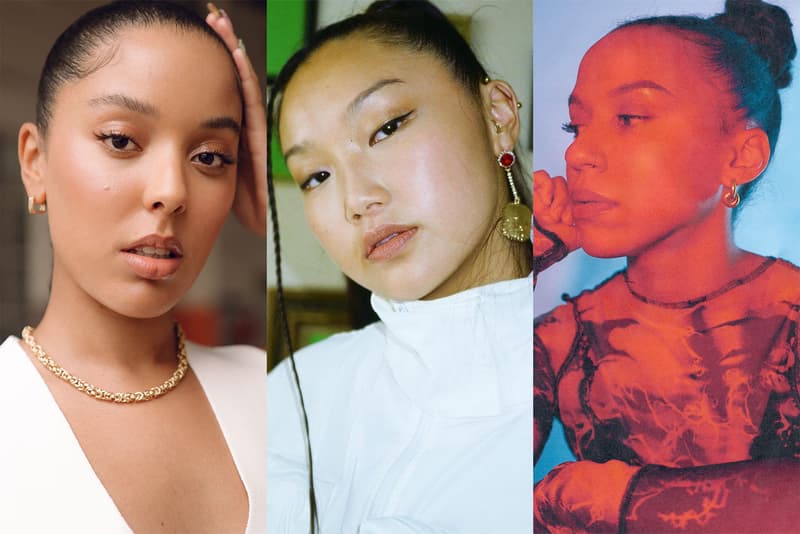 Music
The Top 10 Artists To Watch in 2022
Here are the up-and-coming talents ready to make waves in the music scene.
The Top 10 Artists To Watch in 2022
Here are the up-and-coming talents ready to make waves in the music scene.
A new year symbolizes the beginning of new emerging music artists ready to make their mark in the industry. While 2021 saw the rise of many talented individuals, 2022 has a fresh batch of musicians to introduce to the scene. From London-based singer and songwriter Grace Carter, who supported Dua Lipa on The Self-Titled tour in 2017, to Korean-American songstress AUDREY NUNA, known for her soul-baring R&B tracks, our roundup below features the top up-and-coming artists to keep on your radar this year.
Continue scrolling down for the full lineup. While you're at it, here are the 20 best albums and songs that took over our playlists in 2021.
Korean-American artist AUDREY NUNA started her music venture at the young age of 16 when she was discovered by Roc Nation producer Anwar Sawyer. While she made moves in 2019 with her hit single "Time" and was praised by BLACKPINK member Rosé in an interview with Vogue Korea in 2020, the 22-year-old talent is just getting started. Following the debut of her a liquid breakfast mixtape in 2021, the R&B musician definitely has more in store for 2022 with her talent in combining hip-hop, soul and trap in her work.
Listen: Spotify | Apple Music
Fresh to the R&B scene, South African singer Elaine self-released her now-platinum EP, Elements, which explores love, heartbreak and renewal. With the skill of effortlessly blending sweet R&B melodies with a touch of trap-inspired beats, the 21-year-old artist became the first female independent artist to reach the top spot on Apple Music's Sub-Saharan African charts. Get ready for her American debut this year as Elaine has new singles and another EP in the works.
Listen: Spotify | Apple Music
After having the opportunity to support Dua Lipa on her The Self-Titled tour in October 2017, London-based singer and songwriter Grace Carter dropped her first EP Why Her Not Me the following year, which is comprised of seven tracks that touch upon the absence of her father in her life. Since then, the songstress has amassed millions of streams across Spotify and Apple Music, as well as performed in the U.S., Asia and Europe. With her soulful, R&B-influenced vocals and raw lyrics, fans can expect more music from Carter this year.
Listen: Spotify | Apple Music
PinkPantheress took the TikTok music community by storm when she uploaded a snippet of her original song, "Just a Waste," in December 2020. The following month, her breakout track "Break It Off" went viral once again on the video-focused app, leading her to sign to Parlophone Records and Elektra Records. With her bedroom pop music style, the young songstress is adored by many in her generation for her catchy lyrics and addictive beats.
Listen: Spotify | Apple Music
Manchester-born, London-based singer and songwriter Pip Millett expresses her heart and soul through her soothing R&B-inspired vocals. Millett's love for music stems from her days as a student when she was gifted guitar lessons by her mother. Her debut track "Make Me Cry" — a song that covers her battle with anxiety — landed her a performance on COLORS, which now has 4.7 million views. Earning fans from around the globe, including fellow musicians like Jorja Smith, Millett is a home-grown talent ready to take on 2022.
Listen: Spotify | Apple Music
The beginning of Priya Ragu's music career did not see an easy start. Born and raised in Switzerland, the Sri Lankan-Tamil-native was an accountant for Swiss International Air Lines after graduating high school. Coming from a South Asian background, the young artist found it difficult to solely focus on her music due to her parents' traditional and conservative views. However, after moving to New York in 2017, Ragu was able to take her potential to new heights by working on a slew of singles and her debut mixtape, damnshestamil. For fans of R&B and electro-pop, Ragu offers her own edgy rendition of the two genres while incorporating her Sri Lankan roots.
Listen: Spotify | Apple Music
London-based DJ SHERELLE was raised by her R&B-loving mom and sister. Growing up, the talent listened to '90s icons like Aaliyah and Brandy. However, seeing Chase & Status for the first time at a festival and being present at a Boiler Room set ultimately inspired SHERELLE to perform. Known as one of the very few people in the industry who plays footwork, jungle and other genres above 160 beats per minute, the British DJ represents a new generation of people who are passionate about the same style as her.
Listen: Spotify | Apple Music
Temilade Openiyi, professionally known as Tems, is a one-of-a-kind addition to Nigeria's innovative "alté" scene. Since the release of her debut single "Mr Rebel" in 2018, the alternative R&B artist worked on a number of memorable projects such as her song "Try Me," which now has over nine million views on YouTube. Tems also had the opportunity to work with Khalid on his Afrobeats remix of "Know Your Worth" with fellow Nigerian creative DaVido. After launching her debut EP, For Broken Ears, Tems linked up with Drake on "Fountains," WizKid and Justin Bieber on "Essence," and Brent Faiyaz on "Found."
Listen: Spotify | Apple Music
British indie band Wet Leg was formed by Rhian Teasdale and Hester Chambers in 2019. Known for their satirical and tongue-in-cheek lyrics, the duo has been slowly but surely dominating the post-punk scene. Having introduced four singles last year — "Chaise Longue," "Wet Dream," "Too Late Now" and "Oh No" — the band is preparing to debut their eponymous album this spring on April 8.
Listen: Spotify | Apple Music
Argentinian artist Zoe Gotusso took the solo route in 2019 after being a part of a duo called Salvapantallas with Santi Celli in 2016. Since venturing on her own, Gotusso released "Un Bossa +," "Monoambiente en Capital" and "Calefón," as well as her debut album Mi Primer Día Triste. The record's release was accompanied by a documentary titled Retrato en Movimiento, which offers fans a behind-the-scenes look at the album's recording and production process. The pop songstress earned Best Pop Album at the 23rd Annual Gardel Awards last summer.
Listen: Spotify | Apple Music
Share this article