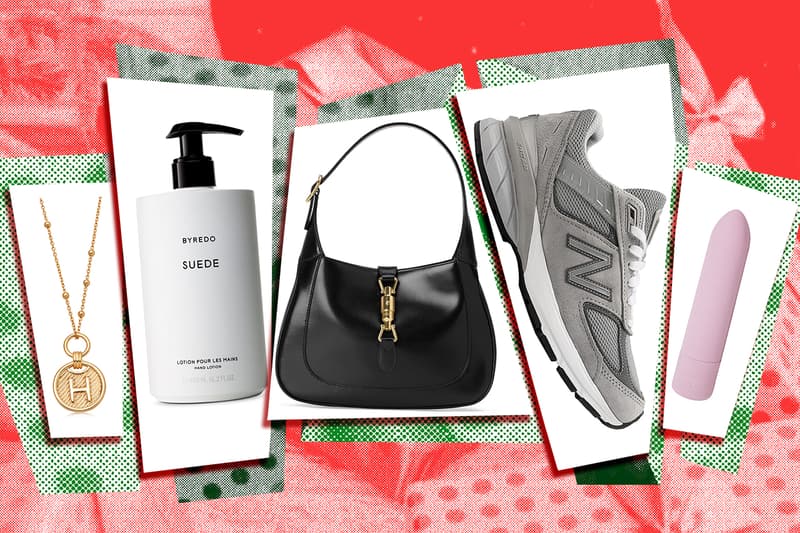 Fashion
18 Gifts HYPEBAE Editors Are Giving and Wishing for This Holiday Season
Impress everyone on your list with these last-minute gift ideas.
18 Gifts HYPEBAE Editors Are Giving and Wishing for This Holiday Season
Impress everyone on your list with these last-minute gift ideas.
While this typically festive season is looking a bit different this year, preserving certain holiday traditions — whether it be decorating your home, cooking your family's signature recipes, or shopping gifts for each other — could help some of us feel closer to absent loved ones. If you, like us, are especially missing the gift-giving aspect of the holidays, why not surprise your family and friends by sending them gifts you know they'll love?
From a gel nails kit made for at-home pampering, to a pendant necklace thoughtfully engraved with someone's initial, to a whimsical incense burner guaranteed to elicit laughter even over FaceTime, take a look at the gifts that HYPEBAE editors are giving (and hoping to find under the tree) below.
For more last-minute gift ideas, read our guides to the best beauty products, tech gadgets and practical gifts to shop for the holidays.
Richardson, the streetwear brand founded by legendary stylist Andrew Richardson — known for his work on Madonna's Sex book — makes homeware, and it's just as risqué as you'd expect. A cheeky yet useful gift for those with only the most generous sense of humor, Richardson's incense burner is a hefty, porcelain creation molded in the shape of a penis. Arriving in four glazes, shiny black "Oil Slick," classic "White," pastel "Baby Blue" and "Baby Pink," the eye-catching burner will keep your home smelling good, and serve as a conversation piece for years to come.
Richardson Incense Burner, $154 USD at the Richardson website.
Self-described multidisciplinary creative Sean Brown works in design, creative direction and photography. He also makes hand-tufted, CD-shaped rugs inspired by hit albums, from Lil' Kim's Hard Core to Sade's Love Deluxe. I'll keep it brief and to-the-point: I just moved into a new apartment, and Brown's Lil' Kim rug is at the top of my decor wish list.
Curves by Sean Brown Handmade CD Rug, $250 USD at SSENSE.
A gift worth giving and receiving, UGGs are a perfect footwear option for life in quarantine. A soft hug for your feet, the brand's Classic Mini II Boot can be worn around the house as well as while running errands in the cold. They come in a ton of colors, too, in case you're faced with a picky recipient.
UGG Classic Mini II Boot, $150 USD at the UGG website.
---
A few friends of mine have been raving about how convenient owning an Apple Watch has been for them, especially for those who regularly work out. I've recently taken up running (socially distanced, of course) as a hobby, and having the latest Apple Watch SE would help keep track of my speed and distance, as well as my daily activity. The device also boasts other useful features such as fall detection, swim-proof chassis and face sharing.
Apple Watch SE, $279 USD at the Apple website.
Applying perfume at home may sound unnecessary, but it doesn't hurt to smell good even when we're spending most of our time indoors. Aesop's Rōzu Eau de Parfum is perfect for those who can't decide between floral or woody fragrances. The scent is characterized by its rich floral notes of rose, petitgrain, bergamot, shiso and pink pepper. The heart features ylang ylang, jasmine and guaiacwood, while the base boasts powdery hints of sandalwood, vetiver extract, patchouli and balsamic myrrh.
Aesop Rōzu Eau de Parfum, $180 USD at the Aesop website.
New Balance's 990v5 is a classic dad shoe that has become a footwear essential for many. Ideal for socially distanced walks, the silhouette arrives with a gray upper constructed of premium suede and mesh material. An ENCAP-equipped midsole foam, along with an Ortholite insert, offer all-day comfort and support.
New Balance 990v5, $174.99 USD at the New Balance website.
---
I would have put down "DIY and knit a sweater," but if you aren't confident that you can complete even just one of the sleeves without missing a stitch (yes, I'm talking about myself), this Frisson Knits sweater is the next best thing while you work on your knitting skills. Hand-knitted in the brand's home country, New Zealand, the chunky mohair top is something you'll want to snuggle up in all winter.
Frisson Knits Isabella Sweater, $433 USD at the Frisson Knits website.
Hand lotions are a must-have during the colder months, especially this year as we've been practicing frequent hand-washing. The Byredo Suede Hand Lotion is the perfect gift for just about anyone on your list. One of the perfumery's bestsellers, the beautifully scented product of bergamot, lily of the valley and soft musks makes hand care feel chicer than ever.
Byredo Suede Hand Lotion, $70 USD at the Byredo website.
A cozy essential for any virtual holiday movie screening, this Tekla wool blanket will keep your loved ones feeling warm and relaxed on the couch. The "Camel" colorway is on my wish list, but the comfortable homeware item is also available in magenta, dark green and even striped designs.
Tekla Pure New Wool Blanket, $205 USD at the Tekla website.
---
I'm the kind of person who will put all my eggs in one basket and wish for one thing for Christmas. This year, that is Gucci's Jackie 1961 bag in a classic black leather, ideal for everyday use. The vintage silhouette made its return this year, and I haven't been able to stop thinking about it, so there's no doubt that it is on my wish list this season.
Gucci Jackie 1961 Small Hobo Bag, $2,300 USD at the Gucci website.
When it comes to giving, I love to give jewelry. There's something very personal about it that I've grown to love, and brands like Blue Billie have affordable pieces that are both gorgeous and of high quality. My personal favorites have been the Sun Hoop earrings, which is why I will be gifting them to all my friends this season.
Blue Billie Sun Hoops Silver Pair, €98 EUR (approximately $119 USD) at the Blue Billie website.
As women, we need to own our pleasure. Whether you're in a relationship or not, a vibrator or sex toy can be a great addition to your sex life. We need to collectively erase the stigma behind female masturbation, and what better way to do so than to gift your friends a chic vibrator? Unbound makes the most discrete accessories, so it won't be embarrassing to open. And if it is your friend's first toy, you'll have introduced them to a whole new world.
Unbound Zip Vibe Single Speed Vibrator, $18 USD at the Unbound website.
---
With so much time being spent at home this year, I've been able to experiment with different haircare brands and products. One aspect that I've noticed needs a lot more attention than most of us think is combing – healthy scalp and strands can be achieved only if you brush your hair the right way. Instead of using the cheapest brush I could find at the drugstore, I'm looking to Crown Affair's Holiday Kit, a set that comes with a hydrating hair oil and two combs for both in- and post-shower use.
Crown Affair Holiday Kit, $98 USD at the Crown Affair web store.
Smart and minimal storage is everything for someone like myself who lives in Hong Kong, one of the most densely populated cities in the world. With my bathroom offering limited storage space, I've started to appreciate functional products that can double as decor. Better & Better's toothpaste dispenser arrives in a sleek, rounded shape with an hourglass on the side to help you keep track of how long you're brushing your teeth. On top of the elegant look, the dispenser is an eco-friendly design that will help minimize your environmental impact.
Better & Better Toothpaste Dispenser, $29.94 USD (for a one-year prepaid gift plan) at Better & Better.
With repeated lockdowns and pandemic-related store closures, going to the nail salon has certainly become less of a priority for me this year. Like many others, I've had to endure weeks of old gel manicure, googling "how to remove gel nails at home" and ending up with severely damaged nails. When I first came across GELCARE, its aesthetic tutorial made me realize that doing my own nails can actually be achievable and fun. Although I'm not the most talented when it comes to crafts and precision, the brand's recently launched holiday shades have fueled my desire to try out this Starter Kit at home.
GELCARE Starter Kit, $250 (approximately $196 USD) at Le Manoir.
---
For any clean beauty lovers out there, this is the perfect gift. Comprised of F. Miller's bestsellers, the Necessity Kit includes miniature versions of the label's face and body essentials that are bound to become mainstays in any skincare routine. All of the products are housed within a reusable washed paper pouch made from recycled materials, making the gift both an eco-conscious and beautifully aesthetic package. Give the gift of self-care and while you're at it, why not also show off your good taste.
F. Miller Necessity Kit, $145 CAD (approximately $114 USD) at the F. Miller web store.
Add a touch of bespoke glamor this holiday with a personalized jewelry piece. As part of Missoma's latest Initials Collection, custom pendants are made with 18 carat gold vermeil on sterling silver, or sterling silver alone, and highlight a chic letter raised and embossed on a ridged texture, a signature design element from the London-based jewelry label. Whether I'm gifting or receiving this item, all I know is that someone is going to have a strong jewelry game by the end of the year.
Missoma Initial Necklace, $90 to $175 USD at the Missoma website.
For those who regularly commute on public transportation and can relate, is there no greater annoyance (or fear — depends on where you sit on the pandemic spectrum) than fishing your metro pass from the depths of your bag, only to replay in your mind over and over again for the duration of your commute what your hand may have touched during the aforementioned action? What items will need to be burned? What have I contaminated? Did I sanitize my hands enough before reaching into my bag? To assuage these feelings of disquiet, the Acne Studios Lanyard Card Holder is the answer to your (or your gift receiver's) fears. Made with smooth leather and boasting two card slots, this accessory is both stylish and functional. Germaphobes, rejoice.
Acne Studios Lanyard Card Holder, $240 USD at the Acne Studios website.
Editor

Teresa Lam
Composite Imagery

Teresa Lam/Hypebae
Share this article