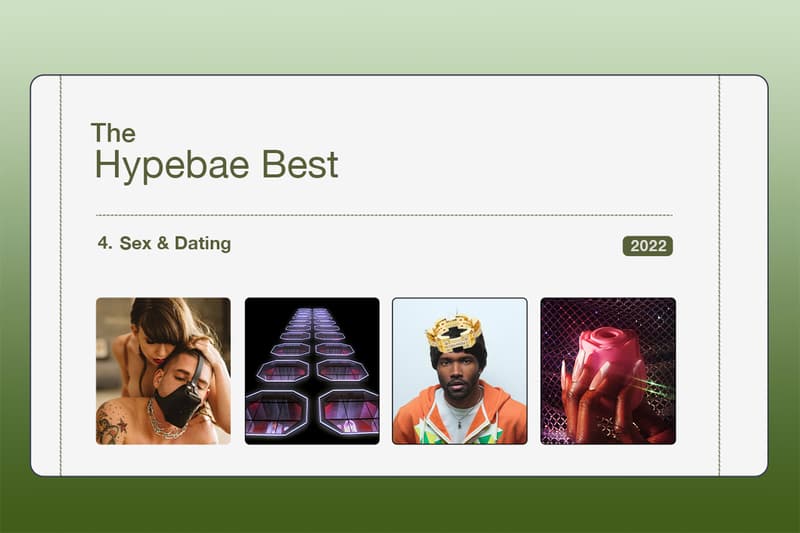 Sex & Dating
The Hypebae Best: The Top Sex-Positive Series, Sex Toys and Porn of 2022, Ranked
Presenting the sexiest moments of the year.
The Hypebae Best: The Top Sex-Positive Series, Sex Toys and Porn of 2022, Ranked
Presenting the sexiest moments of the year.
Between dating experiments, mind-blowing sex toys and ethical porn that put the male gaze to shame, 2022 was an eventful year for the sex industry.
With the overturning of Roe v. Wade in the United States, many assumed the world would become more sex-negative, a stark contrast from the sex industry's growing sex-positive approach. However, the sobering Supreme Court ruling only further empowered those in sex tech, wellness and other areas, to revolutionize the world.
In film and TV, series like Netflix's Bridgerton and HBO's Euphoria tapped intimacy coordinators to produce more ethical sex scenes, creating a new industry standard for sexuality. So much so that the Clit Test was able to step out of commission. As for sex toys and wellness products, we've witnessed the most innovative products, created by women for people of all identities. And lastly, ethical porn helped us channel the perfect orgasms through inclusive scenes that thankfully left out the fake orgasms we all despise.
Keep reading for our community's favorite moments.
SEX-POSITIVE TV/FILM
Love Is Blind Season 3
America's favorite dating experiment from 2022, Love Is Blind topped Netflix's trending charts — across all genres. Between SK and Raven's chaotic love triangle and Bartise and Nancy's not-so-romantic romance, Season 3 delivered, garnering celeb fans like Kim Kardashian and SZA.
How to Build a Sex Room
Netflix's How to Build A Sex Room was the first introduction to kink, BDSM and unconventional living for many viewers. Hosted by Melanie Rose, the binge-worthy series gave an intimate look into the interior design of sacred, sexual spaces.
The Sex Lives of College Girls
The Sex Lives of College Girls – despite the public's disdain for its name — was a fan favorite for its realistic view on friendships, sex and the awkward blips that f-ck it up along the way.
The Ultimatum
Easily one of the most toxic dating experiments to air on Netflix in 2022, this series followed six couples as one partner gave the other an ultimatum: get married, or move on. To make their decision, they were forced to swap partners to test just how much they loved their beaus and as we all assumed, it ended horribly. But, it did make for great TV as viewers watch couples contemplate, and in the case of cast member Rae, coming out and finding more authentic love.
Love Island
Between Gemma and Luca's possessiveness they swore was healthy and new bombshells arriving at the villa every week, Season 8 of Love Island surprisingly helped four couples find love. The new season also addressed a series of long concerns over the use of fast fashion. As a result, this was the first season to prioritize sustainability by partnering with eBay UK.
SEX TOYS
Frank Ocean caught the world by surprise when he released 18-carat XXXL H-Bone Ring with Stones – also known as a cock ring. The kinky item was priced at $25k USD, proving to be a worthy luxury investment for your boudoir.
Diesel's Invitation Butt Plug
Diesel's Milan Fashion Week show was all about accessibility, sex appeal and kink. The first show since Glenn Marten's reign as creative director, he revealed the show was meant to be a "spectacle." And what better way to honor that ethos than with the "biggest inflatable sculpture in the world," as a centerpiece and an invite graced with a clear blue glass dildo?
Dame's Com Wand
Designed for people with limited abilities, Dame's Com Wand is the best spin on the OG vibrator that stimulates the clitoris. Playfully referred to as the most Comfortable sex toy ever witnessed, the lightweight vibrator does not place too much weight on the wrist, allowing you to rest your arms and receive pleasure at the perfect angle.
Dame's Mitch McConnell Dildo
Created in response to United States senator Mitch McConnell's decision to lead the overturning of Roe v. Wade and ban abortions, leading sex toy company Dame and creative agency Mischief @ No Fixed Address, gave him the honor of putting him on a dildo. Why? Well, 2022 proved, who will f-ck you over better than the government?
Rose Toy
Despite releasing in 2021, this toy began trending in 2022 — and with good reason. With its discrete shape and clit suction technology that mimics oral sex, this sex toy taught many women how to squirt.
Sexual Wellness
Foria's Non-CBD Intimacy Breast Oil
Notorious for its CBD products, Foria released a non-CBD Intimacy Breast Oil with Botanicals for those in restricted areas, as well as pregnant women who cannot access its pleasure. Along with its sensual qualities, that enhance sex through massage, the breast oil doubles as a healing oil with yarrow, frankincense, violet and pine. For added benefits, watch Foria's easy-to-follow educational video to upkeep your breast health.
Restart Donation Bank by Stix
Created after the overturning of Roe v. Wade, women's health brand, Stix, created a donation fund, backed by major sex toy brands like Dame, to provide morning after pills to women — no questions asked. In just one day, Stix raised over $26k USD to support women.
maude cone medium
maude's customers loved its cone butt plug so much, they begged the brand for a larger size — and boy, did maude deliver. Playfully referred to as maude's "biggest launch of the year," the cone medium is an upgrade of its best-selling anal plug that's not only bigger in size but vibrates, too.
Frenchie's Hyaluronic Acid Condom
Everyone knew about the hyaluronic acid hype by 2022, but Frenchie changed the game with its hyaluronic acid condoms, ideal for those with sensitive vulvas, or battling with vaginal dryness.
Freya's 2-in-1 vibrator
One of the most innovative sex tech launches this year, Freya's 2-in-2 razor vibrator has the standard shape of a razor, with a detachable head meant to make you c-m. Its razor head is equipped with five sharp blades and laced with an aloe and vitamin E lubricant– two essentials for soothing your skin. Not only is it waterproof, but it provides to hours of pleasure with a full charge to make that shower, much more pleasurable.
Ethical Porn Platforms
Erika Lust
Erika Lust created her indie film platform after noticing a toxic trend within the porn industry: an obsession with the male gaze. On a mission to create feminist porn, Lust began her self-titled company that produces "sexually intelligent narratives, relatable characters and realistic hot sex," she revealed to Hypebae.
Quinn Audio Erotica App
Known for its "spicy" storytelling, the Quinn app is an audio erotica platform filling the gap that mainstream porn created. With stories created "by women, for the world," users can contribute their stories to the app as well, forming a community of sex-positive listeners and transcendental stories that cater to your pleasure.
---
Share this article